I hope to give you a chicks view of our journey. My plan is to keep this upbeat and find all the humor possible along the way. I love to stay in touch with my family and friends so if you feel like it send me a note when you get time.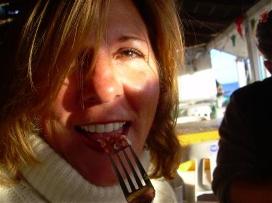 We have committed to a 1 year trip at this time. Who knows we may just keep going. Our cruising style is slow and steady. I am not one who enjoys rushing to be a certain place at a certain time. Gosh, I can't even make it to the time clock at work on time and it's only 1.2 miles from my driveway.
What happened while we were gone?..

We had heard friends and family tell us that the economy was awful and we would be shocked when we returned. The way they made it sound, we expected to see something different when we returned. I am not sure what we were looking for, perhaps for our home or town to look as if a battle had taken place, all we notice was the price of fuel was ridiculous to say the least.
The first few days we were in a bit of a daze partially from being physically tired and from digesting all we had done over the past year. It did not seem real for some reason. Perhaps it was difficult for my mind to comprehend that we quit our jobs and took off sailing for a year. People don't just do that and coming home made us step back and realize this.

I enjoyed going to my favorite grocery store here, Winco. I walked though the store gazing at all the choices of food and suddenly understood why so many Americans have weight problems. There are so many choices of tasty treats to drop in your mouth. I was able to buy the basics for two weeks for only $128. That included meat, cheese, (I missed all the good cheese we have) vegetables, rice, noodles and so on. I must not forget to say I was able to get my favorite snack of frozen blueberries and whip cream. So, once again I am thinking, what is the big deal with the economy other than fuel prices?
On our second day home we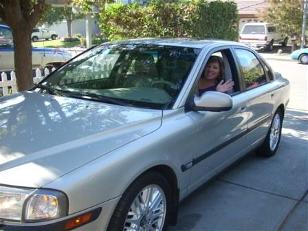 started looking for work and moved our furniture back into the master bedroom where our daughter had been residing over the past year. I dropped by my previous employer and let them know I was back and looking for work. When I left they replaced me with two people so there was no chance of getting any work there. I chatted with my friend Lori and then went to the Buckhorn Catering where she moonlighted. With the dropping of her name and my "I am always available" I was hired and working the next day. Again what is the big deal about the economy?

The next day my catering job had me at a Ranch in Capay Valley on the dirt road where my family homesteaded and we where we spent summers riding horses and looking for rattle snakes. Someone had put up a barn used for weddings and other special events. It was awesome. My new co-workers were fun to be with. We worked hard but had fun at the same time. This is when I learned that while we were gone it became legal to have same sex marriages. This was a girl, girl wedding. The brides looked FABULOUS!.


Over the next week we (Bill more than me) watched a lot of television and searched for work. Now we were just beginning to see what we were warned about as far as the economy. Checking our mutual funds we found that we have lost about half of our remaining retirement savings. This had us both feeling sick. On the bright side we did cash out quite a bit before we left and put it in a separate account to cover our expenses and house payments over the past year. We felt very fortunate to have had the chance to spend this money before it just disappeared.
Our job hunting was not going well. Bill was negotiating with his previous employer but in the end it did not work out. He has had about three interviews along with several phone interviews. Becoming depressed about finding work I began withdrawing from life. I spent days looking for work on the internet along with looking for cars. With only one car for us to share we had to schedule around each other. Catering requires me to sometimes take my own vehicle. The plan was for me to look for a car right away when we returned. The money we had planned on using for the car disappeared. Yes, now I understand the warnings I was given.

After a couple of weeks Bill still has not had any job offers. Catering is not enough to make the house payment and we are running out of money. I began sleeping (better than drinking because it is cheaper) and keeping to myself. I had decided I would hold off on looking for a second job until we got another car and Bill got a job. Not good logic but that is what I was thinking. Bill had me run to the hardware store to pick something up for one of his house projects.
Next to the hardware store is the post office. Before I left I was there twice a day for work and really wanted to say hello to everyone. Then I thought I should check to see if they were hiring for Christmas help. They are actually laying off people. Okay, this economy thing is out of control now. Those poor postal workers. I am sure they will be in the headlines again. The post master over heard my conversation and came out of her office to say hello. She asked what I did when I worked at Mariani's, my previous employer . It turns out her husband is a CPA in Vacaville and has just decided to hire someone just like me. I left my resume' and drove home after taking a moment to leave my resume' with our local UPS driver as well. He knows everyone and everything. By the time I got home the phone was ringing.

It was the post master's husband Brian. He wanted to have me come in for an interview. After coordinating it with Bill's interview schedule I went in and was hired. Not only hired but making much more than I did at my last job. This has me smiling again. It also had Bill becoming more depressed. It was really hard to keep my grins to a minimum knowing he felt bad about his wife having two jobs and him none. He was happy for me. I had finally gotten rid of my attitude of having regretted the last year. I had been wondering if it was going to leave us totally broke. Between my two jobs we can pay our bills without spending all our savings.
N
ext on the list is to find a cheap car. I had been looking online
ever since I got home and had changed my choices many times. When we saw the car money had disappeared I thought I would be taking the bus to Vacaville for work. This was not a happy thought. Then
I called the bank to see if I could get a loan. No chance. Just because my credit is perfect does not mean I make enough to get a loan. I knew that when I applied but thought it was worth a try.
Bill has a second interview in San Francisco next week. I will be working then so we decide to at least look at some cars to see if I really like driving what I think I want. We drove to Rocklin near Bill's mother's house and found the car I really wanted. This was after test driving another option that I would no longer consider. So, having found the car and having no money we called Bill's mom for a loan. I now own a 1999 Volvo S80 T6. It is nicer than the Camry I owned before we left and the best car we could find for the money.

There was a morning in San Carlos that I remember well. I was sitting in the cockpit sipping my coffee in the morning and searching the net for work. A couple of dolphins joined me for a while. The water was still and it was not too hot. I thought to myself..."I have a chance to start over and do anything I want. What is it that I want"? It was then that I visualized everything that I am living now.

Starting Monday I will have a new job that will teach me as much as I want to learn while allowing me to be paid for being the people person that I am. I will also be driving a fancy car and wearing nice clothes without worrying about them being ruined at work. I am becoming the person I want to be and have a great life story to share.

Our last days in Mexico

Our last few days on the water went by rather slowly and it was quite hot and humid. This had me day dreaming about my return to Winters. The idea of having a refrigerator that ran without the generator, unlimited fresh water, and no humidity had me salivating.

A few days before we left a local restaurant had a huge special to welcome back all the locals who leave for the hot summer months. They had reduce everything on their menu to half price. That included drinks. Needless to say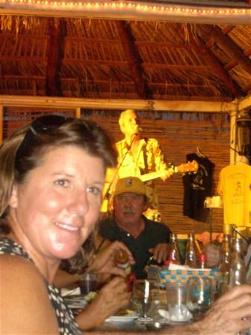 we could not pass that up. Also, they had a local guy (Mark Mulligan) playing music that night. We have been seeing his CD's in all the stores and were excited to hear what people were paying $15 to listen to. Unfortunately, Mark was not quite what we expected but still enjoyable. How could we complain the entertainment was free and the food and drinks cheap! This was our last night out on the town in San Carlos.
When Monday morning rolled around we filled the tanks with fuel and scrambled to break down the dinghy and scrape all the barnacles off the bottom. This process left cuts all over my hands for over a week. The trailer came and loaded up the boat. It was really scary to watch. It was even worse seeing them drive along the dirt road just outside the storage yard. They would hit a bump or hole and the whole boat would wiggle. It was like watching an egg toss. Once they got the boat settled on stands in the work yard they flushed the engine. This meant we had three guys inside with really dirty shoes all over the floor I had just cleaned with bleach and vinegar. I would not have minded cleaning it again if it were not so danged hot and humid.

Bill had brought the rental car down the day before so I used it to check into the apartment and take Sparky to the vet to get his health certificate. The certificate was a joke. I gave them ten bucks and they gave me a paper saying my dog was up to date with all his shots and healthy. They never even looked at him or his shot records. This was all done at the counter, Viva Mexico!

After a long day of taking down the dodger, lifelines and doing the final cleaning we retired to the air conditioned apartment. Bill brought back the water maker pump and rebuilt it. It broke while he was pickling it (for those in Winters that means putting it up for storage). He did get it fixed. I tell you that guy can still fix anything. We cooked the last of our beef in the microwave and made sandwiches for dinner. The shower was so nice we each took two showers. One at night and one in the morning before we headed back to the boat.

We had hoped to get the boat moved to the storage yard in the morning so we could get it covered with tarps and get on the road. We had decided not to stay another night and just hit the road when we finished. By the time we got the boat moved and wrapped up it was 4:00 pm. We were both really tired and extremely sweaty and dirty. The storage yard had nice showers just for hot, sweaty, smelly people like us. We showered up, stopped at the quick mart for some drinks and we were on our way home to Winters.

The roads through Mexico were very nice and we were stopped and checked out by the Federalies once. They were much friendlier than the American border officers we would soon meet. The Federalies smiled and asked a few questions then they pet the dog. It was a quick "let me check the car for drugs and guns then get on your way, sorry for the stop have a lovely day", kind of stop.

When we crossed the border it was a whole different experience. They treated us like criminals who were not US citizens. As hard as we tried we could not make them crack even a hint of a smile. We were told to move our more than over packed car under the bright lights and turn off the engine, then I was escorted out of the car with the dog and told to sit on a bench with my escort. They would not even let me take the dog to pee. So, Sparks did his business on the bush right next to the bench.

In the mean time Bill was asked to remove everything from the car and put it on a massive table. Once this was done they went through everything.

They took a plant my mother gave me while in the hospital for my first surgery before we left over a year before. If you know me well you also know I kill plants. This was one of the first I ever kept alive. When they took it I told him how much it meant to me where it came from. A young female officer looked like she was about to cry. I am sure she was scolded when we left. The male officer scolded me for having it. They also took our dogs food, leaving him only enough to get home. We paid $40 for that food. This also meant we would have to go shopping as soon as we got home.

Crossing the border was really not a pleasant experience. After they were done with us, we got to repack the car and things just did not fit the same and Sparky had less room. The drive was mostly uneventful other than the shock of the price of fuel. We heard it was high but actually seeing and paying for it made it real. It took us 22 hours and we took turns driving. As soon as one of us would start hitting the bumps on the road we changed drivers. Bill drove more than I did. I was only good for a few hours at a time. We arrived home around 3:00pm. Dead tired we unloaded the car into the garage and put our remaining food items away and called family to let them know we were home safe.

Bill's mother could not wait to see us and drove an hour to our house. We were super tired and just wanted to shower and sleep. Knowing how important this was for her we agreed to have her over. It was nice to see her and we enjoyed a nice lasagna dinner she had made and brought over. Before too long we were sound asleep.


September 25th, 2008...Cleaning and waiting

We only have 96 hours left in the water. Well, that is if you use an American watch, it is much more on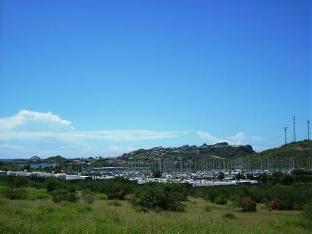 the local watches. We are all set for the boat to be pulled out of the water on Monday at 10 am.

Each day we have been doing a little bit of the work needed to put the boat to bed for a while. We are very happy with the dry storage yard. It is very well secured, clean and professional. When we booked the haul out we were given a list of suggestions to prepare our boat for long term, dry storage. So far we have completed almost all of that list except for the things that need to be done immediately before or after the haul out. We have only the main sail left on the boat and that will come down on Friday along with any remaining ropes.

I have spent quite a bit of time cleaning out the kitchen and bathroom cabinets, removing anything that is in a package or that won't keep for more than six months. After that I washed everything down with a bleach and vinegar mixture to prevent mold even though I was told it is not really a problem here. In the process I failed to dilute my mixture well and inhaled a little too much of the fumes leaving me with an irritated nose and throat.

All this work is being done in some pretty humid and warm conditions, at least for me they are. The nights seem to be getting much more still than when we arrived. It makes sleeping a little tough which results in me being a little on edge and grumpy. Bill has had to drag me off the boat a few times because I am just not motivated to do anything lately.

One day he took me into town and we rented the "Screaming Yellow Scooter" again. That was really fun. We went up and down every street around here and also every dirt trail. This also gave us a chance to check out the studio apartments some new friends told us about. They are only $28 a night and all very clean with a kitchen. That is less than half the price to park our boat in the marina here. We have already set ourselves up to stay in one of the apartments after the boat is hauled. Most likely it will be for only one or two nights while we finish any last minutes items.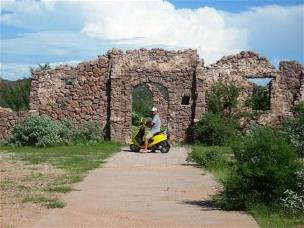 On Saturday night Bill is planning to take the bus to Phoenix to pick up a rental car. His bus should arrive early in the morning so he will have time to do some shopping for things that can't be bought down here. He also has a shopping list for two other boats. He should be back here later in the evening on Sunday. The reason for the extra two hours to Phoenix instead of getting the car in Tucson is the cost. There are only two rental companies who will let you take their cars into Mexico. One is Hertz and the other is Fox. Hertz is a couple hundred dollars more and Fox located only in Phoenix. Also the liability insurance required for having the car in Mexico is $20 per day more with Hertz. We are doing a one way rental to San Jose, Ca with unlimited miles for one week the cost is $460 plus the Mexican liability insurance at $30 per day.



So, my clothes are packed and now we wait. To pass some of the time we have been looking for employment as well. Bill is a little more prepared by having his resume here. I will have to update mine when I return home. To get some money coming in quickly I am planning to work for a local catering company until I find full time work. This will also allow me to unpack all my clothes that I stored in totes in the garage and also adjust to wearing shoes again. Bill bought a pair of shoes down here and wore them for just a short while. He ended up with huge blisters on his heals. So, for all you cruisers out there thinking about going back to work here is a lesson for you. Start wearing shoes before the interview.

While we have been waiting in the anchorage the local wi-fi company has installed an antenna for the anchorage. They have had it unsecured for just over a week now to allow people to use it and see that it works for them. I think of it as having found my own crack dealer. "Here try this. It's free and you will enjoy it." The next thing you know they will tell you is it is no longer free but you are addicted and have to pay. Hopefully we will be gone before that happens.
San Carlos, Sonora, Mexico....September 15th

When we arrived I was in awe at the beauty of this place. It is completely different for all the others.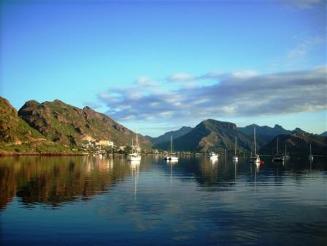 This was one of those places that begs you to take out your camera before the anchor is set.
We took the dinghy in to the marina to see what services were available and where. The first bonus was they have a free dinghy dock and place to dump your trash. Next we located the laundry facility and the price for "do it yourself laundry" are reasonable but the bonus here is they have free wi-fi in the laundry room along with a window for service from the coffee shop.

Next we found the local watering hole and were greeted by a gringo with a smile wanting to know where we are from and what our story is. He was very kind and even served us beer and turned on the wi-fi before he opened. The bonus here was the beer was cheap and cold. Bill took off on foot to find a place to fill our empty propane tank. Asked directions and within a couple of minutes was offered a ride.

The people here are mostly gringos and all of them have been incredibly nice. Typically we don't like gringo towns but this one is different. It has a community feel to it and there are not a lot of tourists other than the dive boats. The marina is mostly sport fishing boats where the rent is steep but the grounds are well kept.

The next day we walked into town and I can tell you that was a very hot walk. Even with the heat we enjoyed it. Basically it is just one major street with small stores on both sides. There are some trinket shops with excellent air conditioning of which I enjoyed. We passed a shop that rented quads and
motor scooters. We talked about how cool it would be to rent something and cruise around and found ourselves in the office of Todd's Quads. The rental price for the quads for one hour was the same as scooter for 24 hours. So we set ourselves up for a scooter for the next day.

Now with wheels under us we decided to head out to the countryside and see Canon de Nacapule. The ride on the dirt road along a creek bed was very green and enjoyable. To compliment this there were lots and lots of flowers. When Julio passed a week ago he left lots of rain resulting in a quick spring. It was about six miles from the town to the canyon. Our guide book gave us details on how to get here and actually if we did not have the new guide book we would have missed out on the canyon. Within a few minutes of hiking some rather easy trails we were surrounds by giant mountains that went straight up, lush palms, and the sound of water trickling over the rocks and down the narrow creek. In my land life I would love to have this setting in my backyard. I should not forget to mention the super fancy rocks they have here. Many of them look as if a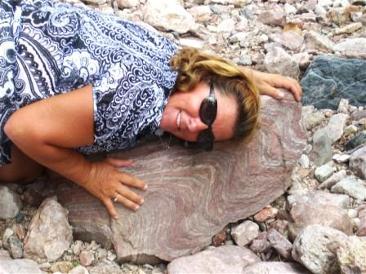 fashion designer had been consulted when they were created. I did have my favorite but unfortunately it was too big to bring home.
With the day starting to warm up we decided to hit the famed Froggy's bar. Again this was another gringo hang out with pool tables and live bands at night. The owner could tell we were new in town and came over to visit with us and share some of the local knowledge. Told us about the band playing that night and suggested we return. Just before we left I noticed a guy wearing a shirt advertising a business in Vacaville which is right next to our home town of Winters. We chatted a few minutes after sharing names of common friends we left. It is a small world sometimes.

Our next stop was Algodones which looked like a cool place to go judging by the pictures in our new guide. When we arrived we were a little disappointed to see that it was a very touristy, over priced area. The best part was the name of the bar,"The Soggy Peso". The beach here was pretty but too crowded for our likings. We also made a stop at the other marina which looked like a ghost town and had absolutely no services. Not even ice. We know some people with their boat there so we stopped and left our calling card. At this point it was time to get back to the boat to give Sparky a break from his pirate watch before we went back to Froggy's.

In the evening we pulled up in front of Froggy's and parked the screaming yellow scooter next to the Harleys out front. The bouncer laughed, but Bill and I put on our best "biker look" and the bouncer almost hit the floor in hysterics, we dismounted and went into the bar.

The band had already been playing for awhile. They were better than the band we heard on my birthday but still nothing to write home about. After a short while I notice an older gentlemen having trouble making his way out the door. I must add that the front of the bar which was behind the band was all glass looking at the patio and parking lots. I made mention to Bill that that guy was really drunk. At that point our waiter went over and took his arm and was helping him walk. I then questioned my observation and felt bad; perhaps he had had a stroke or something. The waiter helped him in his car and then he proved my first accusations correct. First he hit the guitar players car and then with direction from the waiter backed out into the street. By now the guitar player left the band to get this guy and the bouncers were trying to get him out of his car. One of the bouncers was a lady all of four and a half feet tall and nearly as wide, missing teeth and no bra. Needless to say as hard as she tried she was of little use in reaching in to get the keys out. Soon this skinny drunk guy presses the gas pedal to the floor and was flying down the street. The police arrested him a block away and no one was hurt. I still can't believe someone would help this guy into his car: Only in Mexico. After this little bit of action I felt it would be good to get us back to the marina and off the road.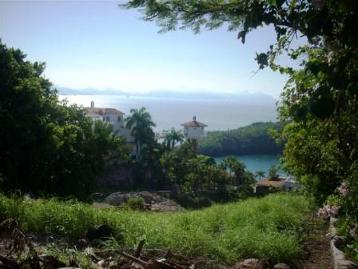 The next morning we had some time before the return of the scooter so we went up a really steep road to the gated community that over looks the anchorage where our boat is. I am not sure why it is gated with a guard because all they said to us was "Buenos Dias" as they waved us through. Perhaps he new we carried gringo cards.

During Labor Day Weekend there was a big fishing tournament here with the winner taking home $25,000. I have never been big on fishing before my trip and I see fishing mostly as a way to save on our food budget. Yes, it is a bit exciting to catch a big fish and I love to eat them but never understood the money spent for tournaments. After watching the weigh in of the fish and hanging out with the tournament crowd for two days I think I understand the whole thing now. I did have to laugh when one lady was telling another how much it cost her to make her tuna salad.

While watching the tournament weight in a guy came up to us carrying a suitcase and ask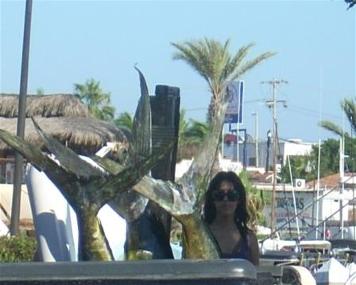 where a guy can get a cold drink. We directed him to the bar under tent. He dropped his baggage and went to get a drink. We talked with him for awhile. He had just flown in from Sacramento and was crew on the huge blue private yacht next to us. He asked if we had been onboard and promptly gave us an invite when we said "no" to his first question.

A few days later while we were cooking a chicken on the BBQ we kept hearing a whistle. It was our friend Cliff on the big yacht Beauport. I took the dink over to see what he wanted. He had been calling us on the radio but we did not hear it. He wanted us to come over for our tour of the boat. I buzzed back and picked up Bill. We were each given a glass of red wine in real glass glasses to sip as we strolled around. It was jaw dropping. I don't know what else to say. This boat was once a Canadian Navy ice breaker and had been converted into a private yacht. The owner has only been on it for six weeks in the last four years. It has been in several different countries and is 169 feet and 10 inches in length. On board they have two washers and two dryers. I would love one of each. Two dinning rooms with a table to seat 14 each, 13 staterooms, a hot tub, steam room, massage table in it's own special bamboo decorated room and complete workout room with television and mirrors. The living room has a television as wide as our couch. It was really cool to see all this extravagance. As nice as it all was it had a bit of a lonely feel to it. I wondered what it would be like to live on this as a crew member and could only think of how lonely it would feel. I really feel fortunate to have been able to tour the yacht and we are planning to have Cliff over for drinks in the next few days.

At this time we are preparing to depart from the cruising life and go back to what our friends call reality. The truth is for us this is reality right here living the cruising life. I have packed most of the clothes I plan to bring home along with my huge shell collection. Most of the stuff we plan to bring home is sitting in the back room ready to go. I will need to wash the entire inside of the boat with a vinegar and bleach mixture before we go. Bill has cleaned the bottom of the dinghy and purchased the appropriate sized tarps to cover the boat. If we needed to, we could be ready to head home in three days. For now we are waiting for our cushions from Mazatlan, a vehicle to drive home and employment. It is illegal for an American to sell anything in Mexico so we would trade "coconuts" for a car. If we don't find one Bill will take the bus to Tuscan to get a rental car. We can't fly or take the bus with the dog, so we are just kicking back and mentally preparing for the city life as we take in as much of this cruising life as possible.

I am very happy we did this trip and would do it again in a heartbeat. It was not all good times but most of the time it was. I have a new appreciation for my husband and all he has done to keep me smiling. There are not too many couples who could spend 24 hours a day for 365 days with each other and be as happy as we are. Add the fact that our living quarters don't allow for much private space and it would be harder to find a happy couple. For this I am grateful to have Bill.
Heading for San Carlos....End of August

We left Don Juan early in the morning for Isla Estaban which is one of the Midriff Islands. Not wanting to miss anything we decided to stop at Isla Los Animas which we had passed over previously due to the wind in the anchorage not blowing in the right direction. Today it was calm. We dropped the hook in very clear water. This anchorage is not in the cruising guides and would be a shame to miss. We had originally looked at an anchorage just north of this on Isla Salsipuedes. I did not have a good feelings about being safe there due to the huge rocks that seem to pop up. After the whole tide thing at La Ventana I felt it a little important to be overly cautious.

The anchorage was quite peaceful. The shore was small round rocks and sand. The cliffs were what I call lace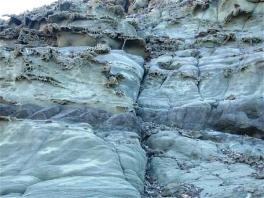 rock which made nice homes for several varieties of birds. We had a very nice dinner in the cockpit with candles which were of citronella in hopes that they would keep the bat sized moths away. We watched the sunset and really soaked in all that we had around us. Baby Pelicans were practicing their dive techniques which was good since they needed a lot of practice if they were to ever feed themselves. The sunset was spectacular.

Bill and I talked for many hours about the past year and years to come. We are quite pleased with our decision to do what we have done. We have no regrets. Our very peaceful, lovely evening was soon interrupted by moths, many, many moths. I was concerned they would come inside and eat my prized wool rugs. Bill said he could not allow me to be sadden by holes in my rugs so he went into action with his electronic swatter. It looks like a small tennis racket and takes two D sized batteries. He worked hard to get all the moths he could enduring the aweful smell of burning moth smoke and the danger of flames. After about an hour we headed for bed and prepared for our 5:00 am departure to Isla Estaban.

The sunrise was as beautiful as the previous nights sunset. The winds were in our favor making for a pleasant trip. As we neared Isla San Estaban we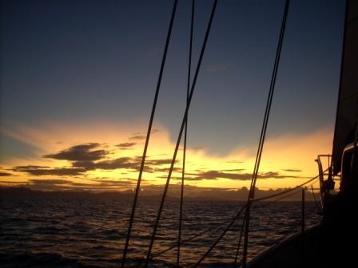 noticed none of the anchorages would provide proper protection from the wind to make for a calm anchorage. After fighting with strong currents and much discussion we decide to head straight for San Carlos. Along the way we made an attempt at catching some Dorado but only caught Boobie birds. I am pretty good at holding these guys while Bill takes the lure out of their mouths. We caught four this leg. It was very frustrating because this was good fishing ground and we had to bring our lines in.

From here it would be an overnight to San Carlos which was mostly uneventful other than the section of ground we covered that had us in only 23 feet for over an hour. We took turns sleeping. In the morning light I was just waking up to take over and looked outside to see the approaching entrance to San Carlos Harbor. It was breath taking and very green. I wondered if I was still dreaming. We dropped anchor next to our friends on Emerald Star who had lost their engine and were towed in the last four miles of their 103 miles sail from San Francisquito. We were there to offer them moral support. Diane had made her planned flight to visit her mom but Ray was left to deal with a broken engine, broken watermaker and broken autopilot. We counted our blessings and shared our beer as Ray gave us the lay of the land here.


Puerto Don Juan...August 23, 2008

We arrived at Puerto Don Juan with a special purpose, to make a GPS waypoint at the entrance and in a good anchoring spot. This is the place to go in the event of a hurricane and it is know as the hurricane hole for the northern Sea of Cortez. A hurricane hole does not protect you from the high winds but from waves in nearly all directions. We wanted to save the waypoints in our GPS in case we needed to arrive in less than ideal condition. It is all for a "just in case" situation.

When we arrived there was only one other boat (Juniata) in this large anchorage. We were told that it can hold as many as 30 boats. The shore along the beach was green with pickle grass which was a pretty contrast with the turquoise water. We had met Juniata at the Full Moon Party and really enjoyed their company then so looked forward to a reunion.

The second day there we were joined by Windward Bound. We did some snorkeling which did not reveal too much excitement other than I saw a fish I had not seen before. It was purple with yellow on the top and at an angle. I called them punk rock fish because they appeared to have a yellow Mohawk. Later Bill had discovered lots of clams in the shallow waters. These made for some tasty treats. Later we planned a potluck for Susan's up coming birthday. This took place on the beach at night with a bon fire and we were joined by Dave and Marcia on Juniata. I baked a cake which would put me in the saint category for baking in the heat of the summer in the Sea of Cortez. Our plan was to leave the next day and slowly make our way to San Carlos.

Dinner was fantastic and we enjoyed music in the background from Susan's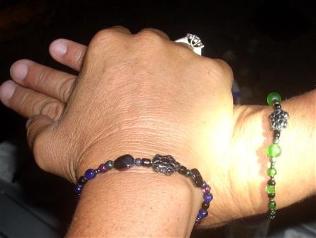 ipod. Marcia had birthday gifts for both Susan and I. This was quite a pleasant surprise. She had made us matching bracelets with colors correspond with our boats. Each had a bead shaped like a turtle. When Marcia heard us on the radio net bragging that we had seen turtles swimming under water, the excitement in our voices prompted her to make this an unforgettable moment by making the bracelets. I will cherish mine for a long time and it will remind me of all the wildlife and friends I enjoyed in the sea.



Most of the conversations during dinner revolved around the weather report we had all heard earlier. There was a tropical storm named Julio heading our direction. Jokingly we talked about "Hurricane Watch 2008".


Okay, so it is not really a hurricane but a tropical storm. The difference is a hurricane starts at 65 knots of wind and a tropical storm tops out at 65 knots.
Saturday August 23, 2008 while listening to the weather report on the SSB net we were informed there was a tropical storm that may quite possibly come our way. This news came as we were preparing for a pot luck and bon fire on the beach to celebrate Susan's birthday along with the folks from Juniata, Dave and Marcia. Needless to say much of the conversation on the beach was about preparations that would need to be done. You could almost feel the excitement in air. Not many people we know have been through a tropical storm or hurricane. Perhaps if we did get the experience we would feel as if we had some bragging rights.
Sunday morning we listened to several radio nets to get all the weather information we could.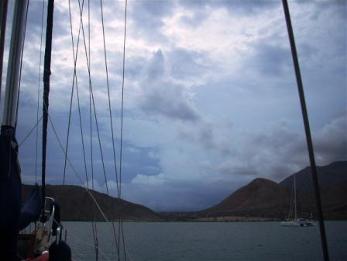 At last report the storm has picked up speed which was not expected and it was heading our way. The expected arrival was Tuesday but it could come sooner with the new energy. That is one thing about weather, you can guess but never really know what is it doing until it happens.



Our plan was to have left this morning to start across the sea visiting the Midriff Islands and on to San Carlos where we would make our plans to head back to California and back to work. We had stopped just outside Bahia De Los Angeles to check out the hurricane hole which is where everyone in the area would anchor for protection from waves in such weather. We had arrived a couple of days ago and were planning to leave but were asked to stay and celebrate Susan's birthday. It turns out to have been a good thing. At the time there were no weather warnings but we were all here to get familiar with the area in case we needed it.


Boats have been arriving all morning. Some boats are preparing anchors in the event we get the big storm. Others are running into the village to buy food and such. We have supplies to keep us for a month with the exception of beer. Jim and Bill may take a dinghy ride into the village, which is 7 miles away, to buy beer and maybe get an email out to our family to let them know we are prepared for the event if they happen to hear about the weather on the news. It is difficult knowing we can't get in touch with our family to let them know we are fine and prepared. We may go to another boat and ask if we can use their Sailmail to get a message to our family. Earlier on the radio net we heard a sailboaters father call from Arizona to say the forecasters on US television anticipate the storm to hit BLA..
Our plan is to set a second anchor out today which Bill will dive on with his scuba gear to make sure we are secure. Rumor has it that in the past there were several people who went around the anchorage and dove on everyone's anchors to make sure they were all well set. They also marked them with bouys and took GPS readings which were all logged. If there is even one boat that drags anchor it could put everyone in a serious situation. So, here we sit, wait and watch everyone come in. Being rather bored with the whole sit and wait thing I put out an invitation over the radio net to all the girls to come over and enjoy some popcorn and my favorite chick flick "The Notebook". It was a good time.
Bill was rather bothered that the movie could last so long. He was eager to get a second anchor out. He donned his dive gear and set out with Jim and Susan in their dinghy to set both of our anchors. During this time I took Sparky to shore for a much needed bush marking session.
Within 24 hours of being hit the storm fell apart. The excitement had left. We did not even get rain as was reported by other boaters south of us. We never saw more than the typical 15 knots of wind. With 14 boats in the anchorage we all headed over to the catamaran Sunbow where John and Sharon were having a impromptu swim party under and around their boat.
The next day Bill went with Jim in his dinghy to the village 7 miles away to make a beer run and check email. They returned with big smiles and soaking wet clothes. While they were gone Susan and I took the dog to the beach and enjoyed each others company on the last day we would see them. We had dinner together and when early morning came we slipped away leaving all the friends we had met and enjoyed hanging out with during the last year. I was a bit saddened but it was time for us to move on and head to the next phase of our journey, the last phase.



Island Hopping...Middle of August 2008



After our time at La Mona we headed out to visit some of the outer islands in Bahia De Los Angeles in search of more good snorkeling. Our first stop was the cove formed by Isla Bota and Isla Pata. These two islands are nearly connected by a large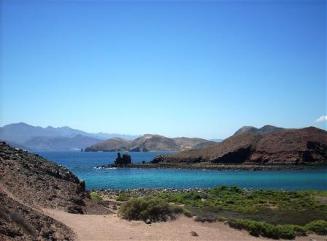 shoal. It was a very small anchorage with its own charm. We anchored the boat and took the dog to the beach and did some exploring. The water was really clear so we grabbed our snorkeling gear and headed out to see what this place had to offer. The visibility was good but there just was not a lot sea life. Mostly rocks. The currents here were very strong which made me tired. Bill speared a few fish for dinner then we were back to the boat.


With the currents running strong and the extreme tides along with some wind we were not getting a good feeling about this anchorage so we pulled up anchor and moved a couple of miles or so down to Isla Ventana. This was a larger cove which seemed to work a little better. As we were setting the anchor another boat came in but left because there just was not a lot of room for two boats and they had another coming. We had the place to ourselves.
We hiked up the hillside, which I would call a mountain. There were also some easy hiking trails we ventured along. Once we got on top of the hill we used out VHF to call our friends Jim and Susan who were staying in the village. They wanted a report to see if they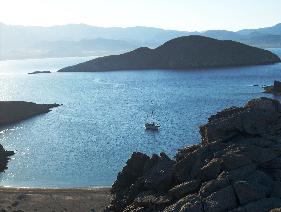 should come out the next day. The VHF did not work in the anchorage because of the hills surrounding us. We went back to the boat where Bill made fish and chips and I made some tartar sauce. All these recipes were in the good old Better Homes and Garden red and white plaid cookbook. This was by far one of the tastiest meals we had eaten on this trip. Just thinking about it makes me want to send Bill out for some fish. I am very lucky to be married to such an excellent hunter.


After dinner we started working on a movie maker project for Susan's birthday gift. I thought I heard waves on the beach so I took a look outside. It was very dark but we seemed to be much closer to the beach than I remembered. We did have some wind but I am sure it was not enough for us to drag our well set anchor. I mentioned this to Bill who did not seem to care very much as he was excited to show me what he had just completed on the computer. I watched the two minutes of his movie and reminded him I was concerned.
Bill looked out the back and by now our dinghy which was tied off to the back or our boat was nearly on the "beach". Bill started the engine quick and blurted out "Holy smokes" or something a little more harsh. We turned on the radar which takes a very long time to warm up. This was necessary because it was so dark we could not see the shore only feet away. We used out powerful million candle light flashlight to see our exit. When we turned on the navigation instruments it revealed we were in nine feet of water. At one point I saw 7 feet. Our boat hits the bottom at 6 feet. This was really quite scary and we consider ourselves very lucky to not have hit the bottom and to have noticed it when we did because the tide was still going out which is why we were on the beach. The tides in the upper sea fluctuate about 10 feet. If you anchor in 30 feet and the tide goes out you are now in 20 feet. Our learned lesson was to never anchor in a small area unless it is already low tide so you can see the surrounding rocks and have an idea how shallow it can get.
We drove out of the anchorage by radar. Once we were out we had very strong currents and the wind picked up to 25 knots. These were the winds known as Elefantes which is cool air crossing the Baja peninsula from the ocean. So now we had strong currents complete darkness and 25 knot wind and several island to pass between before we got out into the bay. It was a little exciting. Once we got into the bay we had some light from the village so we pulled up our sails and headed for the village. This would be our third anchoring in one day. We arrived around 11:30 at night and not a whisper of wind. It took us a bit over an hour to get to the village. We went into town the next morning to buy some food and check email. Our next stop is Puerto Don Juan which is a hurricane hole.
Bahia De Los Angeles..some time in August
We moved up to Bahia De Los Angeles village after being chased away from our little paradise at Animas Slot by the bees. Before we even had our anchor set we saw our first Whale Shark. Sparky was quick to sound his Whale Shark alarm. This was the last thing we had on our list of things to see before we ended our adventure.
The village certainly did not score high on the charm factor. They have only had 24 hour electricity there since November 2007 and it looks like it was a government projected that included lots and lots of street lights for a street without much on it. We were able to check email here but the internet was too slow to even look at our website. The stores here take credit cards and ATM cards with the visa logo but there is no ATM machine or bank. It would not be fun here if you showed up low on cash.
The prices of everything are pretty steep. I like to tease Bill about the tiny squeeze bottle of mayonnaise he bought. Not knowing the price he added it to our shopping cart and back at the boat we noticed it was $5.50 and we still had a spare bottle. Beers at the restaurants were $2.50 and almost cold if you had an imagination. The ice and dive tank fill prices sent Bill into a tizzy. $3.00 for what was about half the size of a normal bag of ice and $10 to fill a dive tank, tank fills are usually $4.00. We now know why many of the local towns folk drive brand new large trucks with all the bells and whistles. One would think if they were going to charge these price that they would find a way to give you access to your money. Perhaps next year they will figure that out.
We stayed one night at Bahia de Los Angelas village then headed to La Mona Beach where sailboat Ceilidh was to have their annual "Full Moon Party". La Mona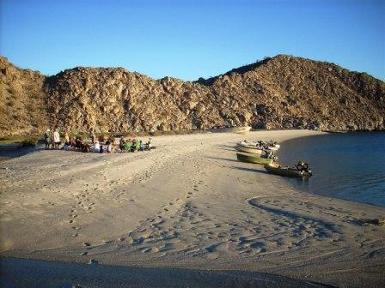 was only about an hour away. It was a beautiful spot. The beach is fine white sand and the water clear. On the beach there is an estuary that completely dries out when the tide goes out. When the tide comes in you can ride your air mattress or other blow up toys into the estuary. This is one of the party activities. The meet up time was set for the full tide which was mid-afternoon.


We arrived early to ride the tide in. Sparky was having a great time. He was trying to swim against the tide and made no progress. He would try harder and then figured out that if he went toward the shore he could get out and run. This had us laughing along with our friends Jim and Susan. Unfortunately our camera was out memory so we could not video the action.
There were about 11 boats that showed up. One of them told us that Jan and Jay on Ceilidh do this to get an idea of how many boats are in the area during hurricane season and share the much needed local knowledge in case there were to be a hurricane. The hurricane hole (anchorage with protection from waves in all directions) for the upper sea is about an hour away. Jan an Jay also have a small place on the beach near La Mona and live there when they are not on the boat. We met them in Bahia Conception at the 4th of July party. Jan is a vet tech and dive instructor and Jay is a master commercial diver and both are HAM net controllers. Meeting people like them are part of what makes cruising so wonderful. Jan has offered her services to all cruisers with pets and has shared some helpful hints on keeping Sparky happy and healthy. Well, enough about them. I think they are great people.
With everyone on shore we sat in the mouth of the estuary letting the water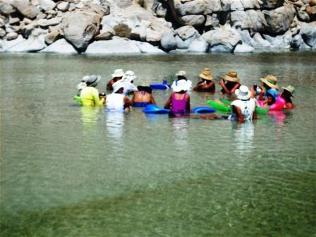 rush over us. Some of us were wedged in the smooth rocks giving us the whirlpool effect. Needless to say we all had some sort of beverage in hand and shared stories. Later we had Sharon and John from Sunbow over along with Jim and Susan for cocktails. This turned into a very late night with several comments the next morning on the radio net about the coyotes howling late into the night on Beyond Reason. It was all in fun, however we are starting to get a reputation of being a bit of a party boat. We will just say everyone who has come over for cocktails has had a memorable time with lots of laughs.


The next day was a beach fire and potluck. This was to celebrate TJ's birthday and all the August birthdays. There were five of us who had birthdays in August which seemed high for the number of people we had. The food was wonderful and Julie had baked two cakes. Anyone who bakes in the summer in the sea is a saint.
Julie from Itchen had brought along some Vietnamese money. We were told it can bring you good luck if you light it on fire and pass it through a group of people followed by dancing around the fire. We did this and so far nothing bad has happened so it may be true. Bobbie Jo from the sailboat Hipnautical played her flute in the background throughout most of the evening which really added to the night. The next day we were on our way to village to fill our larders and head out to some of the surrounding islands.
Animas Slot, August 13th, 2008
We arrived just before noon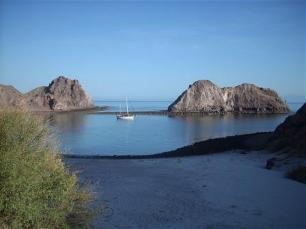 on August 13th. On the way over from Isla Partida while riding on the bow sprit seat, my favorite spot, I saw two dorado swim in front of the boat. Apparently they were not interested in the lure we were dragging. Animas Slot is a single boat anchorage. Our new guide book says…"If you are looking for a remote, secluded anchorage with a fine white sand beach, excellent snorkeling and diving, as well as good wind protection, then look no further." They did leave out the crystal clear turquoise water. There are also tunnels that go through the rocks to the next cove. This place is simply beautiful. I could spend a few days here easily. Bill did a lobster scout with no luck. There are however lots edible fish.

Isla Partida
My first impression of Isla Partida was that it was not really all that pretty. In order for me to think any anchorage is great it must have a sand beach. When we arrived I had one thing on my mind and that was to eat the dorado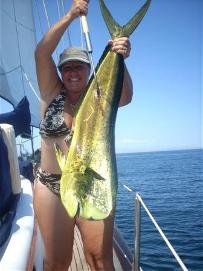 we caught on the way here. While Bill was reeling in the fish Sparky got very excited and jumped in the water to get the fish. Fortunately the dinghy with the engine on it was already in the water which allowed me to do a quick rescue.

Sparky is an excellent swimmer these days and thinks he is "Aqua Dog". His stunt prompted his mommy to tie him up to the mizzen mast like an old Mexican goat.

We took Sparky on shore, which required us to climb over mossy rocks. I am less than gracefully when it comes to any type of non-sidewalk strolling, so the landing was a challenge in itself. We hiked to the top of the hill and could see the beach and an island off the south side (we were on the Northern end). Once Bill got me rolled back into the dinghy we went for a little exploring ride to scope out our snorkeling spots. The snorkeling was not the best, but it was not bad either. We took the dinghy to an island north of the anchorage were we saw lots of seals on the rocks and many of them babies. They were so cute. That is they were cute until they started getting too close to me under water. I really did not like that. Bill was fine with them until he saw a big bull come check us out. The sea was getting pretty rough and currents were running strong so we headed back to the boat.

Bill took off on his own later to scope out some other snorkeling areas. We did eat lobster for three meals while here. They were quite tasty. For our first night we were the only people in the anchorage. This was the first time we had an anchorage to ourselves.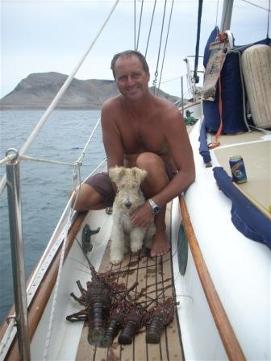 The next day a large boat called a floatel came in. They tow about ten pangas and the hotel guest go out fishing every day. This was apparently one of the fleets regular stops.

On our last day (5 days later) we took the dinghy around the island, along with our friends from Windward Bound. On the back side we saw some very interesting geological formations. When we returned we grabbed our snorkeling gear and went off to explore again. We don't scuba dive because it is difficult to find air and I am still on a weight lifting restriction until September 15th. It is actually nice to snorkel because it does not take much work and we are able to see quite a bit. On this last snorkel I saw my first free swimming turtle under the water. He came up from under me and turned to look at me. I was very still and excited. I had been waiting for this day for a very long time. This turtle was not afraid of me at all. I called for Bill, who was still checking out the five foot sting ray we had passed, he came over and we followed this cute turtle for about five minutes. He swam off when Bill tried to touch him. I wish I had my camera for this trip. We also saw another Morrey Eel. This was the first time we had seen one swimming. So, even though this was not a really pretty anchorage it was certainly a memorable one.




Santa Rosalia, August 2008
Santa Rosalia is only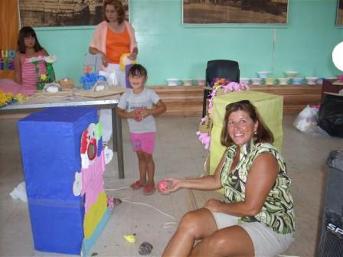 11 miles from Sweet pea cove. Once we got inside the breakwater of the harbor we set out anchor for the first night and then moved into the Singular Marina. Bill had taken the dinghy in to the marina to get us a slip but because it was a Sunday there was no one around to let us check in. The next morning Bill arrive just before nine in the morning to get us set up. We had a large list of work to do on the boat, which needed to be done in the marina. Two things on the top of the list were washing the boat with fresh water and varnishing one side of the bulkworks and cap rail. When we started to pull into the slip Bill had arranged for us to stay in the dock hand told us he wanted to put another boat there. He claimed it was bigger. We had paid for this slip and there was no way we were going to lose it. The other boat had not even checked in yet. Bill simply told the guy no and proceded to pull in. The dock hand did not know what to do other than to help us with our lines. To confuse this guy who was named Arturo even further we backed in.

After we were tied up we tipped him and he was our best friend from then on. The other boat took the end tie which would not have been a good place to do varnishing.


We spent an entire day washing the boat. Bill had actually started sanding the area to be varnished while I washed. I think we must have used 500 gallons of water. The last time we washed the boat with fresh water was several months before and we only did a so so job then. I also took off all the canvas and washed it too. It felt good to have a clean boat again. All the rugs were washed including my wool rugs. It was so hot they dried in one day. Another project was to patch the air leak in the dinghy as well as cleaning it. It seemed that we were very busy working on the boat for the first three days that we did not get much social time.

The first night while still anchored we took our dinghy over to our friends on Emerald Star, Ray and Diane, and then walked into town with about six other cruisers for the famous bacon wrapped hot dogs. They are served on a bread roll with carne asada, mayo, mustard, ketchup, cheese, onion, peppers and anything else you wanted to add. They were quite filling. Bill did not like it so much because of the mayo. After that we went to Thrifty Ice Cream. I was stuffed by the end of the night.
Once we got the majority of our boat work done we were able to roam the town. It was certainly different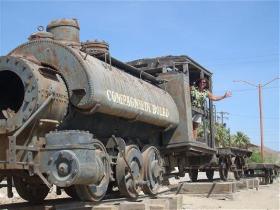 from any other town. Originally it was a town started by a French copper mining company, El Boleo, in the late 1860's. This company apparently did quite well and put a lot of money into the community. The houses were all built out of wood that was imported from Canada and Oregon. The company struck a deal with the government exempting them from customs duties and import export tariffs on fuel until 1942. The mine workers came from Guaymas and Mazatlan and later during labor disputes China and Japan. There are still some Asian families in town. The El Boleo Company had purchased a steel constructed church built by Gustave Eiffel and had it shipped in and reconstructed. It is still in use today. This town during it's prime was really quite an elaborate set up. We enjoyed all the history while here.


Once the mining plant closed the unemployed workers took to fishing. Fishing for squid is the primary source of income here now. One night we walked down to the area where all the action takes place. Here we watched the pangas leave and return starting at 10 pm. They emptied their hulls, which were filled with squid slabs, into plastic creates. Then the the squid would be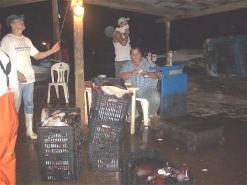 weighed and the fishermen paid in cash on the spot. There were three scales set up each with man sitting at a desk next to it accompanied by a couple of guys to move the creates which were then loaded into trucks that took the squid to the process plant. Once they squid went through the plant it was trucked to Ensanada and flown into California for world wide distribution. The guys who caught the squid appeared to be getting 10 cents a pound which had many of them taking home around $30 to $40 for the night. Most of this was split with one or two others on the panga.


Santa Rosilia was our last town to get provisions for the next month so we did a lots of running around trying to find everything we needed. It is not like shopping in the states. You have to go to six different stores just to get the things you would find in a regular grocery store back home. Bill spent quite a bit of time updating the website. This would be the last internet availability for awhile.
A couple of days before we left I celebrated my 45th birthday. It was a fantastic fun filled day. We went to breakfast at the Frances Hotel that over looks the sea from the top of a hill. The hotel was also built in the late 1800's. The restaurant is still furnished with the original décor. With my love for antiques I really enjoyed this. The food was good as was the company of our friends Jim and Susan.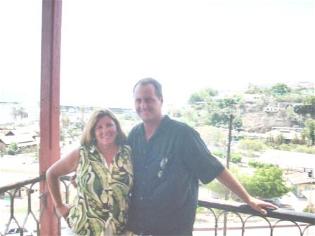 After breakfast we visited the museum and then walked around town where we stopped for a beer later. In the afternoon Susan had us meet her up by the pool where she had some of our other cruiser friends meet up for brownies she had baked. It was well over 100 degrees and I really appreciate anyone who would bake for me in those conditions. In the evening Jim and Susan took us to dinner to a really good restaurant. I had a fantastic chile relleno. Some other friends of ours were there as well and sent a shot of tequila over for me. I have had some bad experiences with tequila and generally try to avoid it. This was actually a very good tequila and I had only a good experience.

On our way back to the boat we went up by the pool at the marina where a band was playing outside the bar. We had a few drinks and listened to the band which was not really great but entertaining. It was a very fun birthday although I did miss being with and Stephanie and Hans and his family.


We decided to stop at an anchorage about six miles north before we headed to our next big destination San Franciscquito.



Sweet Pea Cove, San Marcos Island



Sweat Pea Cove was less than desirable other than the cute name. There were no white sandy beaches in sight. I was not excited about walking the rocky beaches or landing the dinghy on them. One thing I was excited about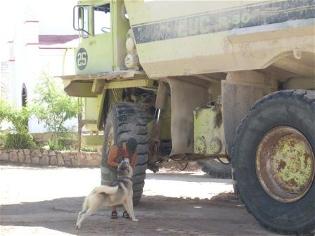 was a boat named Gemini who was anchored there. They had heard about our computer problems and had some equipment and programs to recover hard drives. I was very focused on meeting up with them and seeing if they could save all our pictures from the last three months.

After making radio contact we took our dinghy across the cove, which was more of an open roadstead than a cove, and met Les and Diane. Les put the hard drive in a special case which was then plugged into his computer. At first nothing was happening. Les fussed with it a bit and then we saw a blue light and heard some noises. The same noises I heard just before the crash. He was able to get a reading that said the files were not corrupt. We had a error message prior to the crash saying the drive was not plugged in. After fussing a bit Les concluded there is a hardware issue and feels strongly that something is broken inside the drive but the data is fine. He spent a little over 30 minutes doing all this. It is too bad we did not get the results we wanted. Well, we did get some hope that one day we may get our pictures when we return to the states. To thank Les for his time I baked him some cookies. This was done so in 95 degree heat. Who knows how hot it got after I fired up the oven.


Once this was all done I was able to put my computer worries aside and focus on my surroundings. We did lots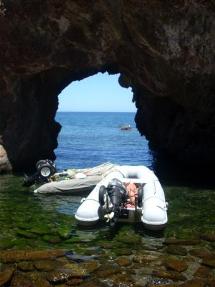 of snorkeling. The water clarity was awesome! I took some underwater pictures and even saw a Morey Eel. Well, actually I saw about five of them in the week we were there. We took the dinghy around the corner along with our friends on Windward Bound. Here we found excellent reefs with lots of sea life. Some of the things we saw multiple times a day are octopus, sting rays, starfish, angel fish and sergeant fish. At first I did not like to see octopus because they looked creepy to me. I am now starting to enjoy watching them stagger around like a drunken old man. They change colors constantly to blend in with their surroundings. One time Bill dove down and poked the octopus we were watching, it inked itself!. This was really cool!


Sweet Pea Cove is on Isla San Marcos which has a gypsum mine on it. There is a small town that is owned by the mining plant. Here there is a small grocery
store that is well stocked, a church and medical facility. It is by far one of cleanest towns we have seen yet. The dingy ride to get there is almost three miles from the anchorage. We heard about the town from some friends who had gone before. The store had excellent prices on their food and a self help meat department. Yes, you pick up your meat and cut it yourself!

On our way back to the boat we stopped to do some snorkeling and caught some fish to serve when Windward Bound joined us for lunch. Bill is pretty good at providing fresh fish on demand. The next day we climbed up the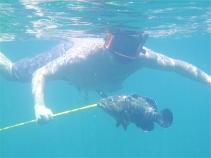 hillside to walk around the island. There was a nice bluff at the top. Here we found where someone had written their names with rocks back in 2002. It did not look as though anyone had been there since.


A couple of days later our friends on Itchen, TJ & Julie came into the cove. They had been out squidding and brought us some large steaks. We had TJ and Julie along with Susan and Jim from Windward Bound over for cocktails which as usual turned into a late night event. Obviously we were having a great time. They left the next morning for Santa Rosalia which is the last big town in the sea and last chance to provision. While they were there they bought some bread from the French bakery and had another boat deliver it to Windward bound and us. That was a nice unexpected treat.
Between the snorkeling and socializing this was a top five spot for us. Oh, I must not forget to mention the underwater caves we found on the reef around the corner. One of them was a couple of feet above water in low tide so we swan through it. That was incredible. After we went through Bill broke open a sea urchin that started a feeding frenzy which was really fun to watch. Also, we had daily shows performed by the Manta Rays jumping each morning.
After about a week it was time to head into Santa Rosalia to provision and prepare to head up into the sea further.
Bahia Conception...July 2008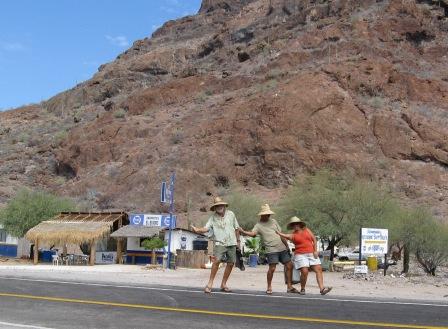 We arrived at El Burro Beach around 10:00 in the morning. It was calm, sunny and getting hot. The water was 85 degrees! Even with the water that warm it was still refreshing to swim. We chose to anchor out further than the rest of the boat so we need not worry about anyone dragging their anchor and hitting us. By the 4th there were 25 boats at El Burro Beach and a few more in the next cove. This was where we met back up with our Friends on Windward Bound. It had been about a month since we last saw them.

El Burro Beach is line with palapas with a few folks being year round residences. The beach has white sand and the water a beautiful turquoise. There is also a restaurant here named Bertha's. It is a central meeting place for the boaters to meet up and have a few beers. Inside there is a cement floors and plastic patio chairs. This makes it quite friendly for boaters who come in wet and sandy. Behind the beach is highway 1. On the other side of the highway is a big hill that our guide book said had petroglyphs and rocks that contain so much iron that if you hit them with another rock they would ring like a bell. We decided this was a "must not miss" thing so we made the hike to the top. We did find the special rocks and they did ring. It was not until we were on our way back that we saw the petroglyphs. The trails and the markers were not very clear. It was me who found the petroglyphs as I was lagging behind. We were hiking with our friends TJ and Julie from Itchen. Sparky was along for the hike and TJ kept throwing rocks off the cliffs. He had a hard time remembering that Sparky would run after anything you through. At one point I was worried Sparky would have leaped right off the cliff. By the time we were back down the hill the sun had come up and it was getting hot quickly.

On the 4th of July folks from all around gathered in and around one of the palapas next to Gary's ( a local Ham Radio weather reporter for the Sea of Cortez) for a pot luck in the early afternoon. The beach was lined with dinghies. Gary had supplied hot dogs for everyone and a local friend of his made the biggest pot of chilli I have ever seen. It was tasty too. We had quite a good time socializing and meeting other boaters that we often hear checking in on the radio nets. Now we have faces to go with the names. After several hours of this we were ready to see some fireworks.

The display was not big and spectacular, like those we are used to seeing in San Francisco, but they were good and loud which makes up for a lot. Gary also paid for fireworks as well. We asked if there was a donation jar to help off set the cost of this shin dig. Gary told us all he would like is if we would put one dollar into the can to pay the trash guys to haul all the garbage away. Gary is a very giving guy and we appreciate him.

After the 4th we began moving around to the various anchorages in the bay. We did a lot of snorkeling. Bill was able to put food on the table most nights by using his fishing skills. We are quite well. During this time we had our hard drive on our computer crash on us. This required us to go to Mulege, which was about 14 miles away and the only way to get there was to walk or hitch hike, we didn't walk and had a great time doing "hitching". The first time I was hoping we could get a ride in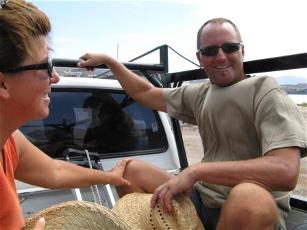 the back of a pick up truck. We did and it was fun but a little scary. The driver told us in Spanish something about going fast. That he did on the winding highway. Many of the turns are on cliffs with the sea below. There were also cars below who did not make the turns. Once we got to the little town we had a great time. We met Alex and Sue from the sailboat Maitairoa. They are really nice people and invited us to join them with Jim and Susan from Windward Bound for lunch. It was great to get to know them and get lots of local knowledge from them.

Before lunch I purchased my first tie dyed item, a green and yellow sundress. I call this day my "hippie day". It was quite fun. We took a taxi back to El Burro. It turns out the taxi driver also runs the beer shop. Since we needed beer anyway we made our purchase from the taxi driver and then asked if we could take our open beers in the car for the road. He said yes but made us wait for him to slam his beer because he could not drink and drive. Hmmm…. After he dropped us off he opened his spare beer that had been under a shirt on the front seat. There were six of us and the driver in this Grand Marquis for it was a little tight during the ride but, the cost to take the taxi one way was only $20.

We later made several trips going back and forth checking on the computer. We had a new hard drive installed but we could not get the data off the old one. I have it saved in a seal–o-meal bag for our return to the states in hopes of someone getting our pictures off of it. Fortunately Bill backed up everything on CDs back in May so we have most of our stuff. It took several trips and almost a week but we got a new hard drive installed with Windows XP and Office. The cost was $250. Once we got the computer we were on our way out of the bay and up to Sweet Pea cove on Isla San Marcos.
Time To Catch Up……… Late July 2008.
Editors Note: This is a long stretch of reading, be sure to take plenty of water along for the ride!!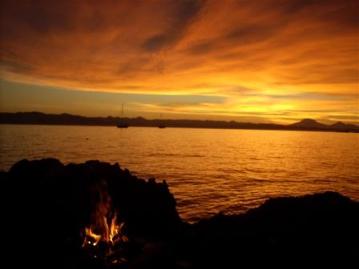 Perhaps you have read the up date on the front side of the site. If not here is a quickie. We lost the hard drive on our computer. This happened around the 7th of July. With it went all the pictures we had taken from the time we left Mazatlan to the 7th. Unfortunately, only hours before, we had downloaded over one hundred pictures off the camera and then deleted them from the camera. The good news is Bill had backed up all our pictures on May 5th when the computer fell off a table landing on the cement. At that time the computer went blank but then came back.


We purchased a new hard drive and had it installed along with the purchase of a new Windows program. The guy doing the work could not recover our hard drive. We did meet a couple who heard about our problem and have a program and equipment to do most recoveries. After an hour or so with them it was determined that the files are not corrupt but the drive itself is physically broken. This was most likely from the fall. So, I am going to try to get the website up to date but I don't have the pictures or notes to jog my memory.
I am now keeping notes on paper and backing up all my pictures to a thumb drive until I burn them to a CD. You can not believe the smile on my face when I saw all the pictures as I reloaded them from the CDs to the computer.
15 June, 2008...leaving Mazatlan


In late April we made a decision to get new upholstery for the interior of the boat. Because of this we are committed to stay in Mazatlan until the job is done. While waiting we decided to look around to see what it would cost us to have the old paint stripped off the bottom of our boat and new paint put on. Bill had gotten many of these estimates while I was in California. This was something that we knew we would have to have done some time while in Mexico. For the Winters folks there are metals and other magical things added to paint that is put on the bottom of the boat to keep critters like barnacles from growing on it. The growth makes the boat extremely slow.


It turns out the best price was with Carlos Yacht Refinishing at Singlar Marina. This just happened to be the same marina our friends Jim and Susan were having some engine work done at. The marina is new and really nice. It features a jet lap pool, Jacuzzi, club house with a very large television, air conditioned computer room, marbled bathrooms with nice showers and a self serve outdoor bar.


We had only planned on being there for about five days. Plans always change. We had the boat pulled out of the water on Friday morning. It is really fun to watch this happen. Our boat was actually lighter than this time than the last time we had it hauled out a few years ago. We found this surprising with all the stuff we have added. Then again we had taken off quite a bit before we left home .

The sanding of the bottom paint was a huge job. I think is was more than Carlos had expected. It was a slow and dirty job. I can not imagine getting all dolled up in space suit and face mask aspirator in the Mazatlan heat and humidity. We are pretty sure there were at least 13 layers of paint that needed to come off to take it down to the gel coat/epoxy barrier coat.

After the paint was all removed new epoxy paint gets applied and then the bottom paint. By having this done in Mexico we figure we have saved about $3,500. Once the paint started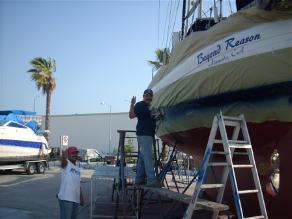 going on we were asked if we wanted to have a new boot stripe put on. This is the blue paint stripe at the top of the water line. Again the price was too good to say no. Then we asked about having some gel coat chips fixed along the hull, again, too good of a price to say no. Then we were asked if we wanted the haul buffed? This time the price was not as good but what the heck we had saved so much already anyway.


We stayed in the yard for 12 days. Each day we would hang out at the pool where I got lots of exercise and strengthened my stomach muscle. The pool was on the top of a building right in front of our boat so we could watch the progress while sitting in the Jacuzzi. That just seemed so wrong to watch someone doing the work while we enjoyed ourselves. We also spent a lot of time with our friends. A couple of nights we took our DVD player and hooked it up to the big screen and had movie nights with Jim and Susan. We also had a martini night at the outdoor bar. With the exception of having to climb up and down a ladder to get in and out of the boat and not being able to use the sinks or toilet onboard it was a very nice stay. I hated it when I had to get up in the middle of the night, climb down the ladder and walk across the driveway to the bathroom. It was small price to pay for the enjoyment we had.

We did have a heart pumping moment one day. While talking with the owners of another boat in the yard a fire started on a power boat in the yard that was only 25 feet away from ours. I have heard that boat fires in Mexico are extremely dangerous because requirements for safety equipment are not very strict. I have seen many pictures and read some stories about how a boat fire can spread and they are difficult to put out. We were on the far side of our boat seeking shade when we heard yelling. At first we just thought the guys were goofing around because it was lunch time. Then we saw the marina employees running toward the yelling. Now I am thinking maybe there is fight. We walked to the other side to see huge plumes of black smoke. I yelled for Bill to get Spark off the boat and grab the computer.

Our hearts were pounding. Once I had the dog Bill went back in the boat and brought out all of our fire extinguishers. The fire was burning inside the back portion of the powerboat which was about five feet from the building. The marina pulled up the water truck they use to water the landscape and started filling the powerboat with water. There were also a lot of fire extinguishers from the businesses and marina yard which were now in use. Soon we were seeing white smoke indicating the fire was extinguishing. This was really beautiful sight.

As the fire began to subside, Bill and I looked over at Carlos' shop and saw a young man on the ground who looked like he was in lots of pain. Another guy was there holding his head. Bill sent me over to assess the situation while he went up the ladder to get the medical bag. I yelled to him to bring the burn kit. The young man had second and third degree burns on both his arms and one of his legs. I put the burn ointment pads on and gently wrapped the burns. This seemed to help just a little. When the paramedics showed up over thirty minutes later the young man was starting to go into shock. It is moments like these that make you realize all those training sessions in the work place are truly valuable. I don't think you could have even found a band aid in any of the businesses. Oh, it also took about twenty minutes for the fire truck to show up.

After all this excitement we took a few cold beers up to the pool and met up Jim and Susan. It was at this point that I realize how close we were to being left in a foreign country with nothing more than our swimsuits. The beer was extra good at that moment.

Later we found out the fire was started by the guy who was burned. He had been doing some fiberglass work and had used some gasoline to clean up while in the confined area of the engine room. He then set up a pump to drain the water out of the bilge. While doing this he crossed the wires creating a spark and the fire started. He was not an employee of any of the local businesses. He was sent to do the work by the boat owner. When we left we asked how he was doing and was told he was still the hospital but no one really knew him so they could not give any more information.

On a lighter note another scare we had was when the workers started applying the blue paint on the boot stripe. The color was not what we had expected. I was not there when Bill told Carlos which color he wanted so I was unsure as to whether there was a mistake or if Bill simply chose a color I would not have. We watched as they put on two coats of this "blue tarp" colored paint. Soon we were trying to convince ourselves it would dry darker or maybe it was just one shade off what we originally had. Then we looked at each other and both said "Let's go talk to Carlos." He was on his way out with another sprayer full of paint. Bill looked at the paint and thought it was the same color as what was on the boat. I could clearly see it was much darker. Once he started spraying it was clear the other coats were just primer. Carlos knew what we were thinking and did not say anything he just kept saying " it's okay". He laughed when he saw the looks of concern disappear from our faces; Then we all laughed.

The last day Bill bought Ballenas for all the workers.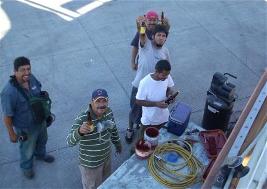 Ballenas are 40 oz Pacifico beers. Each day of work we filled a cooler with ice and then put beers in for each of the workers at the end of the day. This seemed to keep everyone happy. Also, on the last day the upholsterer came and took all of our cushions leaving us sitting on pillows and blankets which upset me, but Bill stated that we now had our own little "Hash den" and all we needed to complete the look was a hooka! I was not amused.


Bill did have one of his dreams come true while we were in the boat yard, No, not the hash den. He had always wanted to have a gecko onboard. For those in Winters that is a lizard that can climb on the ceiling without falling. There were lots of these little critters all over the buildings at night. I don't do well with crawly in my living space. I told Bill one night if he could catch one he could have it in the boat. I never thought he would be able to catch these fast things. So, now we have a gecko named Sally. We have not seen much of her but one night while Sparky was sleeping on the floor I went into the kitchen and Sally ran toward Sparky and over his back legs. Before he knew what happened she was gone. Sparky was left with a very puzzled look on his face.

We were supposed to launch at 4:00 on Tuesday but the travel lift never showed up. This time was given to us by Carlos. We went to ask him what was going on and he responded that he thought we set up the travel lift with the marina and we thought he did since he gave us the time. It turns out no one did. So, we ended up spending one more night climbing the ladder. This gave us the opportunity to have a movie night with Jim and Susan along with Dominos pizza, delivered.

In the morning the travel lift showed up on time at 8:00. The boat was strapped in and ready to go. It was at this time Bill was told we needed to go take care of something in the office before we could launch. We were not sure what this was all about since we had already paid the marina for the travel lift. It turns out they wanted $67 dollars for each day we were parked. Our understanding was this was included with the service from Carlos. The marina said it would have been if we were put directly in front of Carlos' shop. We were not given an option of parking spots nor were we ever told we would have to pay this ridiculous daily fee. Most yards only charge $15 a day. Bill and I were furious. We simply don't have the money and did not plan for it because we were never told we would have to pay it. Not even when we paid for the lift. They took all our paper work, copies of passports, insurance, and so on. After about twenty minutes the marina manager went and got Carlos. There was a lot of discussion in Spanish. Soon Carlos said he would split the cost with us. We said no way. The rates are outrageous and we didn't feel it was right for either Carlos, us or both to have to pay this fee. The manager soon dropped the days from 12 to 9 since there were three days the guys did not work full days because the other businesses where painting and they could not sand. We still said no. We simply do not have the money and could not entertain the exurbanite cost they wanted to hand down. We had already committed to pay for the upholstery to be done and have given Carlos all our extra money for all the add-ons.

Finally Carlos agreed to pay all of it after the manager dropped the price to $500. Bill still was furious and said the marina was way out of line and even Carlos should not have to pay their outlandish fees. Bill had told the manager they were robbers. Apparently this is not something taken lightly in Mexico and the manager said he objected to that term. Bill spent a couple of minutes explaining why he felt they were stealing from us and at some point the meeting came to a close. Later Bill asked Carlos if "robber" was the wrong thing to say. Carlos nodded. We left with a sour taste in our mouths. It is unfortunate that things went this way but in the end we did pay what we had expected which was around $2,000 total.

Bill talked to Carlos a little more outside and Carlos is going to work something out with the marina to lower the price. As we were being set in the water the marina manager came out to talk to Bill and said he was sorry about what happened and has been working with the head office to get the fees in line since they are still new and trying to figure things out. There are more than 25 of these chain marinas in Mexico. They should have it already figured out. He then asked us if we wanted to fill up at their fuel dock. We laughed, " We just told you we have no money left. How are we going to pay for fuel?" With that we were off to the old harbor to anchor out for free!

Being back at anchor feels good. The inside of the boat is much cooler. Now we are waiting for the cushions to be finished. We did get an email asking us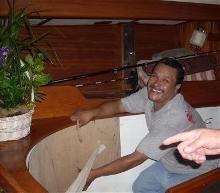 to come talk to Luis who is doing the work at Peiles and Tapicis. He had been in the hospital and we are happy he is back at work but this makes our stay in Mazatlan a bit longer. Luis wanted to make sure he was doing the work the way we requested. He was. We have been down to the shop a few times to see how things are going. He is always happy to see us and willing to please us. He speaks zero English but with our limited Spanish and sign language things are rolling along. Arturo our salesman translates for us when he is there. So far it looks like we will be getting my dream upholstery. Hopefully there are no big surprises with our final bill.


The weather here has been a bit cooler and we have had some rain. It is nice. The last time we saw rain was in November. Hopefully the rain will wash off all the residual bottom paint dust. The paint dust has copper in it so we are getting green marks everywhere the dust has landed. So, when I am not sewing covers to protect things from the sun I have been busy cleaning and polishing.

Saturday we went out on the town. There was a "day of music" festival. This featured six stages each with a different genre of music. The stages were spaced out about four blocks away from each other and all in the historic district. We love to hang out in the historic district. The event was free which made it even more appealing. We took Sparky and walked the circuit from 6:00 until 10:00. The rock band was hysterical. They would have been the perfect opening band for Spinal Tap. At this venue we were not only the oldest people there but the only ones not completely dressed in black with studs all over. We ended our night back at the classical and jazz stage where we started. We had a nice walk back to the harbor. The evening temperature was perfect.

We also had the opportunity to go watch a movie at the theater with the money our renters finally paid on time! This was a real treat. We saw Indiana Jones and almost froze to death with the air conditioning they had.

Today is Tuesday June 10th. We went to see our cushions and pay the remaining balance. Knowing there would be some adjustments for some foam changes I was quite nervous since our financing is so tight right now. Also after the Singular mess I was very unsure about the final price. We looked at the cushions while the office lady spent about 20 minutes with her calculator. Mexican math is something that terrifies Bill and I and 20 minutes on a calculator is never a good sign. Soon after the final tally we were told the balance was actually less than the estimate we were given! Amazing.

In the morning Luis and Arturo will come out to the boat to do some final fittings and hopefully all the work will be complete Friday so we can go north to Topolobampo on Saturday.

Just after it had gotten dark we left the Mazatlan Harbor. It felt like we would never get out of there. It is still our favorite big city in Mexico but it was time to leave and see what else this cruising life has to offer.
Once we got outside the break water we started putting up the sails. The weather was unusually perfect to sail north to Topolobampo. Within a few minutes we were heading back into Mazatlan. Now it really felt like we would never leave. Bill calls Mazatlan the "Hotel California". This time we went back because one of our main winches was not working properly.
After we were anchored Bill got busy re-rebuilding the winch while I made dinner and held the flashlight for him. Within two hours we were back in business. The Anchor was up and we were on our way. We sailed almost the entire 240 miles to Topolobompo. It was great! Along the way we saw a couple of turtles, dolphins and Manta Rays. We arrived after two nights at sea.
Topo is known as the small town with a big graffiti problem. We went to the fuel dock to top off our tanks in preparation to cross the sea. This was done in record time at a large cement wall complete with tractor tires. After anchoring we got permission to tie up our dinghy at one of the super fancy private boat clubs that line the bay. We then did our walking tour of the town.
Topolobompo is a cute town but one day was plenty. The graffiti problem we found out is true as well but Bill bought me a coconut ice cream cone and we walked around and talked to all the friendly people. The next day we moved the boat out to the beach near the channel entrance. We took Sparky for a long beach walk. Sparks had lots of fun chasing coconuts into the water and then would bring them back to Bill. Chasing coconuts is something he really enjoys. In fact he likes it so much he does not know when to stop. He ended up with heat stroke which was very scary to us. We now regulate the amount of activity he is allowed since he is full of springs and never stops.
While we were at the beach I felt something like a bite on my big toe while walking in the surf line. Two days later I pulled out something that looked like a tooth. There was also a bruise on the side of my toe. I am not sure what that was all about but I am here so it must not have been a big deal.
We left early in the morning to cross the sea to Aqua Verde. Our original plan was to go north to San Carlos but we were ready for some clear water which we never saw on the mainland. Like our trip from Mazatlan to Topo we sailed the entire way. Under sail we were moving along at 7 knots. This never happened before we had the bottom of the boat repainted. With the old paint we would average 5 knots. It was around five in the morning when we left Topo and we arrived at Aqua Verde at two in the morning.
The phosphorescence during the trip were incredible. We had some great pictures but they will have to be recovered when we get back to the states. The moon was full so we were able to see as we entered the anchorage and we quickly hooked up and then went to bed. Once the sun came up we realized we were back in paradise. The water was clear and the beaches looked like sugar. The color of the water was a beautiful turquoise. We knew we were back on the Baja when we saw cactus on the hills.
Agua Verde is a small village with a small store that sold produce, beverages other than beer along with you standard mini mart stuff. There is no electricity in Agua Verde. Some of the homes had solar panels. Every house was very clean. There was no trash anywhere. Perhaps it was kept picked up to prevent the many farm animals that roamed from eating the trash. The clear water prompted us to dust off our snorkel gear. We were able to see lots of sting rays along with the standard angel and sergeant fish. We met some new friends and were told about the big 4th of July bash up in El Burro Cove in Bahia Concepcion. We had heard about it before but now we made plans to be there.
Our next stop was Isla Monserate and Yellow Stone Beach. The rocks on the cliffs at the beach were actually yellow. The sand here also looked like sugar. We walked the beach with Sparky but tried to keep him from being too active and getting over heated. Before we headed back to the boat we scoped out some good snorkeling spots for the morning. When the morning came around we saw a panga paddling toward us. They were paddling with a bucket and a piece of PVC pipe. Bill had seen them earlier and thought they were getting lobster. We were hoping they were going to sell us some. In reality they actually were in need of our help. In perfect spanish they said they hit a rock and the transmission on their outboard was broken. We then busted out our dictionary to decipher what they said and to see if they wanted a tow. That brought big smiles. There were three adult males and a 10 year old boy. We told them we would not leave for two more hours but we would help them. It was early and we were getting ready to eat breakfast. They paddled away and anchored in the hot sun to wait.
Our plan was not to leave until the next day but with these guys 10 miles from shore on a deserted island we could not tell them no. Within 30 minutes we were ready. Once we got the tow line set we invited them to come aboard for the two hour trip. They refused. It seemed like they were just being polite. They wanted to go to Candleros Cove which is where we planned to go next.
Along the way and with it being so hot we got on the loud hailer and asked our friends if they wanted something to drink. This again brought smiles. They started pulling up the tow line to get close to us. We told them no and they looked sad and confused. It was at this time that we put another of Bill's idea to work. We put some sodas and waters into a small mesh bag with a zipper on it. Then we put on a clip to slide it down the tow line. It worked great! As soon as the bag hit the water it flew back to the panga. The guys were very impressed.
On the way to Candelos Cove we knew we had to pass some large rock islands. Our new friends pointed for us to go between them but our charts said no passage. Hmmm …. do we follow the guidance of our new friends with local knowledge or follow what the chart says. We did remind each other about the reason we are towing these guys. It made us laugh. We ended up bringing one of the guys onboard to help guide us in. In the process we got the tow line wrapped around our propeller which killed the engine. This had potential to cause some major problems. The guys all felt terrible and took turns diving with Bill to help cut the rope. Bill used a knife and they had a machete. I was afraid someone would come up without a limb. About 20 minutes into the fiasco I ended up getting Bill's hooka hose out. He dove down and was able to free the line shortly there after. When we started the engine it worked fine and we were off again.
The guys were really afraid Bill would be mad. They kept saying they were sorry. It was not their fault, it just happened. Once Bill started laughing and joking about it you could see their shoulders relax. Now we were about to trust our boat to the local knowledge. We laughed and kept a very close eye on the sonar. We saw several other large boats pass through this same area. Most of the charts date back to the late 1800's. Once we delivered them safely to the beach they told Bill about a place near by to buy beer and said they would return the next day at one o'clock with some fish for us.
We snorkeled around the rocks on the outside of the cove. It was nice but not as good as Agua Verde. The next day we waited a little while for the guys to show up but remembered they most likely have watches set with manana time and we needed to move along. We did not see them by the time we pulled up anchor and headed to Puerto Escondido to meet up with Emerald Star for dinner.

Puerto Escondido

The trip from Candeleros Cove to Escondido was only seven miles which we were able to sail. Puerto Escondido is a good place to be familiar with. It is what they call a hurricane hole. This bay is very well protected and where all the boats in the area will seek refuge during a hurricane. We are not expecting to experience a hurricane but there is always a possibility. It would make for some good writing material! I am completely confident that we are prepared and would ride it just fine if we did experience one. Perhaps it is no different than riding out a big earthquake. We had had lots of small earthquakes in our lives but never much to write about.
The anchorage at Puerto Escondido is divided into three sections. First is "the waiting room". Then the Ellipes, which is where we stayed. It is a small area with a funky homemade dock that was put up by cruisers. The third area is a large bay with 300 mooring balls that cost $20 a night and also has a new Singular marina.
To pay for the area we anchored in we had to walk quite a way to the API office. It was only $7 a night. Most people don't pay because the staff never comes out to collect and some who do go in to pay are told don't worry about it because there is too much paper work involved. We paid for a few days and where happy to hear that the staff would fill our gas cans and propane when they went into town several miles away. There were not a lot of services here, just a small store like a 7-Elven with produce. Well they did have produce until the day the produce was delivered and a mini mega yacht was there and bought all the produce leaving lots of boaters without after they had waited days for the delivery. They did leave a few half rotten items. On the Baja it is hard to find good produce.
While we were in Escondido we visited our friends on Emerald Star, Itchen, and Jake. There were some cool little canals to ride the dinghy through which were originally part of a huge development of condos. We have seen lots of grand plans get started and never finished. It is actually hard to find a building without rebar sticking out of it. Also on our dinghy explore we found an opening in the mangroves where you could pull your dinghy into the shore and then walk through the bushes to a place set up for a campfire. The benches around the campfire ring are made out of old boat parts like rudders and counter tops. To complete this cool little spot it had a long table made of scrap wood. I could certainly see this would be a great place for a large group of cruisers to have a potluck.
After a few days we were ready to move on. Our next stop was Isla Carmen.
Isla Carmen, Ballandra Cove

The trip north to Ballandra was about 16 miles and again we sailed. We have sure done our share of sailing since we left Mazatlan. It is wonderful to pull up the sails and head straight for your destination. Along the way we saw lots of manta rays jumping along with dolphins. I have been riding on the seat on the very front of the boat over the bowsprit. I love sitting up there bouncing along with the wind in my hair, toes dangling and dolphins playing in our bow waves. This is something I always make a point to do when we are on our way to our next anchorage. Oh, I almost forgot to say we also saw a few turtles on the trip too.
Ballandra anchorage was spectacular. By far this is one of my favorite anchorages.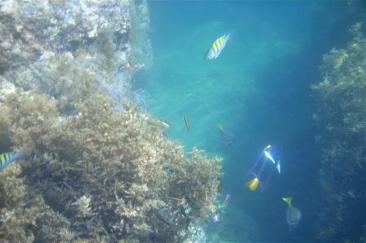 The water was a beautiful deep green and turquoise in the shallow water. I had some of the best pictures I had ever taken from this anchorage. Unfortunately, they are on the crashed hard drive. I do have one that I emailed to a friend and she was kind enough to save it for me.
The water here had lots of phosphorescence and at night we watched the fish make the phosphorecense glow. I don't think I will ever get tired of watching this magical stuff. Sometimes I like to go for a ride in the dinghy at night just to see the water sparkle. I like to think of it as the stars of the sea. The water here is the clearest we have seen. We snorkeled several times a day every day; It was sooo fun.
On the beach here I learned how to skip a rock across the water. I am not too good at it but I did get a few to skip three times. Mostly, they just go "plunk".
After a couple of days our friends from Itchen and Jake arrived. We had dinner with them after Bill took the guys out to show them how to find scallops. This place was very relaxing. We met some new friends (John and Sharon) on a large catamaran named Sunbow.
We read that there was a hiking trail which Bill started to go on. The signs put there by the Mexican government convinced him not to go since the island is a national park and we did not have permits for on-shore exploration and the signs theatened prison, maiming, and loss of privilages, or so Bill told me.
The sea life here has been the best we have seen. Bill saw a turtle swimming underwater. My favorite Chocolate Chip Starfish were everywhere. I could make a huge list of all we saw but I don't know all the names of the fish. I am still wishing I had a book with all that information. Our next stop is Loreto, which is a short ten miles.

Loreto

Again, we sailed to our next anchorage. Well, that is until the last mile or so. The anchorage is outside the tiny harbor filled with small sport fishing boats and pangas. We really liked this town and only wish we could share the pictures.
One of the main streets is lined with Privets forming an arch about a half mile down the street. It is cool to watch the cars drive down that street. The town was very clean and had lots to offer. We were only here for a couple of days to provision and get some cash. There is a store here that is government subsidized and has a strange assortment of canned food, cleaning supplies and alcohol. We purchase several bottles of rum for only $5. The regular grocery store was so overly priced we walked out without spending any money.
We did have some trouble getting our money from the ATM. We had waited for the first of the month but it turns out our allotment does not go into our bank until the second. We did not have much cash left and waiting for the second would not work for our weather window to get up to Bahia Concepcion on the 4th. We ended up borrowing money from Bill's mom by wire transfers. This allowed us to purchase a water pump for the refrigerator and purchase food. We were pretty tight on our budget. I would like to visit this town again when we had more time to roam and money to spend.
The anchorage was not protected at all but it was not too rough. In the evening we were sitting in the cockpit having a sundowner when we saw a sport fishing boat go by us. Shortly after that we saw them trying to paddle back and making no progress. Bill hopped in the dinghy and went out to help these guys. He towed the big boat back against the tide with our little 6HP engine. After Bill returned we pulled up anchor and made the over night trip to Bahia Concepcion. It was just over 70 miles away.

Bahia Concepcion

We had an unexpected blast of weather the last few hours of our trip. It was early morning and still dark when we were blasted by high winds and big seas. We have been in this type of weather before but we were not expecting it and we had the dinghy in tow without the engine on. We feared it would fill with water and cause some problems for us. Instead it bounced along. At one point I saw it raise as high as the push pit (little deck hanging off the back of the boat that holds our propane tanks). My eyes got big when I saw that.
As we rounded the point to go into the bay the winds increased. We had planned to go into Mulege but with the weather this was not a wise thing to do. Instead we went to the nearest anchorage after tinkering with the idea to keep going north. We dropped the hook at Punto Santo Domingo. We were tired and looking forward to getting some rest. This was out of the question. While I was on the bow dropping the anchor the wind was blowing fiercely. My sun dress was up to my waist most of the time. I did not care. I just wanted to get the anchor set. There were several other boats in the anchorage including what looked like a large rusty old shrimp boat.
We got our anchor set but we still could not take a moment to rest. The seas were so big and the bow was popping so high out of the water even the bow thruster was in the air. Eventually it got so bad that our snubber line went completely tight and pulled the chain with a sharp snap. This caused the chain to jump out of the windless (the motor that pulls the chain in and out). If we did not have a safety line on we would have had all our chain go out. This was some crazy weather we were dealing with.
While Bill was fixing the anchor chain he noticed the shrimp boat was dragging anchor and could either come down on us or the boat next to us. It went to the boat next to us. At this time we called on the VHF to notify everyone in the anchorage there was a problem. We got no response. Bill kept whistling to try to get someone to come out of either of the boats. No response. Next we got on the loud hailer and still nothing; the wind may have been keeping the sound waves from leaving our boat. It was at this point we knew the two boat would hit. My first thought was what will we need to do for a rescue mission to get the people from the sailboat. If the shrimp boat was to hit the side of the sailboat at the speed it was going it would certainly crush the sides in. This was a pristine boat and the shrimp boat was heading straight for the side of it.
Bill put all his efforts into whistling while I kept calling on the radio trying different channels. Just as the two were about to hit all the people on both boats came out. The owners of the sailboat (Chuck and Linda) were able to push thier boat from the shrimp boat which was very scary to watch. I was afraid one of them would get crushed. The engine on the shrimp boat had already been running which may be another reason he could not hear us. He put it in gear and pulled up the anchor and sped away. We later met the people on the sailboat. It turns out they came out because they did hear Bill whistle. They had their VHF turned off because they were doing a weather relay for someone on the single sideband net. The only damage was some scratching on the chrome plate bow roller.

We called our friends on the radio who were further in the bay to check what the weather was like there. It was much calmer. We waited while we ate breakfast and then pulled up the anchor and headed to the anchorage where the party would happen. It was only about 45 minutes away. The anchorage was El Burro Beach. This is where the guy who does the Sonrisa weather net on the single sideband lives and would sponsor the bash.
Final Days in Mazatlan...Late May 2008

As usually our plans rarely go as expected. The cushions did not fit right on Friday night. The delivery was at 8:30 at night. We sat on shore waiting most of the day for them to arrive. Luis was very disappointed with himself. He was so proud of his work but it just did not fit. It seems there were some miscalculations in the reconfiguring that we requested. With one cushion off by three inches it threw off all the others as well. The backs are curved and also angled back which makes it incredibly hard to do the diamond tuck and roll.

Luis had worked through the night to get the cushions done on time and was very tired. I can say Luis is a very dedicated and hard worker as he worked on Fathers Day as well to complete the project for us.

While we were waiting for the final cushion delivery we where invited to a BBQ at Club Nautico. It was a family Father's Day gathering for the club employees;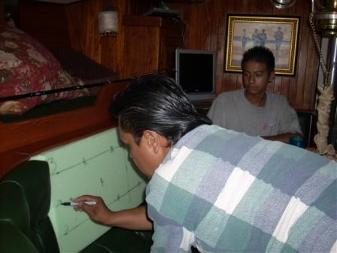 they are all related. I had no idea until we were introduced to everyone. After having spent so much time there we felt like family as well. Just after we finished eating Luis and Arturo showed up with the cushions again.

There was another problem. It seems that when they reworked the cushion to fit they could not do so with the amount of leather they had. So, the end result is, we have all our cushions in but five of them need to be redone because two of the backs have big seams and three of the bottom cushions have leather that is damaged. No worries though. They have ordered more cows and will make new cushions and send them to which ever port we are in once they are completed.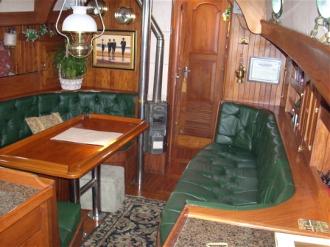 All the cushions on the couch fit and look fantastic. The others look okay and you can't really see the problems unless you look for them. This will end up with us having five duplicate cushions. I may just leave the damaged bottoms in place and let them take the wear. We should see the last cushions within two months. It takes a month to get the cows. The day we left Luis came out with foam and cut the cushions on the boat for a perfect fit. Oh, the new cuts in the foam for the tuck and roll make the seats much more comfortable.




May 10th...A Trip Home

After two weeks of recovering from my recent operation I was given the okay to fly home. This trip also allowed me to renew my visa which prevents me from becoming an "illegal" in Mexico. I am told if you get caught, instead of a free trip home they put you in jail for 10 years. I am not sure if that is true but I have other plans for that time period. Ten days after the surgery my stitches came out and week after that I was cleared to fly home for only one week. I am still required to have weekly appointments drain excess fluid. The doctor did not put drains in to prevent any chance of infection, instead he uses a massive needle. He is always amazed that the pain from this does not bother me at all.

I was quite relieved once given the okay to fly. I had already purchased my tickets along with the insurance to allow me to reschedule. The flight price was reasonable but we probably could have found something better if we had more time. The internet was not working well the day we were purchasing tickets and it was really frustrating. To make matters worse, our bank had shut down our account because of suspicious activity. The little note in all their computers that said we were traveling in Mexico had expired and disappeared. This required several calls to the bank which kept getting cut off when the net would drop. It took us four hours to get the bank squared up and purchase the tickets. It sure makes me appreciate a good internet connection.

Knowing we have to stay in Mazatlan to wait for the final clearance from the doctor we decide to look into having some work done on the boat. Our upholstery is splitting everywhere. The cushions are vinyl and were stitched to give it a diamond tuck and roll appearance. The stitching only perforates the vinyl and essentially provides clean lines for the fabric to tear. We had an upholsterer come out the last time we were in Mazatlan to give us an estimate but did not have a good feeling about it so we passed. While I was in the hospital Bill had another upholsterer (Arturo) come out. Arturo and his company were highly recommended by another boat who had him do leather in his boat a couple of years ago. Then another boat also told us to use the same company. Arturo also came out once I was back on board so I could choose the leather color and have his assistant take measurements to confirm his measurements.

The estimate came back right where we wanted it and the leather thickness is right as well. The only down side is it will take a few weeks to get the leather and then two weeks to complete the work. We are having some of the cushions reconfigured to make it easier to get to the storage behind them. There will also be some changes to add a comfort factor.

The cushions at the navigation station will be a little thinner to allow more space between you and the desk top. As of right now it is super tight. We will also add a "knee roll" at the edges of the cushions to support our lower thighs. Oh, gee you must be wondering what color leather I chose. It will be a dark green. Dark green is the traditional color for the interior in most Hans Christian boats. The cushions will feature a true diamond tuck and roll with smaller buttons than the current ones. We had to order the buttons in the states to get nylon backs so they wouldn't rust like those we have now. If it all works out like we hope we should be happy campers.

With the upholstery choices made I headed back to the states to rest and visit with friends and family. Well, that was the plan. I left on Friday May 2nd at ten in the morning. Bill had arranged for a taxi to take me to the airport and help me with my bags. I am on a no lifting anything restriction from the doctor. This is almost as bad as telling me I can't talk. Some days I feel I need medication to help me follow the rules.

Once inside the airport I met an American couple, Sharon and Elroy, who helped me until I got on my flight from Phoenix to Sacramento. This included customs, immigration (where the dog alerted the official to search my carry-on) and rechecking my bags.

Sharon and Elroy are building a house in Mazatlan so they know the routine well. We had a fantastic visit and hugged like old friends as we parted ways. I have no doubt there are thousands of fantastic people out there willing to help a total stranger if we'd opened ourselves up to let them in. The defining moment that let me know I could trust them was when they pulled out their peanut butter and jelly sandwiches for lunch while they showed me pictures of the mansion they are building. Those are real people. I am not sure what I would have done without their help.

Once I arrived in Sacramento I could feel there was a change in lifestyle about to happen. My daughter Stephanie was waiting for me at the bottom of the escalator looking stunning as always. "Hi Mom! Let's get some Starbucks while we wait for your luggage." It was at this point I knew I was back in the states. I found it amazing that she could carry my checked bag, carry-on bag, a cup of coffee and have car keys in hand wearing spiked heels and looking fantastic with a big smile. It made me wonder if I was ever this talented when I was young. Our first stop was AppleBees and then Target to pick up a few things before we left in the morning to drive to Lake Tahoe for Bill's brothers wedding.

Steph picked out new makeup for me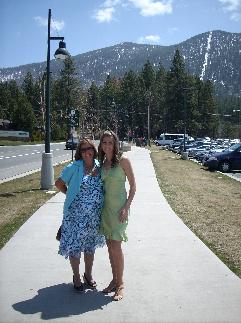 along with some new shoes. She told me my Tevas would not go with my dress. We stayed up late chatting and the morning came early.

We left at 9:30 AM to try to get some money out of the ATM. This time I was using another bank account. It would only give me $20 like it did the night before even though it showed I had much more. I was frustrated and spent nearly an hour of our two and a half hour drive on the phone with B of A. It seems they too thought there was fraud and shut down my account. The reason is we tried to use this ATM to pay for groceries the day I got out of the hospital because the other account was locked down. Again they did not know we were in Mexico. Thankfully this is all taken care of because our tax returns are supposed to land in this account. Supposed to. At last we had access to all our money again.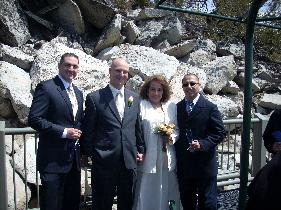 The wedding was beautiful but very cold. It took place up on the mountain at Heavenly Valley Ski Resort. We took the gondola up to the top. There were ten of us. After the ceremony we returned to a $50 parking ticket because we were there longer than two hours. Next we drove to Folsom and ate dinner at The Cattlemens. I had a wonderful visit with my new sister-in-law Marie Ester, Bill brothers John and Dan, his mother, my nephew Christian, Marie Ester's son Louis Roberto, Stephanie and her boyfriend Matt. After enjoying the best ribeye steak I have had in a very long time we went to Bill's mom's house for cake and gifts. Later Steph's boyfriend Matt drove us the hour home. We were home just before midnight. It was a very busy day.



Sunday was my day to spend with Steph. We went over some of the damage that was done by our "Easter Flood". A water pipe had broken in our master bathroom while Steph was visiting with Bill's mom. This was eight hours of water running on the floor all through our house. Stephanie has been dealing with the insurance company and doing a fantastic job. Currently the hall is cement and all the baseboards are removed. The entire house had to be emptied into the garage to allow the restoration company a chance to dry it out. In the process of drying the house out the restoration company did quite a bit of damage to the doors and walls. Once we finished going over everything it was time for us girls to do some shopping. Stephanie took me to find some new clothes that fit right. I am a bit of a different shape after the surgery. We found several cute shirts and a small MP3 player for me to put my Spanish lessons on. Lunch was spent at In-N-Out. The day went by quickly.

Monday was supposed to be my day to chill. We had Matt get down all the totes with our clothes and personal belongings so I could find some clothes Bill needed and look at all my shoes that are not practical for the boat. Then it was time for me to find out what was going on with our tax return check. This all took many phone calls and many hours. It turns out our refund had been sent to our bank but the routing number was incorrect so it was returned to the IRS. After speaking with a less than friendly person there I learned they will now be sending a paper check which has been processed but will not go out in the mail until the 16th of May. That is eleven days away. I am not sure why they need to wait to send it. We are also waiting for our other government check. I think they call it a stimulus check. This was something we learned third hand while in Mexico. We thought it was a joke at first. I also had to run to the bank to deposit our insurance check, pick out flooring, have a guy come measure for carpeting and ship our Icom 502 VHF radio back for repairs under warranty. Sending the Icom did not work well it was cheaper to buy a new radio than to pay for express shipping so I later mailed it ground. I also had a list of things to shop for to bring back to the boat. It was a bit of a stressful day.

Tuesday was saved for dropping in to visit with friends and associates at my previous employer Mariani Nut. Also, to drive down to spend the night with my dad. I had lunch with a gal pal before heading to Tracy where my dad lives. I later found out it cost me $40 in gas. Ouch! Before I left that would be my total fuel cost for the month. It was fantastic to see my dad. We did the father daughter Home Depot run to get some more things for the boat. Later we headed out to the blues bar my dad has been telling me about for several years. It is his Tuesday night hang out every week.

Leaving Tracy for the blues bar had us driving some back roads though hay fields on the out skirts of Lathrop. My dad was not kidding when he told me it was in the middle of no where. We drove up over a small hill and landed in a trailer park. In my typical valley girl style I said "Daad! This is like…. a….. trailer park?" He nodded. Again I chimed "It's a trailer park". I was being a smarty pants thinking we would drive through it to get to where we needed to be. It was at that point I looked up and saw a sign on a triple wide trailer that read "Haven Acres Bar & Grill" ( I did not make that name up) and this was where we needed to be. I thought to myself… oh, ma gaaahd I can't believe I am going to a bar in a trailer park. As if I were too good for that.

The parking lot was full with many of the cars triple parked. As we walked to the entrance on the back side I realized it was on one of the delta rivers with a launch ramp. This gave the place much more credibility in my eyes. On the back deck over looking the water were several bikers including a few wearing the once feared Hells Angels leather vests. Inside the ceiling was covered with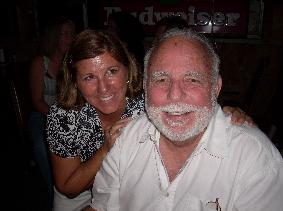 one dollar bills marked with a Sharpie signifying ones presence on a given date. There were lots of neon signs, a view of the water and dock just below. My dad seemed to know all the regulars there. They have given him the nickname of "the mayor of Tracy".

I met lots of really nice people who think the world of my dad. It made me feel at ease knowing he had so many friends. I learned a few lessons about music while there. I never really knew what a jam session was but now I do. There was some pretty good music being played. One guy played a harmonica and could only play with his shoes off. He was pretty wasted and could hardly walk but as soon as he put his harmonica in his mouth and took his shoes off he was a very talented musician. When he was done he staggered off. It was all very strange.

After a while most of the people went outside. I wondered what was happening: Was it time to go home? My dad told me they all simply went outside to partake in activities to alter their minds. This is not a situation I ever thought I would be in with my dad, it was great. We had a great time together and I came to realize I am not too good to go to a bar in a trailer park and would do it again.

Wednesday morning my dad and I went out to breakfast and then I drove home with a stop to see my sister and meet my niece Alexis. Alexis is two months old and precious. We had a nice visit. Once I was home I took advantage of the washer and dryer. I sure miss them. Later I drove to a friends house for a visit and got my stuff ready for another over night away.

Thursday was my day to head to our old marina and stay the night with Dino and Cathy on their boat. These are the same friends who came to stay with us in PV. When I arrived in the parking lot I was met by Donny who had his boat across from us when we were there. He let me through the locked gate where I was to met our friend Mike the fireman. Next I saw Russ as I was dropping my stuff off on the boat before heading to West Marine to pick up a new VHF radio and handheld GPS. I was back at the marina before Dino and Cathy arrived so I headed over to visit with Norm and Karen. They had visited with us in Mazatlan just before Carnival. It was great to be back at the marina.

Dino and Cathy had made some phone calls to let the old gang know I was coming for a visit. This was really great of them. They also arranged to have my favorite Croll's pizza delivered. Our friend Mike and his cute legs showed up with his gas powered blender and the ingredients for margaritas. This made for an instant dock party. Shortly after the blender fired up Patty, Mikes girlfriend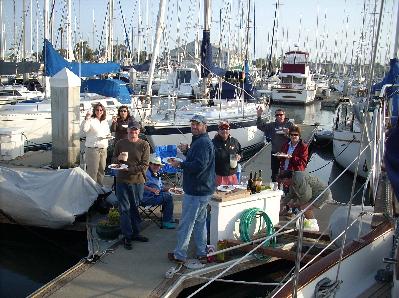 arrived. I had not seen her awesome smile since I left. Then came Candy and Don from B dock. My pal Dale popped out for just a quick hug and hello as he was not feeling well. This was a pretty good turn out for a Thursday evening. The evening started getting cold so we all went inside Dino and Cathy's boat for some beverages. After everyone left we stayed up late chatting. Dino had a million questions. It was really a fantastic day.

In the morning I was greeted by Freeway the fluffy, tiny poodle dog. It made me miss Sparky. Dino had made some coffee so I was able to drink coffee and hang out in my jammies. Cathy let me use her computer to check my emails from Bill. This was the most relaxing moment I had on my visit home. Perhaps I belong on a boat. A short while later Dino left for work leaving Cathy and I to do some shopping for their trip to the Kaboom fireworks display. I had not realize that I was leaving the day of the display or I would have changed my return date. This is a weekend long event we have done for ten years in a row. I was very sad to not have been going this year. It was tough watching Cathy put all the goods in her grocery cart knowing I would not be there to enjoy them with her and have my own cart to fill. We stopped at West Marine once again to pick up the zincs I ordered the day before. These keep our outboard engine from being eaten up by electrons in the water. By two in the after noon I was on my way home to beat the traffic.

My last night home was Friday. Stephanie and I made a run to the hardware store in Vacaville to pick out paint colors for the walls that were damaged in the house. She is going to do the painting as a sweat equity rent payment. We also went to the grocery store to pick up some things for dinner. Stephanie and her boyfriend made me a fantastic dinner with dessert. She said it was the first time she had actually sat down at the table for dinner since we left. We did not eat until nearly 9:30. After dinner I still had to pack my suit case. This was a challenge. Between the stuff I bought and the stuff I pulled out of the totes I had more than doubled my luggage. One thing I was not willing to leave behind was my three large bags of French Roast coffee. I have not been able to find a good strong coffee in Mexico. This is something I enjoy every morning. I managed to get my over sized suitcase closed without having to sit on it. I kept all my valuable in my carry on. I knew it was heavy but I never lifted it so I was not sure just how heavy.

I woke up Saturday morning at 3:30 AM. We had to leave the house by 4:15 AM. Stephanie handled my suit case for me and left to find a place to sleep in the parking garage until she had to leave for work at 7:00 AM. It was only 5:00 AM when we had arrived. Once I got my suitcase which had wheels up to the counter and figured out how to use the self check in computer I was told by the lady behind the counter my suitcase was 85 pounds and I owed $50. She said it should have been $75 but she would give me a break. That is not a break to me. Just a few days earlier they changed the rules to only allow you to have one suitcase. I was stunned and just looked at the lady as if I had A.D.D. and did not hear her. She repeated herself. Then as if light bulb came on, I remembered that a second bag was only an additional $25.

I had a small duffel bag that I originally came with in my suitcase. I checked in and asked if I could split my bag for the lower fee. No problem other than I am on a no lifting restriction and have an 85 pound suitcase to repack. I had the counter lady grunting as she took it off the scale. I then wheeled it off to the side just out of the line. There I was on my hands and knees repacking my bags. I was trying to do all this as quickly as possible since everyone stared as they walked by me. Then I realized I now had two bags still totaling 85 pounds and one has no wheels. I looked up and saw a strong young man with his mother, sisters and grandma. I asked him to help me get my bag to the counter. He was all too happy to impress his family until I told him to wait as I picked up my bra and panties that did not quite make it into the bag and shoved them in the suitcase. His sister could not stop laughing. I just smiled and told his grandma how wonderful her grandson was.

The plane rides went quickly. I had to change planes in Phoenix. Once back in Mexico I received my new visa to allow me to stay for another 180 days. Once I got that I had to go through customs where they have you push a button that either gives you a green or red light to determine if you will be searched or can just pass through. I got the green light. I hired a porter to tote my bags on a hand truck. Once through the gate I saw Bill and his big smile. I thought he was smiling because he was happy to see me. Looking back it may have been because he had a surprise for me. It turns out that the folks on Dancing Dolphin that I brought parts back for were not able to pick me up in their nice new truck as was planned. Instead Jack and Diane from from Waif volunteered.

Bill made the comment "Wait until you see what it is like to travel in style in Mexico". At the furthest end of the parking lot our ride was waiting. Yes, it was truly a "shaggin' wagon". Complete with shag carpet on the ceiling of the cab. The porter laughed when he saw my ride. This was a true Kodak moment. The picture does not show all the rust or the fact that there are no shocks. I was told to sit up front since I am still healing from my surgery and it is really
bouncy in the back. Once my bags were tossed up into the truck, Bill and Diane jumped in the back. Jack set up a folding camp chair for Bill to sit on and shut the door. Because the door will not stay closed it had to be padlocked to keep the door from opening. The "shaggin' wagon seemed to run well and got us back to the boat safely. On board Bill had a huge arrangement of flowers for me in the very clean boat.



Now it was time to adjust from the city life back to boat life. As hard as I tried I can not make the two mix. After spending time with Stephanie and learning how to use a flat iron on my hair and bringing all the cosmetics and hair products with me it just does not work on the boat. The humidity has my hair going every direction after spending lots of time on it. I did learn that a flat iron only takes 2.5 amps where my hair dryer takes 120 amps. Both I use to straighten my hair. Also trying to wear my cute sandals does not work well for walking a couple of miles at a time. This produces blisters. So, it is back to boat life instead of city life. One day I may figure out how to make the two work together.

On Mother's Day Bill took me to meet with some friends for breakfast at the Machado Square. It was really nice and relaxing. We ate outside in the shade and enjoyed the morning. These were our friends on Windward Bound who we had not seen for a couple of weeks because they too had to go to the states to get new visas. Bill paid an agent to handle his visa. After breakfast Bill and I walked back to the boat where I put the flowers, given to me by Jim and Susan, into a vase. We then took the computer to shore to check mail and make calls. It turns out I also had flowers that were delivered to the house from our son Hans and his wife Anya. I was so sad to have missed that. Stephanie emailed me pictures. It felt good to be back on the boat.

April 18th, Mazatlan, round two.
We arrived in Mazatlan a couple of days before my doctor appointment on April 9th. The pains I had been having had been getting worse daily. Not wanting to miss my appointment we did a dry run to the office to be sure we knew where were going and see how long it would take to get there. The next few days had us shopping and cleaning. On the day of the appointment our friends from another Hans Christian, "Sugata", had offered to meet us at the cathedral to take Sparky for us so Bill could go into the office with me. This was really nice since I was kind of scared. Fortunately this place did not resemble a back alley abortion clinic like the doctor office I visited in La Paz.


We showed up 15 minutes early as trained by the US offices, the doctor showed up 10 minutes early. It appeared his office was closed except to see me.

Doctor Guzman sat us down and started asking questions about my health. He then had me lay down on the exam table which was in his office. During this time Bill read the many documents on the walls, Dr. Guzman has been practicing since the early 60's. All his medical books appeared to be older than me but were in English. He poked around my belly for a few minute and then had me move in various ways. He suspected I had a hernia but wanted me to have an ultra sound to confirm it. Thinking as one would in the states I asked where I schedule an appointment for this. He looked at me funny as if he no longer spoke English and then he replied "now", I was confused. He gave me a prescription for the procedure then directed me two blocks away. He said he would meet me there unless their machine was not working.


We arrived at the x-ray office to find out the machine was not working. The receptionist handed us the phone and Dr. Guzman asked us to take a Pulmonia (taxi like vehicle) to Sharp hospital and he would meet us there. This had us concerned about our dog and friends watching him as we were to be meeting them in one hour. We were able to find them and made arrangements to have another couple take the dog back to the boat.

Shortly after we arrived and the ultra sound was started, Dr. Guzman came in. He had a long conversation with the technician and confirmed that I had an incisional hernia. He said it would require surgery and he went out to the lobby to talk to Bill about it.

The original estimate was $4,000 including the hospital stay. Bill and I were amazed at how fast this diagnosis took place. To have this done in the states would have taken over two weeks.

I was to come back the next day for blood work and the day after that to meet the doctor to review the blood work with a possibility of having the surgery Friday night. The blood work came back showing I was in excellent health with a cost of $84. The doctor however was not able to locate the mesh he wanted to use for the surgery so he asked us to wait while he went upstairs to see what he could do. Once he came back he said he felt it would be best if I saw another doctor who specializes in hernias. Again, I asked about scheduling an appointment and again was given the same strange look. He asked us to follow him to the emergency room to meet the doctor.

Bill tied Sparky to a fence outside the door then we met with Dr. Javer who was about twice as tall as Dr. Guzman and half his age. The two doctors had me lay on a bed and again poked and prodded me. They spoke in Spanish for a very long time. In the end it was decided Dr. Javer would do the surgery without mesh and Dr. Guzman would assist.

The procedure for closing the muscle gap and shoving all my stuffing's back inside was explained and I was to show up at 7:00 on Monday for surgery. At this point no one had asked me to fill out any paper work. I am not even sure they really knew my name. I was told to meet with a girl named Jeannette if I had insurance I wanted the hospital to bill the insurance company directly. We do have insurance but were told they could not do anything until I was registered in the hospital which would not happen until Monday morning. I called our insurance to give them a heads up and see if they considered this a pre-existing condition since it was the result of a surgery prior to my coverage. I was told as long as the previous surgery was not for a hernia we were covered 100% with a $1,000 deductible. It was great to have Skype to make these calls over the internet.

Over the weekend I did some cleaning in preparation for my recovery. Bill did some shopping and when Monday rolled around we were ready. Bill had to walk the dog at 5:30 in the morning since Sparky would be left on the boat all day. We had neighboring boats keep an eye on him just in case something went wrong or long.

We caught the bus just before 6:00 am which allowed us time to register at the hospital prior to my 8:00 am surgery. We both got a laugh out of one of the first papers they had me sign as it was for the TV remote and the deposit on it. Once this was signed they handed me the remote. That was done before they asked for my passport.

Dr. Guzman met us at the registration desk as I was signing all the papers. I am not really sure what I signed but by the time I was done I thought the hospital owned my house and first born child. With the paper work done I was placed in a wheelchair and whisked away to the elevator and then to a room on the second floor. This was my room for the next four days.

The operation prep was done in my room. The room was easily as big as our first condo. The bathroom was set up like a fine hotel with fluffy towels, shower mat, shampoo, soaps and a walk in shower with a chair and hand held shower head. The room had a couch which folded out into a double bed and there was a curtain to divide the room. My bed was quite comfy with controls for the head and foot. Next to the bed was a night stand with three drawers and a chair next to the window on the other side of that. At the foot of the bed was a built in closet and TV above that. A room this side in the state would have easily had four patients in it.

The nurses here were very young and very sweet. Once they had me prepped they moved me to another bed and then off to surgery. I was placed in a large room with several beds and only one other patient. Here I sat for less than five minutes but I was very scared since Bill was not allowed in.

Soon the anesthesiologist came in. The plan was to not do the surgery under a general but to use a local block. I was really hoping for some drugs to calm me down prior to this but it did not happen. I was told they try to limit these things for a faster healthier recovery. Before I knew it I was on the operating table and enduring the pain caused by the anesthesiologist cramming needles in my back. Shortly after that I was pain free. I was awake but a little loopy. All I could see was the blue drape they hung to prevent me seeing any of the details.

The surgery went well and took about two hours. Recovery was also two hours. All the while Bill was in my "Pamper Palace" suite. Once I was able to feel my feet again I was taken to my room. Bill visited with me for about 30 minutes before he headed back to the boat for Sparky. I did not sleep well that night. The next day Bill brought me a beautiful flower arrangement with roses. The four days I stayed in the hospital were pretty routine. Bill would come see me at 10:00 each day for about an hour or so. An hour before each meal a waiter would come take my order. Yes, I was able to choose my food; I bet you can't get Manchaca burritos in a state side hospital. The food was always hot and tasty. The papaya juice was like a smoothie and orange juice was fresh squeezed with pulp. I spent some of my time knitting but most of it watching TV. They have cable in the hospital with nearly 100 channels. Many of them are in English with Spanish subtitles. One show I am embarrassed to say I watched was Girls of the Playboy Mansion. Where did they find such brainless bimbos? I can't imagine anyone watching that show for more than five minutes unless they were in the hospital. It is a good thing no one saw me watching that or they may have moved me to the mental illness ward.

The days went by quickly. My care was excellent. Each of my doctors visited me twice a day. That is four doctor visits in one day. The nurses came in like clock work. If there was anything I needed I also had the button to push which brought them in promptly with a huge smile. They were always happy, which is amazing beings they only earn $20 day. A few of them spoke English but I told them I preferred Spanish. I spoke and understood enough to make this work. Most of them were pleased with my efforts but one of the waiters was disappointed because he was hoping to finally have a chance to use English. I am not sure but I am thinking this was a private hospital. It seemed to be less than full and all the people there appeared to be well off. Oh, I almost forgot to mention twice a day my floors were mopped and bathroom was cleaned.

Thursday rolled around and I had a visit from the Jeannette who handles the insurance. She said she talked to my insurance company and I only had to pay for my $1,000 deductible. The rest would be covered 100% including future appointments. I was kept in my room until Bill turned in the TV remote and paid the deductible. He returned to my room with the get out jail free card and we were on our way. Well, almost, they made me sit in a wheel chair to get me downstairs to the taxi for our ride back to the boat. I left the flowers there for the nurse, she was very excited about that. It was a really nice stay and there is nothing that could have made it better. If it weren't for the dog, Bill could have stayed with me the whole time.

Getting back on the boat was much easier than I had expected. Bill had set up another step to make it easier for me out of the dinghy and into the boat which worked out well. We called on another boat to give us a hand getting me onboard but I did most of it myself without any trouble.

I have been hanging out on the boat watching movies loaned to us from another Hans Christian named Bardan. Today I will take off the plastic bandage on my stitches and also try to see if I can get out of the dinghy and on to the dock. This will allow me to go surf the net and socialize under the palapa. I am scheduled to get my stitches out on Wednesday. After that I will be finding a flight home to finish resting, renew my visa, go to Bill brothers wedding and spend some time with family and friends.

April 16th, Leaving Bandaras Bay
With one day left we decided to take a bus trip to San Pancho which is a small beach town about a half an hour bus ride away. Once we got to the right bus stop in the next town we took a bus to Sayulita which is just before San Pancho. When we arrived the bus stopped and shut down. This was the end of the line with no evidence of any other buses coming through this small surfing town. It was at this point that we realized we had just changed our plans for the day.

We walked up and down nearly every street in the tiny town plus the beach front plaza. This made us a bit thirsty and hungry which at least gave us an excuse to go back to the fish taco restaurant we had seen earlier for some tasty treats and a cold beer. We sat up stairs on the balcony facing the church and town square. Little did we know we had a super awesome adventure waiting for us just around the corner.

During the early part of the day Bill had seen some ATVs roaming through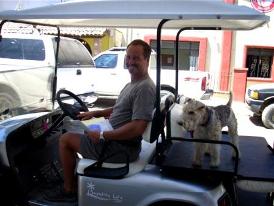 town that appeared to be rentals. We thought we had seen a rental place but could not relocate it. It was then that we came across a golf cart rental place where we decided to stop in and see if they might be able to direct us. I waited out side with Sparky because they had several dogs inside that wanted to eat him.


As I peeked into the window to see what was taking Bill so long I witnessed Bill putting his John Hancock on some papers. At this point I tied up the dog and went inside to see what was going on(Sparks would have to fend for himself). I asked Bill what's up and he sported his happiest little boy alive smile and said "Come on Punky! Hurry up get in!" He had just rented the golf cart out front.

This was not your fathers golf cart. It had off road tires, high clearance and ran on gasoline. The rental guy was going over the features on this ride and when he dropped the seat down in back for the dog to stand on and then pointed out the storage compartment underneath for beer. Yes, beer. He advised us to go to the market two blocks away because they had the best prices. I never thought I would hear this from the rental company but he said " Grab some cold beers and a bag of ice and just drive all over." We questioned him on this. "You don't mean to drink and drive. Do you?" His reply was "Yeah it's cool! The cops don't care. It's not a car." He then gave us a map and marked out some places to go off road through the jungle to a remote beach. He only asked that we don't drive the cart in the ocean.

We headed out with Sparky riding on the flat bed in back. His leash was attached to our seat but he really did not need that. He has incredible balance from living on the boat. He looked quite content with the wind blowing through his hair as we sped along with our cold beers in hand. As the map was marked we head out to the highway and then onto a dirt road. Here we stopped to ask a local if this was the way to the beach. He pointed us in the right direction and smiled. It was at this point we thought this guy might need a ride. He was carrying a couple of black plastic bags that appeared to be heavy. He did not hesitate to hop on the back with Sparky.

We drove through the jungle terrain and up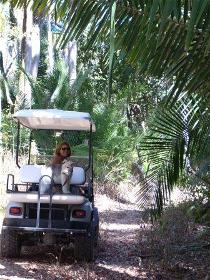 and down many hills. Our new friend told us where to stop and walk through the jungle to the beach or we could continue to another beach. We decided to continue and asked our friend to hop back on. We went up and down many huge hills. We put this cart to the test. After about 30 minutes we came to the house our friend was headed to. He was a worker for the owner. I must say if he were to walk that distance he would not have arrived until the next morning. He was very happy for the ride and directed us further up the road. Here we drove across a creek several times and ended up along side a private golf course in the middle of the jungle.

It was at this point that we found the beach. There were some large houses on the hill sides. We grabbed a beer and walked the beach. As we headed out to the water line we notice thousands of crabs in their tiny shells running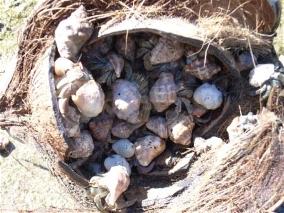 toward the sea. Bill tipped up a coconut shell and found it filled with these little guys. He tried out our new camera video feature and captured this. We then started back the way we came when we came across a for sale sign on a large unfinished house. We drove out to it and had a look around. I was on the roof top looking at the ocean view when I heard Bill laughing and asking me to come see something. It was a hole that went down to the cellar. I thought for sure he was laughing at the craftsmanship like we usually do. I looked into the hole and jumped back as I saw bats flying around. I suggested we leave at this point. We laughed and started back on the road.

The cart continued to take us up and down some incredibly steep hills. In case you have not figured it out we were having lots of fun. Drinking and driving through the jungle with stops at the beaches and bat filled homes; that's fun! I did get smacked a couple of time with wild Bougonvillas and tropical vines which was not fun, but I recovered quickly.

Once we got back into town we drove the cart onto the beach to a guy selling cheese burgers (Hamburgesas con caso en paraiso). We had talked to him earlier and he gave us lots of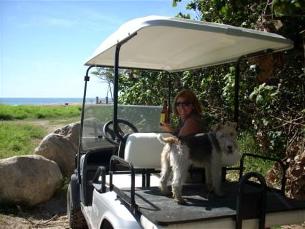 local knowledge. He claimed he was selling cheese burgers in paradise. His claim was correct. Those were the best burgers we have had since Superb Burger in Sacramento. After that we drove through town a bit and then returned the cart and went to catch the bus back to La Cruz.


We got back around 7:30. Bill dropped me and Sparky off at a local cruiser spot that we have tried to avoid due to their double priced beers. We needed to use the internet there and stayed until they closed at 11:00 doing website updates. I now understand why most people have someone back home post their updates for them. The internet down here is super slow if it is working at all.

In the morning we pulled up anchor and headed for Punta Mita, this is Bill's little paradise so far and we stayed for two days. The first day we put Bill on a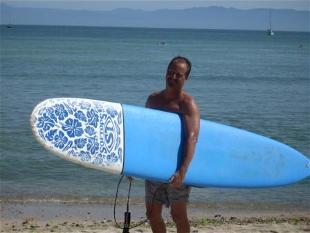 surfboard and me on the beach under a palapa with Sparky drinking two for one Pina Coladas, it was quite relaxing. Bill had gone up to check on the availability of chicharrones only to find out we had to wait until the next day before they would have any. Knowing how much I love these Bill felt it important for us to stay another day. We listened to the weather report and made the change in plans to skip the Tres Murrieta Islands and head straight for Chacala.



Our friends from Windward Bound stayed in Punta Mita one night so we were able to hang out on their boat for drinks and yummy snacks. Jim and Susan from Windward Bound are the the folks who helped us to get into the super cheap private marina in Mazatlan. They are really fun people. Jim is also known as "Q-tip". He is well over six feet tall and has lots of white hair. This made it easy for us to find him during carnival. It is always fun to watch the locals stare at him with big eyes. Jim and Susan have similar plans to ours so we will most likely be playing leap frog with them through the Sea of Cortez.

Day two in Punta Mita left me very disappointed. We went to the Chicharrone man at one in the afternoon and were told to come back in an hour. We did and then were told to come back in five minutes. We did and then were told to wait. We waited and waited and watched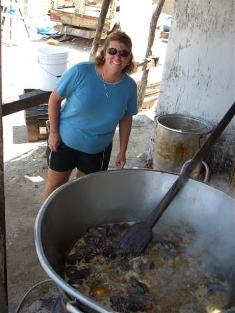 the large pot of oil boiling. Finally it was done. When the man started pulling the meat out I realized there must be some huge mistake. I did not wait 28 hours for oil boiled hearts, liver and some braided intestine looking stuff. It all looked like a witches pot and the man was the terrible witch who was playing a trick on me. I took some of the pork meat that had some fat on it but it was not cooked to a crisp. We gathered up the vegetables we had purchased and headed back to the boat with our pork. After eating most of the pork we picked up the boat so we could be ready to head for Chacala in the morning.

The trip to Chacala was just over 20 miles and the trip was mostly uneventful. We had Jim and Susan over for dinner which was potluck style. This of course was after watching the sunset from the cockpit while having cocktails and Guacamole along with lots of laughs. We never even went to shore here. After listening to the weather we once again decided to jump on a perfect weather window. This one was much more important because we would be traveling 145 miles. That translates to about 30 hours straight. This happened in the morning and with 15 minute of making the decision we had the anchors up and we were on our way. Our friends watched us bust our butts from their beanbag chairs on deck while having nice cup of morning brew. Bill felt compelled to share a gesture with them which had us all laughing.

The weather could not be any better for us. The seas were flat and the wind on our nose was minimal. Along the way I caught two fish. We also got a very close look at two whales. They were within 50 feet of the boat. That is pretty scary when they are bigger than the boat. One whale we saw close by was smacking his tail repeatedly on the top of the water. It was pretty cool. I also spotted a sea turtle with a bird on it's back. Unfortunately we were moving a little too quick for a Kodak moment. One of our favorite things to watch are the manta rays that leap out of the water and do flips. These never fail to make me laugh. At one point we passed an area so abundant with these fellows that there were at least five out of the water at one time. Bill said it looked like someone put them in a popcorn popper.

We arrived in Mazatlan at two in the afternoon. This was a surprise and loss of a bet for me. We never anchor before the sun starts setting. The trip up here was really relaxing and once again made us feel we were cruising again. This is what our expectations were for our journey.

Grab a cold one and enjoy a moment with Lisa..
April 1, 2008
On our way from Chacala to Bandaras Bay we saw lots of whales and a few manta rays. We made an attempt to stop at a place called Jaltemba but the anchor was not holding well and then the windless ( motor that puts the anchor chain in and out) suddenly stopped working. Bill went below and opened the chain locker which is at the foot of our bed in the very front of our boat. He found that a wire had broken loose. Within 15 minutes had had it fixed. I find it amazing how Bill seems to be able to fix almost anything.

We scrapped the idea of staying in Jaltemba and moved on to Punta Mita. There is some tricky navigation to arrive safely to Punta Mita. There is a large reef that must be avoided. This same reef also provides some nice waves for surfing. Punta Mita is a beginner surfer hot spot. We have been told by several fellow cruisers that landing on the beach was next to impossible. A few have said it was just tricky. We had no trouble at all. We just had to time the waves and ride the back side of one in. This can only be done if the spacing is right. If not we would wait for the set to pass.

On shore you will find a cute little resort town. The beach is lined with condos and restaurants. The town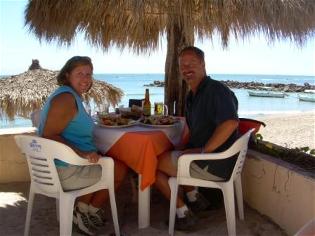 itself is up on a hill with several small grocery stores and a meat market that has Chicharrones. This is pork fat that is fried in a bath tub sized pot set on top of a semi truck tire rim. Underneath is a propane burner. I had not tried this Mexican treat and the guy cooking asked if we wanted the pieces with the most meat. This was an excellent choice. We took our tasty morsels down to the beach where we enjoyed two for one drinks in the chairs under restaurant palapas. Once we had our beverages in hand we busted out the chicharrones. Oh ma gosh! I was hooked with the first bit. This is better than having dark chocolate. I could certainly get morbidly obese off this stuff. I could not help myself for saying "get in ma belly". I have not found any with meat since.


Every day I search for these treats. We even made a return trip to Punta Mita just for these only to find out the place was closed. Perhaps it is a good thing they are not so readily available. You will certainly hear about it when I find these.

Our next stop was La Cruz which is on the north side of the bay east of Punta Mita. This is the only anchorage in Banderas Bay with the ability to provision. The down side of this place is every afternoon the wind kicks up pretty good making for a very wet dinghy ride to and from your boat. The marina here is new and just opened in January. The marina started a new policy a few weeks ago requiring you to pay $10 US dollars to land your dinghy (per landing not for the day) and another $10 to dump your trash and yet another $10 to use their showers. The cost to stay there for a boat our size is $38 a night. As a result of their high prices we have chosen to land our dinghy on the beach.

The town of La Cruz is a mixture of both cobblestone and roads. There is a large population of gringos here. We had been told about two of the must go to cruiser hang outs. One is called Anna Bananas. it was once on the beach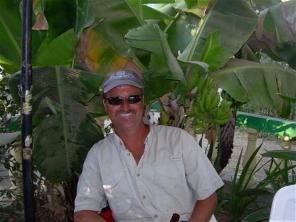 before the marina was put in. We went there one night so we could see what it was all about. The beers were cheap and food was just okay. The bands could use lots of practice. The other place is called Philos.

Philos serves pizza and has free internet. It also charges double for the their beer. We avoid this place as much as we can. There is a third less popular hang out that I really like. It is called La Reve.

Le Reve is a courtyard French restaurant. I am not big on the French but really like this place. They also have free internet and serve Mexican food with a French twist along with reasonable priced beers. Oh, they also have excellent coffee that is roasted on site. The courtyard has a water fountain and lots of shade along with a small stage for evening entertainment. There are also outlets for you computer at nearly every table just off to the side in the planter boxes.


The bus system here is really good. Rarely have we had to wait more than five minutes to catch the bus into Puerto Vallarta. This is about a 45 minute to one hour ride. We arrived in Banderas Bay a few weeks before the arrival of our friends Dino and Cathy who would be staying with us for one week to get a taste of the cruising life. These are our friends with a boat like ours that we sailed with nearly every weekend for three years before we headed south.

On our agenda for our visitors we planned to do an canopy tour which is gliding along the zip lines above the jungle and river. We scored some tickets for this by going through a timeshare presentation. We also planned to take them snorkeling at Tres Murrieta islands and to see the quaint village of Yelapa. Our original plan was to anchor near the canopy but when we made a trial run of all the places we planned to visit we found the anchorage was not ideal for us. We stayed in Quimixtos one night which was nice but the wind and waves were not to our liking.

Our stay in Yelapa was quite rolly. We took a mooring which made us unable to put out a stern anchor. This did not stop us from staying here for three nights. This too is a favorite place. There are no cars here and one can only arrive by boat. That also means the pangas have to bring in all the food and building supplies. To get around the locals use horses and donkeys. There are pathways instead of roads which are cobblestone and weave around this hillside village.

When we first started walking around I mentioned to Bill that this place made me feel like I was in Who-ville. I have since named it Pookeyville. There were lots of cute little Pookey houses. Yelapa has two water falls. One is just on the outer side of the village and the other is a two hour hike. The two hour hike was certainly worth going on. When we arrived here we were instantly cooled off by standing under the powerful fall that was short in comparison to the other. The water was fresh, clean and not cold. I would not hesitate to make the trip again. The hike was gentle crossing the shallow river twice. The last thirty minutes had us going up a bit in elevation. Most of this was in the shade of the trees.

Visiting Puerto Vallarta itself was not what I had expected. Typically the areas around the town cathederals have been the hub of the city. There is a town square near by with a few shoe shiners. One had offered to polish Sparky's paws. Perhaps it did not have the right feel to it because Starbucks and many other chains have moved in. We later found out the old part of town was several blocks south. We pass though that one day but did not have time to stroll around. It looked pretty nice but the lure of the trinket shops does not interest me any more.

We had our friends stay with us for one week and had a fantastic time. They were excellent guests. Perhaps that is because to us they are more like family than guests. The first day we sort of chilled around the boat and La Cruz. We stayed in the marina for the first couple of days of their visit. Day two we went into PV were we saw the "twirling guys on the pole" and visited a few bars along the Malecon. My favorite was the Cheeky Monkey. I even have a Cheeky Monkey t-shirt thanks to Dino and Cathy. While we were there we met up with a group of about ten college students on spring break. They were loud, wild, well beveraged and singing. We wanted to have our fun to so we started in singing. The problem is we could only come up with two Spanish songs, Feliz Navidad and the Frito Bandito. The kids loved our attempt to sing. They starting singing the songs in English. There was quite a bit of laughter and soon we were buying them a round of margaritas. This prompted them to send us a round of tequilla shots. By now the crowd in the Cheeky Monkey had grown and was full. The Cheeky Monkey is on the second floor and open to the Melacon looking over the main street in front of the beach. Dino started talking to the owner and found out he was also from the same hood in New York. The Cheeky Monkey is not only a bar but an Italian restaurant as well. We caught the last bus back to La Cruz and called it a night.

The next day sailed up to Punta Mita and walked the beach which was packed with locals on Easter vacation. We tried once again to get some chicharrones with no luck. We sailed back to La Cruz in the evening to get ready for our canopy tour in the morning.

Early in the morning we took the dogs to the vet for dog sitting. Bill and I had made this arrangement the week before. The dogs had the run of her backyard and house which is connected to her business. Sparky must have loved it there because every time we walk by he runs up to her door.

I must say I was really anxious about the canopy tour. I had been thinking about it for over a week. I am terrified of heights. To give you and idea, I once cried climbing a ladder up from the dinghy to the top of a pier in SLO. With our friends there I would have to push myself as to not let them see me cry. I had no idea when I was riding the bus with sweat dripping off my hands that I would be conquering two fears this day.

When we arrived we were herded up a hill and geared up for the adventure. This of course was after our adventure with our tickets. You can read Bill's version for those details. Next we were led up another hill that left us a little winded. Once there we had to climb a five story flight of stairs to the tree platform. This had me shaking and fighting the tears. I could not look down. I just kept my eye on the step in front of me and watch my gloved hand hold each and every step. The good thing was we were the last people in the group. I was in front of Bill, then Cathy and last was Dino. I had to keep moving because they were waiting on me. Once on the top the guide clipped my safety line to a cable around the tree. Next we were to get hooked on to the handle that glides across the zip lines. This was really scary for me. I had tears in my eye and was shaking. The guide asked if I was okay. My reply was let's just go. It was a short ride that include a pose for the photographer on the other side. Knowing my picture was being taken I tried really hard not to be terrified. I was terrified. After a couple more short runs I was starting to enjoy it. Then came the bigger, higher, longer, faster line. I was scared again. I had no other way of getting down the hill. I remember thinking for the first minute or so "this is hella scary. What am I doing?" Then I realized I am on my way and have no choices so I let out a loud wooo hooo and laughed my fears away.

There were 17 zip lines and I really had a great time. The last few lines had quides to go with you and allow you to run the line backwards. I did this twice the second time was with the camera man for the video they sell at the end. With his encouragement and camera on me I let go with both hands flying backwards and I have the video to prove it! I would do it again and again. I have conquered this fear. We had a well deserved beverage at the end and then visited the mini zoo they had. Here is where I conquered another fear. Dino and Cathy were holding a Boa constrictor and taking pictures. Dino convinced me to touch it and feel its muscles as it crawled around his arm. Before long he had me wrapping this snake around my shoulders. I was terrified. Cathy had said this is the only time she has ever seen me sport the look of a truly terrified person. I can't help but wonder how did I relax enough to do these things. I felt great at the end of the day. It was one of those "look at me, look at me" days. I did it!

The next day we we sailed over to Yelapa and unfortunately most of the town was closed because it was Easter Sunday. We stayed the night on a mooring and the next morning we stopped at Tres Murrieta Island and met up with some people who we had met on the Haha but had not seen since Cabo. After getting exploring details for the island from them we had a nice sunset cruise back to La Cruz. We anchored out for the night and moved back to the marina in the morning. This was the day Dino and Cathy along with their dog Freeway were to fly home.

With friends gone we moved back to the anchorage and made some cash by going to tme share presentation. We have earned enough money to pay for our flights home to renew our visas. We have been using a guy we met on the street to set up our presentations. He gets a large sum of cash from the timeshares for each presention we attend. This make me feel like a hooker so I refer to him as our pimp. Each day we do a presentation I call it a trick. Our last trick was quite comical if you step back and look at the whole day. I will leave that story for Bill to tell. As a teaser I will say it the day started with our pimp telling us we would be picked up by a midget at the bus stop who would drive us from La Cruz to PV.

Today we plan to visit a small beach town called San Pancho. It is about a forty minute bus ride from La Cruz. We are so lucky to be able to take our dog on the busses. Tomorrow we head out to Tres Murriettas to explore the islands and then a one night stay in Punta Mita where Bill will do some surfing. From here we will start our journey north. Chacala is a definate stop on our way to Mazatlan. Once in Mazatlan I will seek a doctor for some problems I am having with my stomach as a result of my surgery in August. We will also take turns flying home to renew our visas. Once that is complete we will go up into the Sea of Cortez which we have really been looking forward to. We have scrapped any plans to go further south of PV at the time. After talking with many of our friends who did go south we just don't feel there would be much there for us.


Chacala Bay..Late February 2008

Chacala is a bit of paradise in my opinion. It is located 21 miles south of San Blas, which made for a short easy trip. This small bay has a wonderfully clean beach that run .75 of a mile. Some of the waves that crash along the beach make a thunderous sound and give off a cool mist. The beach is lined with palapa restaurants with many palms. The area was previously a palm plantation. We anchored near the panga docks in a cove on the side of the bay where we found a small beach completely protected from the waves.

Once we landed the dinghy we walked up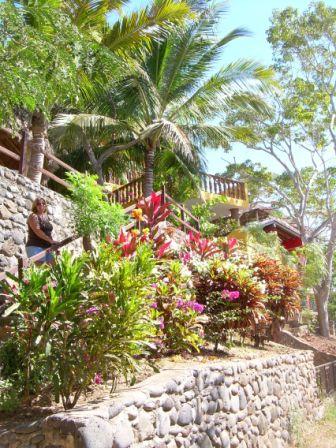 the dirt path that over looks the bay on one side and has beautiful vacation rentals on the other. The rentals go for $60 a night with a kitchenette and hot water, not too bad for a beach front rental. The dirt path is palm and tree lined which gives it a unique feel as you stroll along. We have seen some iguanas on the rocks along the way.

The town has cobble stone roads that are laid out in patterns making one wonder how long it must have taken to lay them out. We found a few small stores to buy food. One has the best avacados we have had so far, I must have bought a dozen during our stay. A new favorite thing to do is make guacamole and eat it with tostadas. This is something we found down here that makes a lot of sense. We serve a bowl of tostadas and break them up as we eat the guacamole. This takes much less room than buying a bag of chips and they are not all broken into tiny pieces. I like to have this in the late afternoon with a cold beverage in the cockpit as the sun is going down.

One afternoon while enjoying our beverages in the cockpit a man swam out to our boat with his wife trailing far behind. They came from the beach. He was from the states and stays in Chacala a few months out of the year. He told us about the town and the volcano one can hike up to. This was the first we had heard of the volcano.

Nothing we had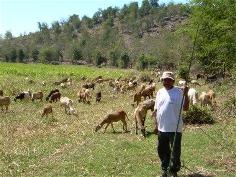 read mentions it. The directions to get there were a little strange but we did it. This included going through closed gates, over a cement bridge, up the hillside, through the jungle, and though a orchard. Once we got to the top we found the volcano. It had turned into a meadow over the years and was now occupied with a goat herder and his horse. From the top we had a fantastic view of our boat in the anchorage along with the beach.



On the way back we stopped at a holistic health retreat-spa for a cold beer. We were covered in dust from the hike. At first they stuck their noses up at us and then an English speaking girl came along and said, "so, you want to grab a beer. Come on in." We sat on a seat for two with a coffee table overlooking the beach and bay. We later found out this place charges $700 per night. It only cost us three bucks for two beers to enjoy their view. Oh, yes we had our dusty dog with us too.

At last we have found a place to swim in the water again. The water temperature is 77 degrees. For the 10 days we stayed I used my inflatable kayak nearly every day to get some much needed exercise. I especially enjoyed doing this in the calm of the early morning when you can smell the campfires of those camping along the beach. Between this and the swimming I feel pretty good. The air temperature was in the high 70's low 80's. For me this was perfect.

The whale watching here is incredible. On most evenings we were able to see whales just outside the bay feeding. Many of them would do a full breach. The splashes were spectacular. I never thought I would get to see this from the cockpit in an anchorage with a cocktail in hand. I am so lucky. Many people pay big bucks to see whales and never get close to seeing what we did. On a couple of days the whales came into the anchorage. This was a real treat even though it made me think for a minute before heading out in the kayak.
Bill calls my kayak a hotdog. It is a cheap inflatable and looks like a hotdog bun. It works and does not take up much room compared to a real kayak.

While we were here we made a point to get our website more up to date which we did. Bill spent six hours each day for three days doing updates at the library and a favorite beer spot at the end of the beach on the hill. We have started compressing our pictures to help the site load faster and to make the updates go quicker. We even called the web host company for pointers using Skype. We were told the pictures are the problem. I think spending 18 hours in three days is way too much time to spend doing updates. That does not include writing time. If any one has any suggestions please feel free to share. Since we started compressing the pictures things are going a little quicker.

Our favorite beer spot was at the far end of the beach. We had no idea it was there until our friends from Pepe sent us an email saying it was a must visit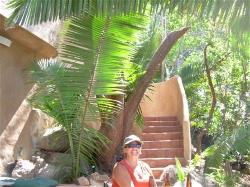 place. They were right. Without directions it is hard to find the trail that leads up to the hang out on the hill. The path up to Majahua restaurant, bar, hotel, spa, has a couple of switch backs and is lined with lights, palms, and rocks. It is a beautiful shaded path. Once you reach the Majahua there are several terraces at various levels. Each of these have Coleman fold up chairs and a small table. Some are set up for two people and others for four. On the table is a vase with various palm cuttings. The ground is covered in small loose rocks. It is very rustic but has a feel of elegance to it. In the background you can hear music playing that makea you feel as if you were in a Japanese garden. The view is through palms and overlooks the beach and bay. I felt quite content here. They serve dinner but you need to make a reservation and place your food order before 3:00. It is a small place and they only have about six tables on two terraces. We had dinner one night and really enjoyed it.


With our meat supply getting low we decided to go into the next town by taxi which is call Las Varas. Here we found several things we had been looking for but were unable to find elsewhere. It was a cute little town with very friendly people. Our first stop here was to an auto parts store where Bill picked up a few belts for the alternator. We think the alternator is finally all squared up literally. Bill checked the alignment and found it to be off quite a bit. We are hoping this will be the last you will read about our alternator. So far twice we have had to change belts at three in the morning while underway.

Chacala is so far my favorite place. I am sure there will be more favorites to come but for now Chacala is my little paradise.
February updates...almost up to date..
We left Isla Mazatlan Marina around 10:30 in hopes of getting some fuel before we started our overnight trip south. This was after I met my friend Julie for some girl talk while I did the laundry at the marina. We were at the mercy of the folks who run the fuel dock. After several radio conversations with our friends who were docked behind the fuel dock we were told one of the tour boats had left so we quickly headed down there. I was barely able to get an email out to our family to let them know we would be out of touch for a week or so.

Once we got down to the fuel dock another sailboat had pulled in. They were waiting for their slip assignment. There is very little room to maneuver around the dock. We were lucky to be able to use our bow thruster for some of the quick maneuvering that had to be done. Not every boat has one and we are sure happy ours does. We called this other boat on the radio to have them tell us when they were about to leave. We circled around for over and hour waiting. As soon as we got the call we headed straight for the dock and were not too happy when a fishing Panga cut in front of us. After waiting so long we were getting a little edgy. We yelled out to the fuel dock worker who apologized but this guy was his friend and he had to take care of him first. At least the guy was honest.

Getting into the dock was also a challenge and our bow thruster came into play again. We had a fishing boat at the end and a small space between him and the rock cliff of shore. Oh, to make things more fun there was a wicked current running through the area. Once we fueled up we were off to start cruising again.

We arrived at Isla Isabella well before 5:00pm the next day which is unusual for us. This island is a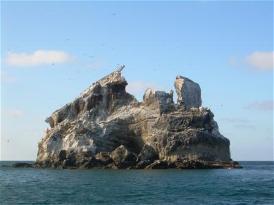 national wildlife sanctuary. There are lots of students who come here to study the Frigates birds that nest here. While I was dropping the anchor one of the sweeties dropped a load on my shoulder. Perhaps this was their way of welcoming us.

The anchorage is very small and there are rocks on three sides of you at all times. This means if your anchor were to drag you will be sitting on some rocks. A friend had told us that this was a very rolly place but we did not think so. Well, not at first. As the night moved on the waves moved in and we were bouncing around in all directions. Bill put on his snorkeling gear earlier and dove down to make sure the anchor was set well. This gave us some confidence.

By the time morning rolled around, neither of us slept well so we decided to move on. The other thing we did not like about this place was there was not a good place to land your dinghy and if you did your dog was not welcome.

The weather was nice with a light breeze that allowed us to sail almost the entire way to San Blas. We chose to anchor in Mantanchen Bay which is about 5 miles south of San Blas. When we arrived at the bay the sun had set and it was very dark. Usually a moon is there to help us out but not on this night. We used our radar to get the lay of the land the best we could. It was a little scary not being able to see well. We could see some lights on shore and a few car lights on occasion. It was very hard to tell the shore light from boat lights. It was especially hard as not all the boats had anchor lights on. We are not sure why people don't use them but it is very unsafe not to.

Knowing some people we met on the HaHa had left Mazatlan when we did and they were going straight to Matanchen Bay we called them on the radio. We flashed our flood light so they could get a visual on us to help guide us in. To our surprise they did not see it because we were not heading their way. Soon they were able to see our red light at the top of the mast (for our non boating friends all boat should have a red light on one side of the boat and a green on the other to determine who has the right of way). Once we were headed straight for them they were able to see both lights meaning we were heading the right direction. We soon were able see those boats who did have lights on. We dropped the hook and waited for day light so we could get a visual on the anchorage.

By midmorning there were only three boats in the bay. We pumped up the dinghy to go to shore. As we were about to leave one of the other boats named Lucie came over to pass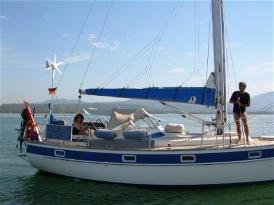 along some magazines of sailing from the states. We finally got the December issue of Latitude 38. Our new friends Michael and Anick sailed here from Germany. They had some great stories of their journey and were very nice people.



Once we got on our way we headed for the palapa with the green support poles as advised by a fellow cruisers. Here is where we met Ishmael, the unofficial welcome wagon for cruisers in Matanchen Bay. He will watch your dinghy free of charge all day. Also he is there to answer questions, sell ice and give free transportation of your laundry to the city. In return most cruisers eat at his palapas even if they only have the tiny bottles of beer.

Behind the palapas was a dirt road that curved into the town. We chose to walk the beach instead of going into town. It is a very long beach that goes around the entire bay. After a long walk along the beach we decided to take a dirt road to the main road to walk back to the town. The town consists of a Pacifico warehouse and several houses with glass display cases filled with banana bread. Every house seemed to do this with their large commercial oven out front. The scent of fresh baked bread was everywhere. We had to buy a loaf which cost $2.50. It was very good.

As we headed back to the beach and our dinghy we came across a spot with ponds on both sides of the road. I joked with Bill and told him, there were crocodiles in there. To our surprise there were! Earlier, on our way to the road we let Sparky get into a pond just like this. Hmmm, we must be more careful.

The crocs were only about three feet long and were sitting in the sun along the waters edge. Overly excited I grabbed the bread from Bill and told him to get the camera out and take some pictures. I was so afraid we would never get another chance to get pictures of crocs in the wild. It turns out they were not going anywhere and are at the ponds almost every day.

We ate tostadas at the palapa and had a few cold beers. Sparky was given a large cup with water. This area is filled will bugs called Jenjenes which bite and itch. Our first time ashore we only had a few bites and the itching did not seem to be intolerable. Or so we thought at the time.

Later we took our dinghy and some cold beers over to Lucie and had a great visit with our well experienced German cruising friends. They had planned to leave in the next day or so to head south. Our plan is to stay two more days. One to take the Jungle boat tour and visit the crocodile farm and another day to visit the town of San Blas.

The Jungle tour was fantastic. We purposely avoided getting in the boat with all the other Americans. It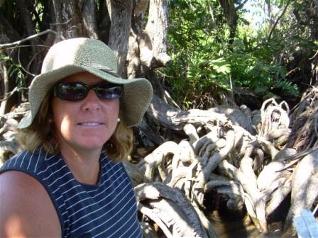 was great to be with a Mexican family with a son and daughter around the age of 7 and 8. On this trip we saw lots of birds, a boa, turtles and many crocs. Some were quite large. The tour was several hours and the plant life was very interesting. We started having trouble with our camera which had a fresh set of batteries. It does not want to turn on all the time. We plan to get another like it for a back up. Fortunately, it did turn on for each picture we tried to take after a long delay. I may switch back to the lithium batteries to see if that helps, I just have not seen them in the stores here. This will be on my Costco list for PV.

After the jungle tour we took a long dinghy ride along the shore and ended up at the palapa where Bill and I shared a meal. The dinners at the palapa are between $9 and $14. We learned from other cruisers that if you share these meals you can afford to eat out. The portions are large enough, especially when they bring you a dozen tortillas. During this meal we experienced the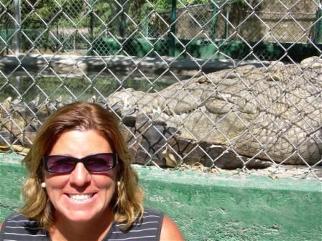 burning of coconut husks which fills the air with smoke to keep the biting bugs away, sort of.

Later in the night Bill had millions of bites on him. He looked as though he had chicken pox. I only had a few bites in comparison. Bill was going crazy through the night spraying himself with rubbing alcohol trying to stop the itch. He had been using bug repellent but they still bit. At one point in the night I got up with him to try to see if there was anything I could do. I remember once my mom made paste of baking soda for a bee sting I had as a child and remembered how good that felt, so we decided to give it a try.

Bill rolled up his cozy pants and we pasted him up. He looked ridiculous. Later we talked about all the home remedies for stings and such. Bill thought we should try vinegar. That is what you use for jellyfish stings. He was desperate to make this itch stop. Thinking I would be funny I suggested I fill a spray bottle with vinegar and spray it over the baking soda. Bill was so desperate he did not even realize what I was saying but agreed to do it. Once he came to his senses he finally laughed. For that night Bill was not himself, he used lots of bad words but never suggested we leave.

We still had one day of activities for this area. Taking the bus into the town of San Blas. This town did not do much for me. It was small and seemed to lack charm. There were lots of Americans who appeared to be hiding out from the law in the states. It had a strange feel to it to me. We had a very nice lunch and purchased some veggies to take with us on to our next stop Chacala. After all the bug bites we were more than ready to leave this place and not return. The next morning we left for Chacala about 21miles down the way.


Mid January update..Return to Mazatlan.
The trip back to Mazatlan was less than restful for Bill. He did the night watch, which included many shrimp boats along the way. We were starting to think all the shrimp boats from Mazatlan had come out to be in our path. Other than that everything with the exception of an alternator belt breaking in the middle of the night went well. Fortunately we had a spare preventing Bill from getting out his sewing kit again.

When we got back we anchored in the old harbor of Mazatan. Bill was very tired and went to sleep while I took the dinghy to shore to try to get on the internet. We had an email from our friends and boat neighbor back in Alameda while we were in Altata. They heard we had left Mazatlan and were sad they had just missed us. They planned a vacation to spend ten days in Mazatlan just prior to Carnival. They had no idea we were going back and were really excited when we emailed them to let them know. I called them on their cell phone with the internet based phone we use called Skype. I did not have any luck reaching them because they were actually arriving that day and I was a little early.

While I was hanging out at the tables on shore which is known as Club Nautico I met several young people who were staying on a bus and one of the boats in the harbor that was anchored right in front of us. It turns out they were part of the large circus that had just finished performing in Puerto Vallarta. They were trying to book flights back to Washington while on the weak internet connection.

I offered to give some of them a ride back to their boat because they seemed to be in a bit of confusion about how to get back on the boat without a dingy. What I didn't know at the time was that the owner of the boat had left to take some of the crew to the airport. Within five minutes of getting back on our boat I noticed the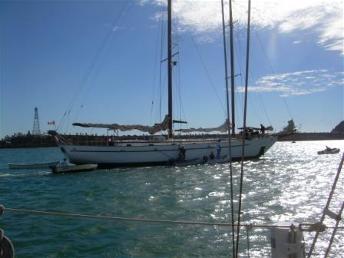 boat of clowns,( yes I did ask which of them were clowns when we were on shore, they all were) seemed to be dragging anchor and heading toward our boat. Their boat was about a 70' schooner.

I went below and tried to gently wake Bill with out making him panic. I asked him to please come up. Perhaps I was too gentle. He was brushing his teeth when I asked if he could please come up NOW! By this time the boat was within a foot of hitting us. A couple of the clowns had climbed out on the dinghy davits (metal bars that hang off the back to hold the dinghy while underway) and when pushing themselves off our shrouds (wires that hold up our back mast). If we did not get them pushed off our mast would come crashing down. This was a bit too exciting for us but we do have the story to tell about the day we were nearly taken out by a boat of clowns.
It turns out that none of them had ever even been on a boat before. They had no idea if the boat had an engine let alone another anchor. I told them they needed to look for these thing before they hit the rocks after they passed us. By this time there were six dinghies around them with lines trying to pull them back to the anchorage. Bill went aboard and gave directions to the clowns to get them to pull up the anchor and reset it. Does this make him a ring master? Once they were anchored Bill thought they may be dragging again. We decided to pick up our anchor and move to the other side of the anchorage.

The next day we met our friends Norm and Karen from Alameda. They picked us up in their rental car and we went off to lunch at the end of beach in Mazatlan. We had been there before and enjoyed this quiet place on the beach. I walked Sparky on the beach before our lunch was served. Then all the waiters started looking down below on the beach where Sparky and I had just been. There crawling ever so slowly was six foot boa constrictor. Typically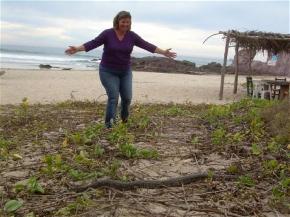 I am terrified of snakes. Bill had asked me to stand by it so he could take my picture. I can not believe I did so and was not afraid.

We had a wonderful visit with Norm and Karen. It was great to catch up on everything back at the marina in Alameda. A few days later they met us after we moved to the marina where we were staying and working on boat projects like varnishing and waiting for Carnival. One day we took them on the same dinghy trip we had done with about six other dinghies in the marina. On the previous Friday night we had met in dinghies and taken a ride up the estuary where there are lots birds and some very expensive houses. In the middle of the estuary an anchor was dropped and appetizers and drinks are served pot luck style. We did the same with Norm and Karen and they thought this was pretty cool. We even saw an iguana swim across the water to the island. I am not sure what happened but we some how went through an entire case of beer. We certainly had a fun time.

The two carnival events we had planned to see were the fireworks and the parade. The fireworks were incredible. We had a group of about six and later nine people. It just so happened that we got a place to see them front row on the wall on the beach. The fireworks were being set off right below us. The display was a simulation of a battle with one of the Navy boats out in the sea playing the part of the French. This was my first experience with "interactive" fireworks as Bill calls it. We had them landing on and around us all night, quite exciting. At one point we had to put our friend TJ's head out since it caught on fire. There were no serious injuries. I must say that is the most memorable fireworks display I will ever see.

The next day we watched the parade which went well into the night. A lot of the time was spent waiting for the parade.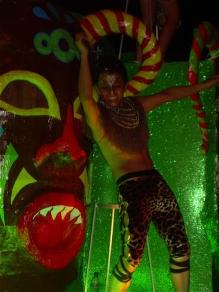 It was very nice but not as exotic as I had expected. Along the parade route were several band stages and lots of loud music. We left to head back to the marina around midnight. At this time there was a line about a mile long of people trying to get into the parade area and the parade was over. This is when the really party starts. We had plans to move along the next day so we headed back to our boat and dog.



Mid January Update....Altata, Sinaloa, Mexico
We arrived at the entrance to Altata in our usual style, much later than we wanted! The entrance is a bit tricky with standing waves on both sides of you as you enter. We will hit bottom in six feet of water and the entrance showed us nine and some change. This was only for a short distance but when you have waves crashing on both sides of you it is a bit scary. The other thing that had us a bit nervous was the guide book and CD, made by another cruiser with the waypoints, recommends entering at high slack tide. We did the complete opposite. Once we made it through the entrance and turned left up the estuary for several miles things were looking good. We had thirty feet of water and it was absolutely flat.

In the estuary we saw pangas with spinnakers. At first we thought we were seeing things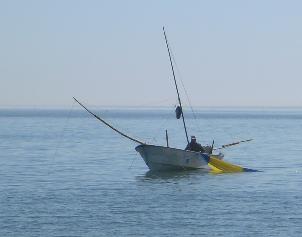 because we were tired from the all night trip. These pangas all had bamboo poles sticking out from the front and back along with one used as a mast. Not only was this strange to us but they were also sailing side ways with fishing nets out the side opposite the sail. The sails all had beautiful bright colors and it looked like there was a regatta going on. We weaved our way through the pack and arrived in Altata where we anchored on the town side of the estuary.

Last year only six boats came through Altata which is a vacation destination for wealthy Mexican citizens. Once the anchor was set there were boat loads of Mexican tourists circling the boat and taking pictures. In turn we took out our camera and took pictures of them. It was quite comical. One lady called out "I speak a little English. How are you?" I responded in Spanish and everyone smiled. The waterfront of the town consists of many palapa restaurants that line the water with a dirt road behind them and then restaurants in buildings. At the end of the palapas is an open area were young men go to spin donuts with there cars to impress their chicks and other guys.

The majority of these drivers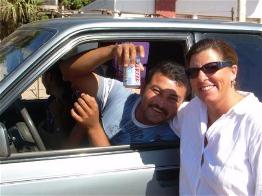 have a can of Tecate beer in one hand at all times.

Doing donuts was quite the attraction, that is until one day someone rolled a brand new four wheel drive pick up truck. After the accident the driver was tossed (literally) into the back of a police pick up truck where they wrapped his head and sped off to the hospital. It was quite obvious there were open containers in this truck since they were tossed onto the beach along with other items from the inside of the truck. Fortunately none of the onlookers were hurt. It's quite odd to see a guy sipping on his beer and smoking a cigarette while giving the police his version of what happened. Some how I don't think you would see this in the states.

All this action was easy to view from the seats at the La Perla Restaurant. La Perla is the restaurant of Gustavo who makes it a point to welcome all the boaters who come in to Altata. He did have a wall where cruisers could write their name along with their boat name and the year they arrived, but the health department told him he had to paint over is because it looked dirty. Before he painted the wall there were sixty names dating back to the first official cruiser to enter the port in 2002. He now has a book to insert your boat cards (business cards with your boat info).

We took our dinghy to shore when we arrived and a man came up to us and welcomed us to Altata with his limited english. We knew immediately this was Gustavo. The next day he came out to our boat with his English speaking son and three of his grandchildren. We brought them aboard and learned about the town and the pangas with sails. It turns out they were catching shrimp and use the sails to keep from scaring the shrimp with their engine noise. It is an ancient Chinese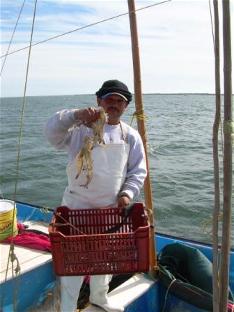 method of fishing.

From what we saw it worked quite well. The shrimp were huge and quite tasty. We bought two pounds which consisted of 24 shrimp larger than my hand for $6.00. I don't think you can get one pound back home for this price and talk about fresh. They were still alive. This was the best shrimp we had ever eaten.

The people of Altata were quite friendly and made a point to say hello to you first. This town has a couple of small stores to buy tortillas, eggs and such. There are also a couple places to buy beer. Bill loved this. You drive up in your dinghy and walk across the street to purchase a case of beer for $14, they even threw in some Corona glasses just to seal the deal. Another thing the beer store has is a urinal around the side of the building. We have seen several beer stores with this. I learned this when asking where the banos were. Needless to say it was quite funny for the guys when only mingatorial were available.

Altata is a great place to explore with the dinghy. There is a lot to see. One of our trips took us to the sand dunes on the ocean side of the estuary where we walked over the dunes to the sea. Here we found more sea shells on the beach than I had ever seen. There were so many different types that I had never seen before. I took some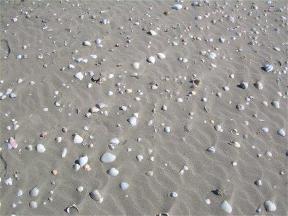 pictures of the shells on the beach to use as a background for my computer desktop. The waves were large and made a thunderous sound as they crashed on the beach. Sparky loved this and ran along the beach for hours.

Another dinghy exploration had us digging up clams for dinner. This was pretty cool. We were living off the land and sea. Bill did an excellent job of cooking them. We had our friends over from Triple Stars for dinner one night and we ate steamed clams with garlic, butter and herbs.

After finding the internet café, which is a house with lots of computers in the front room, we got an email from the folks at Club Crusaros in La Paz. These are the people who help arrange for the packages to be distributed from DownWind Marine. Our package had finally arrived. We left them with instructions to send it on the next boat to Mazatlan. Our plan was to head back down as soon as we heard it was crossing the sea. Well, as it turns out our friends on Sugata where leaving and heading to Altata and knew we were there so they volunteered to bring the package. They arrived the day after we learned they were coming. This worked out great and allowed us to stay another week in this place we liked so much. It was also great to catch up with them. Bill met them back in the bay area on the Hans Christian Owners website and helped him with a boat project. We never guessed we would be seeing them in Altata a year later.

There are plans for a marina to be put in but from what we saw it will be quite a while before this happens. The plans for the gated community on the ocean side have begun. The bridge to get there is done and there are lots of houses already built. We went out and had a look at these with Gustavo's son Caesar. We took a tour of some and the workmanship wqs scary.

We took two trips inland on the bus and had no trouble bringing the dog. One trip was to Culiacan, which is the capitol of Sinaloa. This town was okay but nothing really stood out to us. On the bus there was a girl in front and across from me. She had a newborn baby and a friend with her. The child made me think about my grandson Shane who was also a less than a month old; I looked at the baby and told the mother she was precious. As soon as I was settled in my seat this girl handed me her baby. This was odd. I held the baby for a while until I was concerned the baby had been shaken too much from the rough bus ride. I handed the baby back and later saw the girl hand the baby to the girl who was sitting next to her and then she got off the bus without her baby. This was very strange. I later heard a story about some mothers trying to give their babies to Americans to take back to the state and raise them to have a better life.

The other bus trip was to Navolato. We had fun in this town. They had a central Mercado with veggies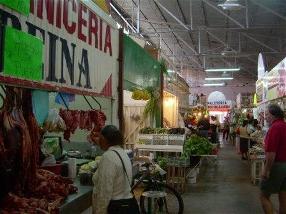 and meat. Also, we found a very expensive super market. In this town we picked up some things we needed but could not get in Altata. Bill was quite excited to find a fan belt we needed.

After staying here for two weeks we decided to start heading south to warmer weather with a stop in Mazatlan for Carnival. On our last day we had a pre-arranged meal at La Perla. The menu there was the same as all the others in town and we were looking for something, local, new to us and very special. Bill came up with the idea to approach Gustavo and ask him to prepare a meal for us for $1,000 pesos. Gustavo eagerly aggreed.

The meal would serve six adults and one child. We were to arrive at 5:00pm and when we did it we were treated to a very special meal. All the food was served on large platters with great presentation. First we had cerviche that included shrimp,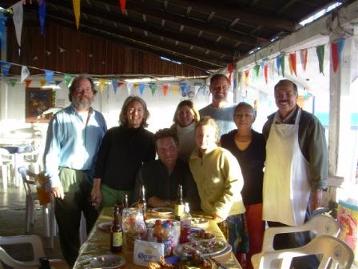 octopus, cucumbers and lots of other goodies. The meal included all beverages as well. Next on the table was shrimp Diablo which was the first time I had this and it is on my list of favorites. Soon after this came the platters of fish, which was bake whole with some great seasoning, three types of shrimp, rice, beans, and salad. It was better than a Thanksgiving feast. For dessert we were served a bowl with some soupy white stuff in it. Gustavo called it crema. It was actually cream of wheat with cream and vanilla. This certainly was not what we expected for dessert but it was good. I made a comment that we had been there for so many hours they were serving us breakfast.


The meal worked out great for everyone. We took several group pictures after. You could see in the eyes of Gustavo and his wife they were proud of the meal they presented. It was a chance for them to show their talent. We left around 9:00 and prepared for our morning departure
Late December and January updates.....
Arriving in Mazatlan we had expected to see some warmer weather. We did but not much warmer. The walk into town from the anchorage takes about twenty minutes. On our way out we had the realized there is a sewage treatment plant right across the street from Club Nautico which consists of a place for cruisers to sit and connect to the less the desirable internet connection. The adventurous can even use their filthy showers that are heated with electrical wires over your head. If the wind is not blowing from the north the smell is not too bad. The wind usually blows from the north. We anchored far enough out that we rarely were reminded it was there. The anchorage was not too bad. It was $3.00 to land your dinghy

Mazatlan has a large estuary that goes back about ten miles. We took our dinghy for a ride to explore the area. The Pacifico beer factory is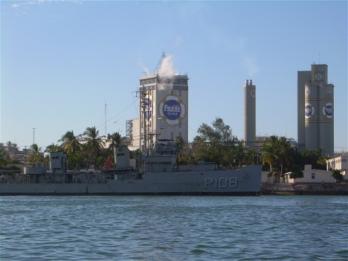 along the estuary and just out side it's property are the Mexican navy's ships, presumably guarding the treasure. Now here is a country with its priorities straight. Further up the way we found hundreds and hundreds of old shrimp boats. Some appeared to still be in use and other look like they have not moved in many years.

One of the first matters of business we needed to do was get a new alternator bracket built. We talked to several friends on the radio net and they each had a different suggestion for us on this. In the morning we grabbed the old bracket, the dog and headed into to town for an adventure to a place to get this done. Once we landed on the dinghy dock Bill found some local guys and asked them where they would go. They asked many details about what we wanted. After several minutes one of the guys told us about a guy who would be able to help us. Once we asked if there was a bus and also tried to get walking directions the guys said he would give us a ride as soon as he emptied the back of his truck into his storage unit at Club Nautico. The next thing we knew we were riding in a very old Ford pick with our new friend to see the fabricator. At times I was worried the truck would not make it up some of the hills. We tried to pay our new friend for the ride and guide service. He absolutely would not take anything. Perhaps we were just cashing in on some karma.

The fabricator told us to come back at exactly 1:30. This was only a couple of hours away. We walked around the downtown area and stopped for lunch. When we returned the bracket was exactly what Bill had asked for and they even put some paint on it for us. The price was $40. We were quite pleased with this experience. I had thought this repair process would have taken several days instead of a few hours. When we returned to the boat Bill installed the bracket and it fit perfectly. Now we are waiting for our new alternator to arrive.

The old harbor where we anchored is also right next to the trail that leads up to the lighthouse.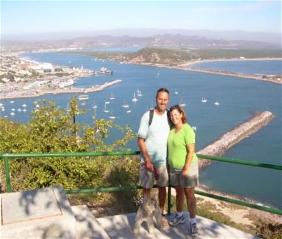 We have heard that it is the tallest lighthouse on a natural base that is still manned. There are several variations of this claim so. Some say that is applies to world wide others say it is applies to North America. We chose to take the hike to the top which took about 45 minutes. Some portions were steep with cement stairs. Once on the top we experienced a fantastic view of the sea and all of Mazatlan and the estuary. Oh, let's not forget the view of the sewage treatment plant which is at the base of the hill.

This lighthouse uses a Fresnel lens. At night we could sometimes see the light flash inside the boat.

We spent many of our days just walking around the town. One day even had us on the bus to a WalMart Super Store. This is where we took our first Pulmonia ride. Pulmonias are golf cart like vehicles with VW engines. Most only seat four and have a small area for packages in the back. For some reason they all seem to cost $5.00 no matter where you are going. They are really cute.

There is an area called the Machado Plaza, which is in the historic district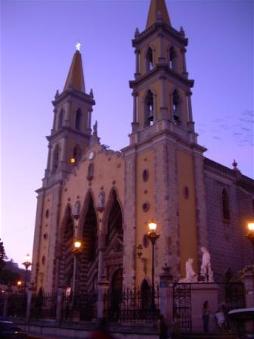 which we found to be a favorite. At night the palm trees and plants in the middle of the square all lit up with tiny white lights. The walk way around the plants comes alive at night with vendors selling jewelry and snacks. To the outside of that square are several very nice restaurants with outside seating. We spent one evening here with several friends. First we met for beers then on to the restaurant El Tunnel for an awesome meal that was actually not expensive.

After that we hit another corner of the square for after dinner drinks and dessert. There were about ten of us. I ordered a coffee with Kahluha. Well, I was told they only had Spanish coffee and I would like it. It seriously took 30 minutes for the comical fire presentation. Everyone had finished their drinks and dessert before my coffee was even made. The waiter would start the fire then leave. He would come back and warm the glass and then leave. Again he came back and burned some sugar and cinnamon on the rim of the glass and then left. Perhaps he was never taught to never leave an open flame unattended. He returned again with a cup of coffee which he warmed up and then left again. Eventually he poured some brandy in with the coffee and Kahluha. At last I had my drink after everyone else had finished. A few ordered second drinks while waiting for me to get my Spanish coffee. Welcome to Mexico. Nothing happens quickly here.

We later walked back to the anchorage through some interesting houses. Many of them have a New Orleans feel to them. Then again, I have never been to New Orleans. At one time there was a large German population here and some of the architecture reflects a European flare to them. I have been to Germany so I can say this is so.

For our New years celebration we took the bus to the marina which was about five miles away. There we had dinner on Triple Stars. We were joined by Jammin' and Hiatus. For dinner Bill made shrimp scampi and Rob grilled some lobster. Hiatus brought some delicious cheese and crackers and Helen from Jammin' made a fantastic salad. We had a short visit from Jim and Susan on Windward Bound before dinner. Susan had a made a tasty olive spread she brought to share. This is one of the great things about cruising , everyone is ready to join forces and put a meal together even at a moments notice.

After dinner we took a dinghy
ride over to the next marina called El Cid. This is where Jammin' had their boat. Along the way we stopped at some vacant docks where the guys lit cigars Bill brought and then the champagne started to flow. This is where we were as 2008 rolled in. We were able to see some fireworks here as well. Later we arrived at Dave and Helen's boat where Bill and I were going to catch a cab back to our boat. Bill and I got out of Triple Star's dinghy and on the dock while Rob was trying to tie up the dinghy when somehow he fell in. As he went in he held his cigar up as high as he could. Once out of the water and on the back of Jammin' the first thing he did was try to puff on his cigar. No luck, it was soaked but he tried again. We laughed once we knew he was okay.

In the mean time Bill had left with Kent from Hiatus and Dave of Jammin' to go out the entrance into the ocean to check out the waves. Fortunately some of them were a little sober and went along to ensure the safety of all. They did have fun and Dave got his wish to go surfing in the dinghy.

When we were ready leave and find a taxi we realized Rob and Jan left with our bag containing money to get home. We could have borrowed some from Dave but the bag also had the key to our dinghy lock. We had Dave's son who was visiting take us back to Triple Stars. Upon our arrival and several radio calls letting them know we were coming we caught Rob naked in the cockpit. He had taken off all his wet clothes outside. This made for many jokes during the following few weeks.
After walking out to the main road we flagged down the first means of transportation we could find for fear of never seeing anything else. The night was really cold. We caught a Pulmonia. The driver was pretty fun even though we froze our tails off. He put on some disco music to which Bill and I felt we needed to seat dance to. Our driver would pull up next to other Pulmonias with tired old gringos in them and crank the music while Bill and I totally got into the music. You could tell the other drivers were envious of the great time we were having. Some of the cars would roll down their windows and give us the thumbs up. We were cold but we were having fun.

The next day we woke up and Bill and I were both very sick with the flu. We are not sure if it was our wild night or if we cought it form other cruisers as the illness has been going around for several weeks. Heather from Hiatus missed all the fun on New Years eve because she was sick in bed with the flu.
The day after New Years we just hung out at the boat and made plans to head north to Altata. This would mean we needed to go to the marina area to get fuel and water before we took the 115 mile trip. Getting in and out of the fuel dock takes lots of patience, good timing and plenty of luck. Most of the time the tour boats are docked on the fuel dock. Before you can even get there you have to pass the dredger at the entrance which only stops twice a day to let people in and out. The entrance is too narrow for more than one boat.

A few days later we went to the fuel dock and made it in without too much trouble. We had plans to go on a tour of the Pacifico plant that afternoon as well. With things taking much longer than we planned we decided to stay the night at the marina. This had us quite busy. We did not get into the marina until noon and by the time we checked in, filled our water, washed the boat we had only a short time to catch the bus to the Pacifico plant. I was feeling a bit stressed trying to get all this done. We also needed to walk the dog since he could not go with us this time. After talking with several people on the dock we decided it would be okay to leave him on the deck. All the neighbors knew he would be there and said they would keep and eye open in the event he decided to jump ship. The dock had a locked gate so if he did jump he would be confined to the dock.

We were nearly running to catch the bus for the tour. I hate being so rushed but that is what needed to happen. We were told only 12 people could go on this English tour and there were many people who had been turned away. One of the boats from the marina had pre-arranged the tour and we were lucky to get in on it.

Once we got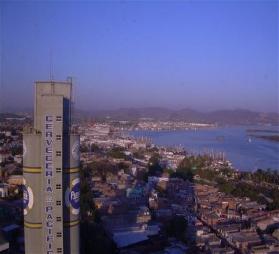 into town and caught our second bus to the beer plant we met up with the others who had walked from the old harbor. The tour itself was not too over stimulating but at the end of the tour we took an elevator to the top of their tall building. Here was a Pacifico museum where they handed us ice cold beers and water for those who did not drink. There was a sign on the wall that made me smile. I think something got lost in the translation. The best part was the view. It was almost comparable to the view from the lighthouse.

After our tour the 12 of us went to dinner at Te Amo Lucy's. It was here that we met our entertaining waiter Tony. He actually pulled up a stool, got the calculator out and sat at the end of our table to add up our bill. We went back to the marina by bus shortly after that to be with Sparky and prepare for our departure to Altata in the morning.

The trip to Altata was uneventful although our departure was a little later than we had wanted but we had to wait for the dredger to allow us out. I was also able to try my new drugs for sea sickness. This stuff called Sturgeron is awesome! It is too bad you can't buy it in the states.

December 24th...Departure for Mazatlan

We woke up at o'dark thirty. I believe it was 4:30. We were ready to go. The trip to Mazatlan takes two over nights and not wanting to anchor in the dark in a strange marina we needed to leave early. Bill turned in our dock keys to the security man and got back our deposit. Then in broken English he told Bill he can check out but he can't leave. Confused Bill asked several questions. It turns out the port was still closed. At this point Bill had a spell of turrets syndrome. He came back to the boat and started calling the port captain on the radio to ask when it would open. The winds were only blowing 15 and the seas had calmed in comparison to the days before.
From what we could understand the port captain had not shown up for work yet and he was the only one that could make that decision. If we did not get out on this day we would be in La Paz for a minimum of another week waiting for the next weather window. I did not want to spend another week in cold windy weather.
At this point we started asking what would happen to us should we leave. The answer was 500 US dollars in fines. There were two other boats that started heading out. We decided to follow them hoping we did not spend Christmas in a Mexican jail or at least if we did perhaps we would have some company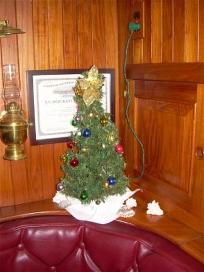 . As we left the marina we got a call from the marina saying the port had opened and we needed to sign out. We told them we already left. They seemed shocked but told us to call the port captain to let him know. We did and everything was fine except it was now after 9:00. With our slow boat we can not afford to get a late start.

The seas were rough for the first half of the first day. This caused us to change our planned course. I did not feel good. This was not how I wanted to spend my Christmas eve or Christmas. I don't think anyone wants to spend Christmas eve sea sick. I spent lots of time thinking about what I would be doing if I were back home. I love decorating for Christmas and baking cookies.
The next day I was feeling a little better and the weather seemed to be getting better as well. Listening to the Don Anderson we could not waste any time because there were 50 knot winds on our tail. We felt we were doing well for time and then I heard something that did not sound right in the engine. Once again it was the alternator. A different bracket had broken. This was not a going to allow us to miss those winds.
The engine continued to run with us watching the temperature constantly. The belt for the alternator also drives the water pump. We had talked about getting some emergency belts but never did. This would have allowed us to run the water pump without the alternator. Once the engine started heating up we had to shut it down and sail. The winds were working for us and we were able to move along at an average of 4 knots. We needed to do at least 5 to stay on track.
I made us a very nice Christmas dinner with a stuffed chicken and pumpkinlicious for dessert. We exchanged gifts. Bill gave me a bottle of Amaretto. I gave him some new razors and other small things he wanted for the boat. It was strange to spend Christmas on the boat in the middle of the sea.
We arrived in Mazatlan just before dawn. Being unfamiliar with the entrance we did not want to enter in the dark. On top of that we did not have an engine. Bill went into Mc Gyver mode and sewed a belt out of rope. I did not think this was going to work. It was way too Flintstone like. I kept my opinion to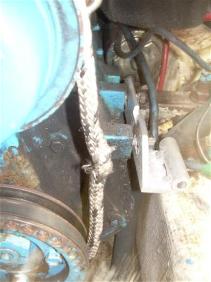 myself as I held the flashlight while Bill sewed.

We talked over our plan for anchoring without the engine. After making several tacks to avoid cruise ships we sailed through the entrance to the anchorage just inside to our left. The anchorage was a little crowded. He decided to start the engine to get us to the perfect spot. To my surprise his rope belt worked. We picked up a bit and then headed into town for some lunch.
December 15th..Life in Marina De La Paz

Our first night in the marina was spent at the fuel dock. We had several of our friends who were staying in the marina walk over and visit us. The next day we were moved to the end tie on the outside of the marina. There was not much protection from the weather but we did have a huge dock to allow us shore access without getting wet. There were three boats on this dock and just on the inside was a huge mega yacht. At night the mega yacht would turn on it's underwater lights. The yacht was backed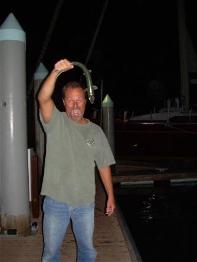 in with some space behind it. Bill took his fishing pole out at night and played with the fish. He actually caught a few and tossed them back. He smiled like a child while playing this cat and mouse game.

Now that we had a very wide dock to use we decided to start making chaps for the dinghy. This took us two days to do but we still need to finish the trim around the holes for the oar locks. They came out really nice. Fortunately we had our VHF back and turned it on to see if it was actually functioning when we heard the marina office call us. They asked if we wanted to take a large slip inside the marina. We previously had asked about the same slip and were told we would have to pay for the full 70 feet so we stayed outside. I asked the office lady how big the slip was that she had. It was the 70 feet. I then asked if the price would be more. She said no which was good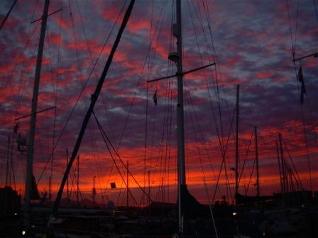 because we had already paid through Christmas. That was a no brainer. We moved to the 70 foot slip inside the marina. Here we met more people. It was very nice.

On the 23rd we went see the La Paz orchestra play. It was an outdoor Christmas concert. We froze but enjoyed it very much. Our friends Steve and Teresa from Gypseas Palace were with us. Steve stayed warm by drinking peppermint schnapps out of his cell phone shaped flask. He wife with her southern accent kept asking to have a piece of the conversation.
Earlier in the day we had listened to the weather on the SSB net. They have Don Anderson on who is the weather expert for the parts of Mexico we plan to travel. He is usually very accurate. This is one amazing guy. He volunteers all his time and we are told he has a huge electric bill from his radio. He is located in Oxnard, California. If you have time look him up on the internet. Search Don Anderson Weather. His boat is Summer Passage. He is very interesting. Don has predicted a two day weather window to get across to Mazatlan. The windows seem to be getting fewer and fewer. We had talked about going straight to Altata which is 100 miles north of Mazatlan but with such a short window we decided not to do that.
For the last few days the port captain had closed the port. This means boats can come in but can't leave because the seas are too dangerous and they don't have a coast guard here. We are told the Navy will only pick you up if you abandon your boat. On Christmas eve we got our refund from the marina for days we paid for but will not use. Also, we made arrangements for our packages to be sent to Mazatlan if they should ever show up.
We were ready to get on with cruising and find warmer weather.
December 13th, Back in La paz

We were excited to listen to the VHF radio net to hear if our package had arrived. We were sure it had since we had heard there was a delivery from DownWind Marine. Not hearing our name called we went into town to the internet café to check our email and use Skype to make sure our daughter sent our package . Well, due to her very busy work schedule and finals she did not get it in the mail until a couple of days before.
We called DownWind and they had received it but it missed the ride down to La Paz. We were also waiting to pick up our VHF ICOM 502 which apparently has a card inside tracking minutes. If you use them up it needs repairs. We have had nothing but trouble with this thing. Two of our friends with the same radio have had the same problems. ICOM quit communicating with us once they found out we were in Mexico. We are not done with our battle with them. Sorry, back to the story.
The ICOM dealer here still had not repaired our radio. He said the part had just arrived today and he would have it done tomorrow. This was after walking a couple of miles to his shop several times in one day. It was time to unwind and let our disappointments go. We headed to dinner with a total of five couples to celebrate our Anniversary.
Our first stop was at the local bar/café for their two-for-one happy hour. The crazy thing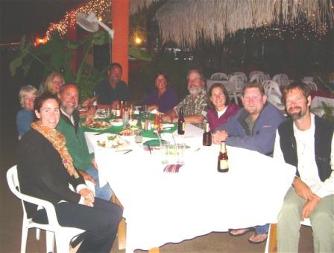 is they expect you to drink two and not share with your partner. When you order they line up your drinks in front of you. I felt like I was quite the alcoholic. Next we walked down to our favorite dirt floored restaurant. I had the relleno stuffed with shrimp. It was fantastic. This dinner was also a send off for Jammin' and Hiatus who were leaving for Mazatlan in the morning.

With the weather getting cold and very windy we decided to look into moving to the marina to make it easier to socialize and walk the dog without getting soaked on the way. We also needed to get fuel before he left for our next port of call Mazatlan. We were ready to head south to warmer weather but had to wait for our package and radio to be repaired. The packages are brought down by fellow boaters who are making the drive from San Diego to La Paz.
We decided to stay in the Marina until Christmas so we weren't stuck on our boat with the high winds. We were also hoping someone would be coming south for Christmas with our package. We had also decided to order a new alternator to come from DownWind. On a very windy day I went on shore to do our laundry. While waiting for it to dry I called some friends back home on the Skype phone. Bill came to get me and started talking to our friends on the phone. The first thing I heard was him telling them our generator stopped working and he could not figure it out. Without that we have no electricity. They talked awhile coming up with different ideas. At this point we needed to get into the marina for some shore power. We pulled up the anchor and headed for the fuel dock.
The marina did not have any open slips for us at this point. On our way in Bill yells for me to drop the anchor. The winds were high and we were in between two moored boats with not much room on either side of us. My response was "HERE?". Then it clicked we have an engine problem. This was the worst place for that to happen.
I dropped the anchor as quickly as I could and prayed it stuck. It did. Bill then asked me to get on the radio and ask for someone to come help us get into the marina. We were only about 25 yards away. We had several responses but no one had a dinghy that could handle pushing or pulling our beast into the marina in rough water and high winds. Bill was down below checking the fuel supply lines.
By now the marina docks were full of people wanting to help but unable. Bill switched the fuel tanks and did all the man tricks to get the fuel back in the system. It worked. The engine started. Our port tank was out of fuel . The fuel situation was also why the generator stopped working. It uses the same fuel tank. We run the generator two hours a day and guess what? That can empty a tank after awhile.
Our fuel tanks are, like many other boats, without gauges. To check the fuel we need to empty the back room, pull up the mattress and put a stick in the tank while keeping your body in the shape of a pretzel. The good news here is nothing is really broken other than our egos.
Once we pulled up the anchor there were several people to help up tie up to the dock. Fortunately the wind did not blow us in the direction of those two boats.
Friday December 7th... El Cardonal Cove Islas Espiritus Santos

We packed up and moved a few coves down which took less than an hour. This new cove was long and skinny compared to the others. The waters were quite shallow for getting the dinghy into the beach. We took the dog to two beaches one of which was covered with thousands of tiny Fiddler Crab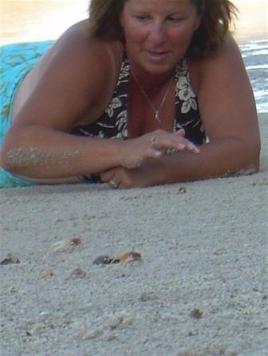 . They were so cute and fun to play with. I told Bill it was as if we were seeing one of those nature programs in real life.
The weather was starting to turn yucky so we decided we would only stay for one night. In the morning our Friends on Triple Stars called on the radio from the other anchorage. They wanted to know where we were headed next. Bill joking told them to come to our anchorage and bring over some coffee so we could all discuss it. To our surprise we heard a knock on the hull about 30 minutes later, they actually came and anchored by us and brought coffee over!
The decision was then made to leave for an anchorage north of Isla Espiritus Santos. We are heading for San Everisto which is on the Baja peninsula. As usual we arrived at sunset.
In the anchorage were two other boats that were friends of ours. It was Dave and Helen on Jammin' and Kent and Heather from Hiatus. Kent called us on the radio to invite us over for cocktails and asked if we could bring beer since they were out and had no place to buy any. It had been raining for the last few hours but we still took the dinghy over in the rain. We had towed the dinghy and did not have the engine on so Bill had to row.
We had a nice visit and lots of laughs and beverages. With a break in the rain we headed back. We had called Triple Stars on the radio to join us but they did not answer.
The next day we took the dinghy and Sparky to a rocky cove. We did not go to the main beach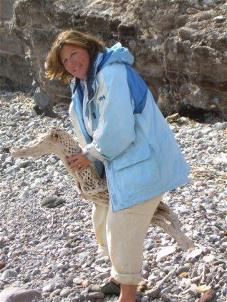 because there were several large dogs roaming which can be a problem with Sparky. Our friends said the dogs were a little aggressive. We later went to the beach and left Sparky on the boat. There were some fishing shacks along with a small community of houses.

We walked up to the first shack that had fisherman to see if they had any to sell. We were told the truck had just left with all the fish. The fisherman also told us the store was closed. I then asked if anyone sold tortillas. He got on the VHF radio and started shouting at who I would guess was his wife. He told us he would be back in while and meet him back at the shack. Most of our conversation was done with hand signals. My Spanish sucks and he did not speak English.
About 20 minutes later he came flying down the muddy road with the back of his 1970 Ford pick up smoking and sliding around. We had been walking along the beach when he pulled up with a dozen hot flour tortillas. I think he had his wife make them up just for us. I paid him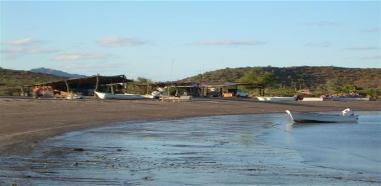 and we headed back to the boat for a snack and to play with Sparky for a moment before Jammin' picked us up for cocktails and nibbles. We had put our dinghy away for the trip back to La Paz in the morning.


On board Jammin' were our friends from Hiatus and Triple Stars there too. We all sat in their huge cockpit which was covered and had side curtains to protect us from the wind. Dave and Helen shared some of their home made wine. It was pretty good. We enjoyed lots of cocktails and food. By the end of the night we were laughing so much we were crying. It was a great time. I am not sure what day this brings us to but we headed back to La Paz to pick up our package and check the weather for a good window to make passage to Mazatlan.
The trip back was warm and sunny. After having the boat washed with rain water for a few days we did some waxing and polished all the stainless. The boat looked good. Again we pulled into the anchorage at sunset. How is that we can do that almost every time regardless how far we travel? Jammin' and Hiatus were already there and Triple Stars stayed another day at San Everisto.
The next day was our anniversary. We had planned to go out to eat but the weather was crappy and the dinghy ride in to the marina would have soaked us so we decided to go the next day instead. There were about twelve of us who went to dinner. Before dinner we went to the internet café since we could not get the net on the boat. It was at that point we found out our package had just arrived in San Diego. I was a bit frustrated because this meant a minimum of one more week before we would see it. Oh, well.
Dinner was really yummy. I had shrimp stuffed rellenos. Our friends gave us a card and candle for our anniversary. That was a pleasant surprise. In the morning Hiatus and Jammin' left for Mazatlan. A couple of days later Triple Stars left. Now most of our friends are across the sea.
Bill decided it would be nice for me to be in the marina and set us up with a slip for a week which would take us through Christmas. We made the decision to be in La Paz for Christmas.
About four days before Christmas we were listening to the weather reports on the radio and found the next good window to make the crossing would be Christmas Eve. Not wanting to stay here forever we decided to leave our precious packages behind and make the crossing.

We've made arrangements for another boat to bring our packages to us in Mazatlan after Christmas sometime. On the 22nd we took the bus to Pichilingue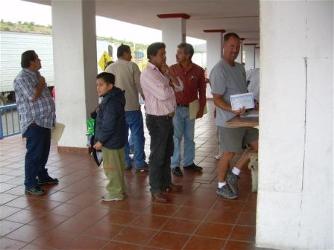 to get our temporary import papers for the boat. This allows us to import replacement parts without having to pay the import tax.

We rode the bus there and took the taxi back.
A funny thing happened while there. The one guy working behind the glass window came out of his office to ask us a question. We were waiting for him to do the paper work. The line was a bit long but he seemed to keep things moving. Well, this guy went back to the office door and realized he locked himself out. Working alone he needed a key to get back in. We laughed with him as he took off and said he would return in a moment. Thinking he would come back with a key we were surprised to see him with a credit card which he used to jimmy the door open. Again we laughed with him. Inside he had credit cards for all the people in line sitting on the counter. Their security is a little on the light side but it seems to work.
Last night we had Steve and Teresa from Gypseas Palace over for bratwurst and wine before we went to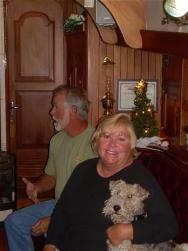 watch the La Paz orchestra Christmas concert out doors. It was so cold and windy we left about half way through.
So, today is the 23rd of December and we are preparing to leave in the morning. There is not much to do but update the web site. The wind has started to die down to 16 knots. All of yesterday is was blowing 25-35 knots. This is not a warm wind either. We are looking forward to the 80 degrees they have in Mazatlan.
So, Merry Christmas to everyone. We will be crossing the sea while you are opening your gifts.
Thursday, December 6th 2007
I woke up early and took a look outside in the cool fresh air. To my surprise I looked in the sky and saw Orion as I was coming out of the companion way. I spent all the morning writing. Bill made breakfast for me and brought it outside with my coffee.
I had not written since we arrived in Muertos. This meant I had many hours of writing to do. It feels great to be caught up. Now to up load all this to the site will take several hours more. The internet in La Paz comes and goes so it is very unreliable.
After I finished writing we took our dinghy over to see our friends on Triple Stars who pulled in a few hours earlier. We were planning to ask them if they wanted to go snorkeling. They were also getting in there dinghy to come ask us the same thing, so we headed off to the reef around the rock island.
There were tons of fish but the water was not clear enough for pictures. The coral formations here were some of the best we have seen. I was thrilled to see a chocolate chip starfish. That is something Bill and I had in our aquarium years ago. There were also some ruby red starfish. The fish were very colorful. I wish I had an identification book so I could look up and mark off all the fish I have seen.
We snorkeled for about 45 minutes. Bill had a bloody nose that started when we first got there. It was not enough to bring any sharks into the reef. I love snorkeling. Bill and Rob got stung by some of the tiny jellyfish but Jan and I wore super thin wetsuits and were fine. The water here is only 74 degrees at the surface so we are just barely able to enjoy it.
After our dive we pulled the anchor up on our dinghies and Rob and Jan brought out some ice cold beers. We tied our dinghies together and floated, drank and talked about what we saw. We headed back to our boats with plans to meet on our boat for dinner. Sparky was happy to go back to the boat. He was in the dinghy the whole time. We would swim over to him every ten minutes to make sure he was okay. The dinghy was pretty close to where we were snorkeling, in fact Rob bumped into it once.
Once back at the boat we cleaned things up, showered and prepared for dinner. Jan brought over twice baked potatoes. They were quite a tasty treat. We cooked up some Rib Eye steaks which we had bought in La Paz. They only come in breakfast steak thickness. I miss the juicy thick Rib Eyes back home. That will be a must have when I go back. Sorry, A,D.D. kicking in, we were talking about dinner. Bill made a salad, and on the grill we cooked the steak and zucchini. Rob and Jan also brought over a nice bottle of Zinfandel. At the end of the night we had three empty bottles of wine. It reminded me of the days back at the marina.
After Rob and Jan left Bill and I went up on the fore deck and looked at all the stars. This time I was able to find Orion right away.
Wednesday December 5th...Caleta El Candelero


At last we are leaving La Paz and heading for a real anchorage. We thought we were going to go to Isla Ballena but when we arrive we did not find a place to land the dinghy so we move a few miles up the island of Espiritu Santos to Caleta El Candelero. It is fantastic here. The anchorage is super calm.
On shore is a kayak camp. We took Sparky ashore even though we heard he may not be welcome on the island. The water here is emerald green.

Just off to the side of our boat is a rock island. We took the dinghy over and had a look to scope out a snorkeling adventure for Thursday.
Before we were able to head into shore Bill had to do a full carburetor rebuild on the dinghy. We think our troubles are with the fuel in the tank. We are trying to use it all or find a place to dispose of it so we can put in some good fresh fuel.


While Bill worked on the carburetor I finished the sewing on the shade covers for the dodger. For dinner we barbecued a whole chicken and enjoyed it with a bottle of wine in the cockpit by candle light. It is amazing how getting out of the city instantly puts you in a zero stress mode. It is really peaceful here.
The waters are flat calm and rock formations are spectacular. From the cockpit we can see rock at the top of the hill filled with holes. Many of them look like faces. My favorite looks like a monkey face. At night there are so many stars you can't find any of the constellations.
The night here was extremely peaceful.


Sunday, December 2nd


Today is an event call subasta put on by Club Cruceros to raise money for the kids. It is an auction and flea market. All the items have been donated and last year they raised $13,000. I volunteered to help set up. This meant being in the marina parking lot at 7:30 in the morning. On the way over the dinghy engine stopped working and Bill had to row me over. (he fixed it later, water in the fuel) I ended up working the whole day selling stuff in misc. tent.
Some people got some great deals. One example was the vertical aluminum ice cube trays that sell for $35 each went for 5 paseos which is 50 cents. Our tent had lots of boat and kitchen stuff. After I was done we ate some wonderful bratwurst being sold by a lady who makes them herself. She was from Bavaria.
Later we met up with some friends who did not do the Ha Ha but have a Hans Christian named Sugata. Bill met Todd a last year from the Hans Christian owners website and did some wood work for him. (Hans Christian is the make of our boat) We joined them for drinks. Todd's nephew Eric made tostada shells with beans cheese and salsa baked in the oven. Very tasty stuff. Also onboard were Susan and her daughter Sequoia. We hope to share an anchorage with them in the near future.
Saturday, December 1st


Bill wanted to take a tour of the Cathedral

so we left Sparky on the boat and head for the Cathedral on our way to the large CCC further in town. We bought food to stock up for the next couple of weeks. We are planning visit the islands just out side of La Paz before we leave for Mazatlan. We took a cab back for $4.


Friday, November 30th.



With my stomach giving me trouble since Cabo, Bill and I decided it would be a good ideas to have me see a doctor. I called m doctor back home while we were in Cabo and she said a big concern would be that I may have a hernia. My stomach has been swelling up and is very hard. No, it's not from all the food I have been eating. Actually I have lost weight everywhere but my stomach. I now look pregnant.



I went to the Club Cruceros early in the morning to get a recommendation. One of the lady volunteers there referred me to Dr. Tuchman. Bill and I walked to his office which was about a mile away to set up an appointment. We stopped on the way to get one of those back supports that construction and warehouse workers use. My doctor back home recommended I use one as my nice tummy support is back home.

We walked all over trying to find the doctors office with our poor directions. Being a girl and tired of walking I used my fake Spanish and asked for directions by showing a guy a business card for the doctor given to me by the lady at the club. We had to ask several more people along the way but we finally found it. It felt like I was going to an abortion clinic.

To get to the office you walk through an alley and then walked up a metal stair case on the back of the building. It looked like it only went to the roof and I was unsure about it. Bill stayed below with the dog and encouraged me to go to the top of the stairs. Sure enough there was a glass door you can't see until you are at the top.

I went inside to find a tiled hallway with steps going up and down. The place looked vacant with the exception of a construction worker on a ladder installing a light. He pointed me to the door and I went through. Inside was a super clean very modern very new orthodontic office. It was quite a contrast to the outside of the building with the dirt alley. I showed the ladies at the desk the card for the doctor. They nodded. It was at this moment I realized I really do need to learn Spanish. I refuse to ask anyone if they speak English. I will try as best I can and if they offer up an English speaker great if not, I am in Mexico learn Spanish.

I used sign language and a few Spanish words. She asked me to wait a moment. At this point I was sure I was in the wrong place. She made a phone call and handed me the phone. On the other end was an English speaking male. It may have very well been the doctor himself but he did not say so. I asked to make an appointment and he asked when I wanted it. I had no preference so he asked me to come back at 4:00, it was almost 12:30. If we went back to the boat we would not have much time before we had to turn around and come back so we walked around.

We found the Mercado that had meat venders along with fruit and vegetables stands. All were inside. There was an old man there slicing bacon really, really slow. I asked the price and it was comparable to the states. We bought some bacon and some fruit. On our way out we picked up a couple of steaks. The meat is very expensive down here.

By now I am tired, my tummy hurts and as always I was hungry. We found a little tiny lunch spot that served tortas (pork sandwich with lettuce avocado and tomato) it was one of the cheapest and best tasting lunches we had. We started back toward the doctors' office and still had time to kill. Again I was tired so we decided to sit on the patio at Applebees and have a soda. We were fearful one of our friends would spot us there as you don't come to Mexico to go to Applebee's.

The patio had nice comfy chairs and looked out over the melacon. Sure enough our friends from Boomerang saw us and now all our friends tease us. It is not cool to go to any American restaurants down here. Bill left me to head back to the boat with the meat and I would meet him at he marina after my appointment.

Dr. Tuchman showed up about 4:30. He took me into his office and asked questions. He then took me to the exam room. It was super clean and well stocked. He spoke English which was great. My diagnosis was not a hernia but colitis. My large intestines were inflamed. He prescribed some pills to take for two weeks and said not to eat spicy or fat foods. Hmmm Mexico spicy fat food???? The doctor told me I should also get lots of exercise and if I wanted to get rid of my large tummy I should get a tummy tuck. I later found out he does that too. It was on the new business card he gave me with his cell phone number. He said he was available 24 hours day for me.

The visit was $30. That is a copay back home. The bonus was I never filled out any paperwork. They never even asked me my name, kind of strange but okay with me. The pharmacy was the same. Here are some boxes and your written prescription, hand over the cash and have a nice day. The drugs were $40. I would say the experience went well. I was really scared at first but it was okay.



When I got back to the marina it was time for us to meet some friends for dinner who were leaving in the morning. There were six of us. Terry and Lyman from San Cle(which means without keys) also Jan and Rob from Triple Stars. The restaurant was at the marina and the food was just okay. The company was great. Many of our friends have left La Paz now but not all.



Thursday- November 29th
Another day to do some walking around and explore a bit. We checked out some neighborhoods a few more blocks in. We were also invited to join a large group of Ha-ha folks for dinner.
Bill and our friend Lyman dropped Terry, Lymans wife, and I off at the restaurant and went further up the road to take our VHF radio in to the repair shop. Lyman had the same problem with his not transmitting and found a place to fix it.
The fabulous folk at Icom will not accept a shipment from Mexico and we would have to send the radio to Steph and then have her send it to Icom in Washington. The Icom 502 is not even a year old and has already been shipped to the manufacturer for repairs once. Now we are in Mexico they don't want to help us at all. It's not like they were paying for the postage! I wish we had purchased another brand.
Sorry for the rant. Lyman's radio had taken the last part we needed so we now have one week before it can be fixed. So, back to dinner.
We had a total of eleven for dinner. We met some new friends and said good bye to old friends who were leaving for Mazatlan in the morning. It is amazing at how many friends we have. We seem to see them in one anchorage and not the next but then run into them again. Once we do met up again there are always drinks and stories to share. For this I am glad we did the Ha Ha. It seems like most of the people from the Ha Ha look out for each other and keep radio contact while making passages. This is insurance that if you have any trouble there are about ten people there to help.
The walk back to the boat was nice. We strolled along the melacon which is a tiled walk way that goes for several miles down the waterfront.
Wednesday November 28th



We took the dinghy into the marina dinghy dock today. We saw lots of friends from the Ha Ha and stopped to visit with many of them at the local Yacht Club: Club Cruceros.

Club Cruceros is a little shack where cruisers pick up their mail and exchange books. Outside are tables and chairs where every morning people meet for coffee and to catch up on the latest news. There are a lot of folks there who

came to La Paz and never left.

This is something I will never understand.





The club is self does lots fund raisers for different programs that benefit the local kids. Bill took several books he had read to the club shack and picked up a few he had not read. We were also able to pick up our mail which our daughter had sent to DownWind Marine in San Diego. Downwind has a truck that comes down to La Paz once a week to deliver mail. The service is free for cruisers. Thanks DownWind!





In our mail our daughter had made a movie on a DVD for us. It was a music video showing our home, daughter, fish, Fleet Week air show, and our daughter's guinea pigs. It was awesome. It also included all

of our mail sorted on the floor. I sure don't miss all that junk mail. When we left the club we walked down the main street one block up from the water.





The streets were crowded and stop signs are taken as a suggestion not a law. The buses are old short yellow school buses with destinations written on the windows with white shoe polish. The vehicle exhaust is intense.

There is lots of graffiti but little trash on the streets. We walked to the closest big grocery store called CCC, pronounced say say say. I was mostly on a scouting mission and only picked up some eggs and tortillas. This store was a mini version of a super Wal-Mart. Bill waited for me outside with Sparky.


On our way back we stopped at a very open restaurant. The food was good. Because we were not sure what to order we just closed our eyes and pointed to the menu. We were surprised in a nice way at what we got.

We are learning the foods this way and trying new things.
November 27th, La Paz



As usual

we arrived just

as the sun was setting.

The anchorage

was really crowded and we
had been warned about the

strange boat swinging patterns.

We were advised by another Hans Christian there to find a place to allow

lots of

room

to

swing

which was

a bit of a challenge with so

many boats around.
Once we set the anchor we put away anything that someone might possibly think about stealing.

Most of the people on boats were even pulling their dinghy out of the water at night. This is not an easy task to do daily so we cable locked the engine and dinghy to side of the boat.
Fortunately we have a dog which helps keep thieves away. When we would leave we hide the computer just in case someone broke in. It is the only thing

I would hate to lose

because all of our logs are on

it and it would be tough to

replace

.

Sunday November 20th, Los Frailes



Today is like Christmas for us. The reef (Pulmo reef) is the present we are about to open. Bill made oatmeal for breakfast and at 8:00 our panga driver,

Memo, came to

get us. His panga was very Large and very clean. Bill had

told him the day before

we would have coffee

ready for him in the morning and he told Bill that he preferred beer.

So, as promised the first

matter of business was to give Memo his beer.



We piled our snorkeling gear into the boat and then headed over to Ray and Diane's who were hesitant to go. Once we were all in we took off at a fast pace toward our snorkeling spot. At this point we still did not know what to expect.
Memo took us to a cove just inside the national park.

The water was shallow and super clear. It was sooo awesome.

Bill took pictures but they do not show the colors we were seeing.
It seemed like we had spent lots of time there when Memo asked us to get back in the boat. He told us we were going to four places. Our next stop was to see sharks. We had asked about them earlier and he told us he would take us to them.
We took off across the way and then Memo stopped in the middle of the park. He looked in the water and pointed to the sharks. We were told they were nice and would not bother us.

I had put on my thin wetsuit at this point. I was a bit nervous and chose to jump out of the boat on the opposite side the sharks were on.
We snorkeled around and watched the sharks on the bottom. They really were not scary at all. While I was right over the top of them one started to move around

a

bit which did make me wonder if I was in a safe place. For the most part they just hung out at the bottom. Bill did free dive down closer to them to take some pictures. The water was not as clear here so it is difficult to see them well in the pictures.

The third spot was on the coral reef where we saw lots of fish. The water here was a completely different color. It was dark and more blue than green. The sun started to shine through the water and onto the fish. There were so many colorful fish. It looked like an over crowded aquarium. This was more than worth the price of admission.
Our final stop was to swim with the sea lions. I am a little afraid of them which is something Bill loves to tease me about. While swimming around these huge fellows Bill decided to free dive down making one come up right next to me. At this point I realized they are actually

quite afraid of people. We saw several more colorful fish here as well.

This completed our trip. In the panga I was swinging my feet and smiling. This will be a day I will always remember.

Back at the boat we decided to take Sparky for a long walk since he had been locked up all morning. We walked pretty far down the beach and found a few houses full of Americans. After our long day we all took a nap in the cockpit and then started picking up for our pre-o'dark thirty departure to Muertos.
Reflections of Cabo and the Ha Ha



Now that we have settled into the relaxation mode it is time to sit back and reflect on the process of getting here. It certainly was no picnic. The Ha Ha was extremely fast paced with zero time to catch up on sleep. To say the least it was pretty rough on me.
There were some good times and memories along the way. We met lots of new friends who we hope to stay in touch with even though we seem to have all headed different directions or at different paces. It is nice to know there are lots of boats

out there flying the purple Ha Ha flag who would lend assistance should you need it. So to sum up the whole experience I will say I am very glad we did it but I don't think I would sign up for a second one.
Looking back at Cabo San Lucas I did not do a good job writing about what we experienced or saw. Again, having been rushed resulted in poor writing. Cabo was very much a tourist destination. The first two blocks into town from the waterfront were very different from the rest of the town.

Actually, it was quite contrasting.
Along the marina waterfront the walk ways were very clean tile paths with perfectly trimmed plants in fancy planter boxes, similar to a theme park. It was difficult to tell you were in Mexico. The marina is the second most expensive in the world and filled with tournament fishing boats.

There happened to be a big tuna tournament going on while we were there. This meant in the morning hundreds of boats would dash out of the tiny marina just after sun up every single day. The route they took was across the harbor from us but it sounded like we were anchored on the interstate. That was not the only noise we experienced.
The jet ski rental was along the beach on the side of the harbor we were on. This meant every afternoon our boat was filled with exhaust fumes from the noisy craft.

To finish it off there were about three parasail boats that would circle us many time through out the day.

All this made for a very rocky anchorage. Oh, one more thing, the tour boats that took people out for a ride in the harbor. There were three types, dinner boats, large tourist boat and the disco party barges.





The party barges like to play their music really loud and they would go until late in the night. Along the beach were several night clubs that would stay open all night. This meant at 3:30 in the morning we could here the DJ asking

if California was in the house. All the noise got sort of old after several days.

We were longing for a nice peaceful quiet anchorage.
Two blocks in from the tourist area was the real Cabo San Lucas. The roads were mostly dirt with uneven sidewalks in front of some stores. It was amazing how many empty soda bottles and chip bags were on the ground. Perhaps there is no fine for littering here. We did lots of walking and pretended to speak some Spanish to find a place to fix our alternator along with finding some things at the hardware store. They actually have an Ace Hardware in Cabo.
There aren't any do it yourself laundry facilities so you have to pay for fluff and fold service. I must say I am in love with the fresh scent left on my clothes.

We found a nice clean laundry service several blocks in town from the marina. We were able to get our laundry done in two hours. Most of our friends said it took a full day and a half to get theirs done.

It pays to go inland.
We ate at two different restaurants. One was for breakfast where we discovered Jaimica tea. It is iced tea made with Hibiscus flowers; that is some very tasty stuff. The other place we had lunch and I had the best chili relleno.

They also had some very cold beer. We were doing a lot of walking that day and it was super hot so it was really nice. Sparky has learned to behave well in restaurants.

He just lays on the cool floor and sleeps at our feet.
The beaches were very clean with granular sand. The clarity was not all that great but was a pretty teal color. The hotels along the east anchorage were very nice looking.

This was were Adam Sandler was filming a movie causing us to pull up anchor so they could film the hotel and beach where we were anchored. Hopefully this will give a little better vision of Cabo.

Saturday November 17th, Los Frailes


This was our first morning in a calm anchorage.
Bill and I slept really well. For Breakfast Bill cooked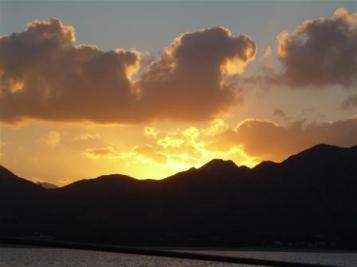 some French toast which we ate out in the cockpit. Looking at the beach and hillside during breakfast we decided to take a little hike up the arroyo and in to the hills.

Our hike was hot and dry. We discovered a lake that looked like it was for the cows. After about 30 minutes we ran out of trails and were surrounded by prickly things. When we got back to the boat we hooked up with Ray and Diane of Emerald Star
and decided to hike the road to the next town which was supposed to be only a couple of miles.
After what felt like several miles to me we decided to take a break on some rocks in the shade. We consumed some beer, salami, cheese and crackers. The dogs drank lots of water; Ray and Diane have two schipperke dogs.
Sparky was a little bad along the way. We had him off his leash when we came up to a farm house. There were cows and a large dog. Sparky went right into the yard as if it were his home. We were afraid the dog might attack him and he would not come when called. Bill and I were both worried and angry with our dog who would not listen.
Sparky took off into some bushes where we could not see him. By now I am thinking the owners were going to come out and we would be in trouble for our dog disturbing all his animals. After we corralled Sparky he was exiled to his leash for the remainder of the day. It turns out Sparky was chasing a goat.
While we were taking our break a group of about six cows came along and seemed to be afraid to pass us. I must also mention most of them have huge horns. Our daughter would have been scared to death.
Bill climbed up some rocks to see how far it was to the town. We still had a very long way to go so we decided to head back to the boat for some guacamole and chips for dinner along with a nice cold glass of gin and tonic since we have ice from our fancy ice trays given to us by our friends. Bill made mention of how he wished Dino and Cathy were here with us and I agreed. They would have loved it.



Friday, November 16th, Los Frailes


Our journey to Los Frailes started pre-o'dark thirty. We pulled up the anchor in Cabo at 3:30 in the morning. Surprisingly I was not really all that tired. Perhaps the excitement of moving on had me a bit wired. The seas were calm and winds were mild. We tossed our fishing lines out in hopes of catching something but we had no such luck. We did see several manta rays jump out of the water and do a flip or two before disappearing into the water. Bill had told me they do this but I did not believe him. It's true they really do. It makes me laugh every time I see them.
Los Frailes came into view just a bit after noon. By 2:30 we were settled into our new anchorage. There were about 10 boats here of which most were from the Ha Ha. Our friends Ray and Diane from Emerald Star had arrived the day before and organized a potluck on the beach at 4:00. We scrambled to put some food together blow up the dinghy and head to the beach.
The water here is 82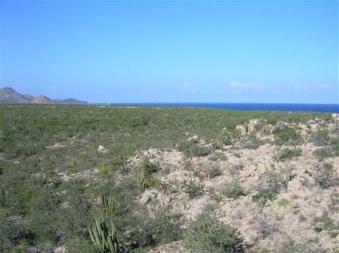 degrees and the beach is a mix of pebbles and sand. Landing the dinghy was not too bad but the beach drops off pretty fast into some deep water. This makes it a challenge for ol'short me to get into the dinghy when leaving he beach if there is any surf.


Once we landed Sparky took off running for the group. Bill and I followed with table, chairs, beer and pasta. We did not know the twenty or so people already there had the food set out on a beach blanket. Sparky thought he had found the doggy buffet. Fortunately he did not get into anything and came back when we called him. We had to tie him to a beach log until everyone had finished eating. The food was awesome. I think it is so cool to get fresh tuna at a potluck. Once the kids found out there were brownies they disappeared real fast.
While we were eating and visiting with some people we had just met, a pod of dolphins came along the beach slapping their tails to stun the fish and eat them. It was super cool.
Darkness came quickly so we headed back to the boat. At last we have found a calm relaxing place to hang out. This is what I had expected out of the cruising life.


Saturday, November 10th


At last I have finally figured out the date. This was the last official day of the Ha Ha and the night of the awards ceremony. We went into town and found a place to get out alternator rebuilt. It had quit right before we pulled in to Cabo.
The ceremony was at night in the parking lot behind the marina office. This was the last time we would see most of the Ha Ha fleet.
Some of us have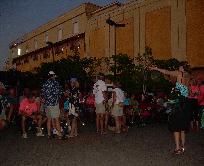 decided to stay in Cabo while most of the boat started up for La Paz the next morning. The next few days were all a blur. They all seemed to run together.

We spent many hours walking around trying to do website updates, laundry, buying food, fuel and fixing things on the boat. I took a trip to Costco with Sharon from Jake, Misty from Pepe and Julie from Itchen. We had a great time.
Julie is hilarious. She has an English accent and a potty mouth. I never have heard someone sound so proper using the F word, Bill doesn't even come close. We bought lots of fruit and veggies and then shared them once we got back to Itchen who was in the marina with a broken transmission.
On Monday evening we took the dinghy to Lovers Beach along with some cold beers. Ray and Diane from Emerald Star joined us with their two dogs. Lovers Beach is the beach at the very tip of Baja so there are two beaches one on each side of the land. The dogs had a great time running on both beaches. Tuesday we had Ray and Diane over for dinner along with the dogs. It was a bit over whelming to have all the dogs on the boat together but we did enjoy ourselves.
Wednesday the decision to leave was made. We planned to leave at 3:00 am for the 10 hour trip to Los Frilles. This pushed us to head into the market one last time for beer and more veggies. While eating dinner we decided to wait one more day so we could get our website updated. This takes many many hours since we have fallen a bit behind on the writing and the time to upload in incredible.
S
o, here you have it. This is our update until we get to La Paz. The weather is awesome, we are enjoying swimming in the 80 degree water and at last we are no longer on a schedule and feeling relaxed and having fun.
It finally feels like the trip down was worth the trouble.
Look for more updates after Thanksgiving.



Bahia Santa Maria to Cabo


The last leg was without wind. We motored almost the entire trip and did not catch any fish. At last we have arrived in Cabo San Lucas! The water is a beautiful teal color and about 80 degrees. The air was quite warm too. Having lost track of days I think it was Thursday. We were super tired by now and opted to skip the party at Squid Roe.
In the morning we pumped up the dink and went out a couple of miles to help bring in a disabled Ha Ha boat (Delight). After that we headed in to the dinghy dock and to the many offices to clear into the country. It was super hot so Bill left Sparky and I at one of the cantinas in the shade while he did some of the walking all over town.
We saw the people we helped in and they bought us a round of drinks. Later in afternoon we joined the beach party at Mangos. We had fun visiting with all the folks we met along the way. It felt like we were still running around and not able to settle down and enjoy life.


November 1st ish, Turtle bay to Bahia Santa Maria



The sailing to Santa Maria was not very eventful other than I caught my first fish. It was a Dorado and made excellent tacos. I am not sure how much it weighed but it was pretty big in my book
.
The weather had improved and was getting warmer and seas were getting smaller. I also had caught two mackerel which we tossed back. The trip was two over nights. Bill had also caught a Dorado which we used to barter with later in Santa Maria.

We traded some of the fish for wasabi and some for a bottle of wine. On our way there another bolt on the alternator broke so as soon as we dropped the hook Bill went into action to fix it. He busted out the hacksaw and some metal to fabricate a new bracket to work without the broken bolt. This also required using the belt sander and covered the cockpit with tiny bits of metal that later turned to rust. While Bill finished up Sparky and I took the Panga to shore. The surf was big here and it was recommended we don't go ashore in our dinghies. Sparky was excited to go ashore.
There was not much in Santa Maria.
There were a few 10x10 shacks and one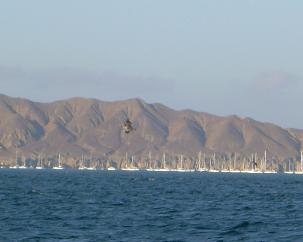 larger building where food and beer were sold. Sparky and I walked around the hill and along the beach for a couple of hours. There was a band playing which was brought in for the dinner the next day. The only electricity was from generator or wind vanes. We stayed on the boat for dinner but went over to Hiatus for a few drinks after dinner.

The next morning was the rum tasting for the boat skippers. Bill went over in the dinghy with Ray from Emerald Star. The tasting consisted of the skippers pulling up to Profligate the mother ship and drinks were handed out to all the dinghies. I had sent over some Giant Ginger cookies in hope of getting my bowl back that we left at the potluck. I was told to wait until Cabo to get it.
While the guys were tasting rum Diane and Don from Emerald Star came over and brought some wine and chocolate covered cashews. We also ate the rest of the cookies. The lunch/dinner ashore had to be delayed because the surf was too high. We waited for a couple of hours before we could get a Panga in. There were only a couple of hours for us to be on shore because the surf was high and we were told to be back on our boats before dark.
We went ashore and ate and drank a few beers. The food was very expensive for what we got. We look at it as supporting the locals. We heard there was a line to get the pangas back so we headed down to the beach. Some of the pangas had stop running because the surf was too high. Our friends Jeff and Misty
were put in the front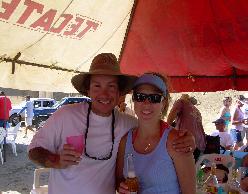 of the line to get the baby back on their boat before the surf got even higher.

Just after our friends from Hiatus left the pangas quit running because the surf was over eight feet high. We would have been in the next Panga too. This meant we had to stay on the beach until daylight. I had told Bill while we were in line I was afraid to go in the Panga through the huge surf in the dark. I no longer needed to worry about that. We stayed with 70 other people on shore for the night.
I am glad we had the dog with us. With the sun down and the wind blowing hard it was getting cold. All I had on was a pair shorts and a tank top and sandals. Bill had shorts and a t-shirt with sandals. We all headed into the one building and tried to sleep in our white plastic chairs. There was beer and some food being sold but we only had enough money with us to get back on the Panga.
David from Contigo
gave me a towel he had in his backpack to keep me warm. It was a long night. The lights kept going out and there were people everywhere on the cement floor and in chairs. I ended up on the floor on top of the towel with a chair over me to keep people from stepping on me. It was not fun.
Early in the morning before light I felt a large bug crawling on me which made me jump and yelp waking some people. I thought it was the huge cockroach I had seen earlier but later heard there were scorpions there too. I was very cranky and one of the first to the beach as soon as the panga started running.
Once we got back on the boat we pulled anchor to be ready for the start of the last leg. We only had about an hour before the start. I was happy to get a shower and eat before we left.


October ?? Lost track of the date, Turtle Bay


We arrived as the sun was setting. Being one of last boats to arrive we anchored pretty far out from beach. Sparky could not wait to get ashore as were Bill and I. We pumped up the dink (short for dinghy) and headed in for our first Mexico impression.
Arriving, we were greeted by several young boys eager to help us in for a dollar. Bill pointed to two boys who got us on the beach without getting wet. Part of the service was for them to watch our boat to make sure it did not drift off as the tide came up. The beach was small and filled with kids looking for candy which we forgot on the boat. When they would get candy they would all break out in a chant of "candy!".
On the beach there was a shack with a television on in the covered porch area selling food. Walking up into town it was obvious the people of the town had taken the time to made things look nice. The roads where a powdery dirt which had been recently raked and there was no trash lying around. The houses were made of scrap wood as well as the picket fences. I really liked being there. There were many food stands on the way up to the restaurant Bill had been to before when he did the Ha Ha in '99. We certainly took the scenic route.
The restaurant was super busy since it was the spot most of the fleet had gone to for dinner. They served lobster and other typical dishes. Unfortunately they ran out of lobster by the time we got there.


The restaurant was on top of one of the hills in this tiny town. We ate and headed back to the boat as we were very tired from the trip. Unfortunately we not only forgot to bring the candy for the kids we left our camera on the boat too. I tried to take in as much of this little town as possible since there would be no pictures.


One thing I did notice was each casa had a water "bucket" raised up on a tall platform. Someone said it was because they did not have much water pressure. On the way back we ran into our former boat neighbor from Alameda. We chatted for a bit and headed for the boat and some much needed sleep.


Day two in Turtle Bay: After what seemed like a very long radio net of all the boats checking in and arranging to help each other with things that broke on the way, we headed to the beach for a potluck. This was a different beach with no walking access to the town.
The food seemed to go fast so there was not much to eat. Perhaps not everyone brought enough to share or there were some really hungry people. We met up with our friends Jeff and Misty on Pepe along with their 16 month old daughter Tobylee. We made margaritas and hung out under one of the tents.


Later in the day I went in the water to play in one of the big balls that you climb inside and roll around in the warm surf. It was pretty fun. The kids were good about letting the old lady in.


On our way back we met the guys on Contigo who had been taking on water but were able to keep their pumps working to keep them from sinking. To show their appreciation for our radio contact with them they gave us a couple bottles of wine. With less wine they made room to take more water in the bilge. They were from Canada and a great group of guys with excellent attitudes. We then went by our friends Heather and Kent on Hiatis. They had a panga(water taxi) lined up to take them into town to watch the Lucha Libre Professional. (fake wrestling with costumes) We decided to join them.

We had very little time to get cleaned up from the beach before the panga picked us up. The panga took us to a large tall rickety pier with some very scary old metal stairway. We did not have a lot of time before the match started so we walked quickly through this cute dusty town. There were lots of kids on the streets and I was amazed at how neat and clean they all looked.
Many of the boys had fresh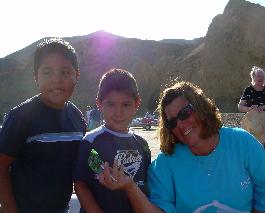 haircuts and the girls all had their hair in ponytails as if they had just gotten ready for school. My kids would never have stayed that clean with all the powdery dust around.
Just outside the arena we ate Tortas at a taco stand. Lucha Libre was so cheesy if was hysterical. It cost us six American dollars to get in but he beer was cold and only one American dollar. Our friend Kent and another friend Seth from Tallion purchased wrestling masks. It was as if it were their childhood dreams to be wrestlers.
They put them on and started grunting at each other. I went and asked if it was okay for them to go into the ring since the event was not starting for a bit. They were given the okay. We laughed and laughed. I can only imagine what the locals were thinking about the gringos in the ring. Now I know where the idea for the ridiculous movie Nacho Libre came from.
On the way back Kent purchased his 15th taco of the day and Bill and I shared another torta. At last more sleep.



Monday October 29th, Baja Ha Ha Start


The day has come to leave San Diego and Start our journey to Cabo. Since we are out of money this is a good thing. We will get our next allowance deposited in our account on the first. There really is not anywhere to spend much money for the next couple of weeks anyway.


Bill took Sparky to shore to get rid of the last bits of trash and walk Sparks one last time before the four days and three nights at sea. That is a lot of time for Sparky to be without bushes to pee on. He does go take care of his business up on the foredeck and then we wash it off with a bucket of water.


I am feeling both excited and nervous about this trip. I suppose it is natural to feel nervous about going into the land of the unknown. One thing I am not is scared. I feel confident enough in my skills and Bill's to make the journey.


Day one of the trip started with 160 plus boats heading out for an imaginary line and listening to the radio for the go signal. Once that happened at least one third of the boats put up their colorful spinnakers. You could feel the excitement in the air as friends past and wished each other well. Within 30 minutes some boats were very far ahead of us and very few behind us. We certainly do not have a "go fast" boat.
The sailing went well during the day and at night the seas started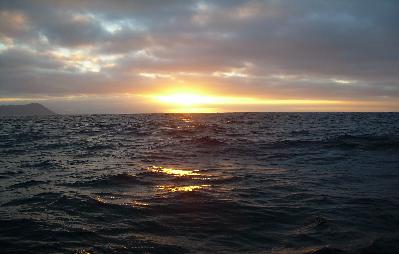 to get ugly.


Bill and I did not work out a watch schedule because he would not sleep if the seas and winds were ugly. I tried to take over for him but he could not sleep for long below. Every little noise woke him. There are lots of those noises. Many of them were things rattling in the cabinets that had not yet settled. I got some sleep but certainly not any beauty rest.


Day two was hella ugly! The seas were anywhere from two feet to fourteen and the winds were 5-39 knots. Oh, I must also mention the seas were mixed which means the waves were going in all different directions. I was feeling sea sick but not enough to puke. I was super tired but did not sleep much. It was not the vacation I signed up for and this weather was not on the glossy pictures in the brochure. I thought about being back home and going to work each day and was thinking maybe that was not so bad. I really wanted to be back home taking a shower and the sleeping in a bed that was not possessed. To help me through this unpleasant time I sat on the floor in the kitchen and pulled out the bottom drawer; That is were I had my stash, my secret supply of treats.


I ate an entire bag of mini Snicker bars and remembered the many times at worked I had wished to be here. I felt much better after that but only for a few hours. At that point I went back and ate all of my super special delicious very dark chocolate. That did not make me feel better because that meant I was out of goods. Bill felt bad about me not enjoying the journey, it was nothing he expected either, in fact the weather and seas we were having were not in the report earlier in the day.


Because of the weather we actually headed inland to find an anchorage to stop and rest for a few hours. Again the glossy photos did not match what we were seeing. The anchorage was very rocky and the winds were blowing 30 knots with gusts to 37! Instead of rest we just made our trip longer. To put the final touch on day two, I was behind the wheel when I saw two beautiful white birds begin to circle the boat. It lifted my spirits. Yes, this is what it is all about. Just after this thought I heard a loud noise coming from the shrouds (wires holding up the masts), I looked up only to see it was one of the birds. I watch him fall into the water and float away. Perhaps his day was worse than mine.


Day three during the radio roll call the organizer of the trip asked a few people how they were doing. Of course they were all guys and all them said that this is what they were there for and it was wonderful. I could not help but think they must be sailing on another planet. One of the boats called in saying he was taking on water at about a gallon a minute but his bilge pump was taking care of it. We volunteered to be his buddy boat since he was not far in front of us. We set up a radio check schedule every three hours. This made us put in another change of course. It felt like we would never get to Turtle Bay.


Day three and night three were a bit better. I took watch a couple of times and let Bill get some rest. The nights were cold and damp. Being on watch meant staying outside and watching out for other boats both on the sea and radar. We had our autopilot set so we did not have to steer. That is certainly a bonus. We have named her Wilma.


Day four brings us to our first stop, Turtle Bay. Before arriving we decided to try out the water maker. I did the set up myself and gave Bill the shot glasses for the taste test. One had our tank water and the other was from the water maker. The water maker was quite obvious it was the best water we have ever had. We are quite happy about that being fixed. We carry plenty of water for a couple of weeks but now we don't need to worry about running out as long as things keep working. We have an older unit, which only gives us about a gallon and a half per hour.


In the afternoon the seas picked up a bit and we heard loud metal noise. Bill was sure the autopilot let loose. I was inside and did not think that is what it was. It did not sound like that was where the noise came from. Not knowing what happen and afraid to continue to work Wilma we shut the auto pilot down and hand sailed our last forty miles.


Sunday October 28th


Our last day in San Diego and we did not get to do many of the things we had talked about like go to Balboa Park, visit with our daughter-in-law Anya's family, go out to eat one night. Perhaps all these plans were tossed out the window because of the many time consuming and expensive repairs that needed to be done. We also did not get to enjoy the wonderful (or so I am told) weather due to all the smoke and ash from the fires. It seemed like any small task would take us all day because we did not have a car. Perhaps this is all part of the adventure.


In the morning I spent much of my time cleaning and organizing again. Sparky got a bath to make sure he was looking and smelling go
od for the party. It was a costume party and
Stephanie had sent him down with a spider costume.

Bill had to pick up a few items and attend the skippers meeting in the morning. We met up at around noon to go to the party. The party was really fun. So many people had dressed up for the contests. Everything was really well organized. We lined up to go in and once we entered the party zone in the large parking lot of West Marine we traded our ticket for a swag bag filled with cool stuff. There were three T-shirts, Frisbee, beer bottle insulators, beach ball, sunglasses, and we were one of the few who had a special Pussers Rum flag. All this was in a nice heavy canvas bag.


Next we headed for the beverage line which was not really a line at all because it was so well organized. Then we got into the short line for
food.
The air had been filled with the smell of meat on the grill. I think they were calling it a tune up dinner. First they put a huge tortilla on your plate and then chicken or beef, beans, lettuce, guacamole, salsa and salad, and chips. It was a huge plate of food and really tasty.



After we ate we watched some of the costume contest and visited with so many of our new friends and old ones too. It was a great time.


The cutest pet contest was last and Sparky had actually fell asleep waiting. It was so darn cute. He did not win but had a fun time. After the party we headed back to the boat after picking up some candy for the kids in Turtle Bay and some cash. Bill finished up some things on the website and we were in bed early for the beginning of our new adventure in the morning.

Saturday October 27th


Saturday was the last day to pull it all together. Sunday is the big party and Monday is the start day. We still had things to get from the grocery store and also Target. We headed into West Marine early to get set up for the shuttle. It was not a surprise that there were lots of others there to do the same. With the Vons closing and no other stores in walking distance there were a lot of boaters needing a ride to get the last of their fresh food. The wait for the shuttle was quite long so I sat in on a seminar about Mexico. It was quite interesting and I wished I had worked it in to my plan for the day.


I missed some of the seminar but did take away some good information. One of which is when being boarded by Mexican officials only talk to the guy with the side arm. He is always the one in charge and it is an insult to him to speak to any one else. I always thought it was best to speak to the one with the biggest gun.


The crowd for the shuttle had grown to over 15 people so West Marine called the car rental company for another minivan. I was given the okay to get on the first shuttle to the Ralphs and Target. There were seven of us and I was wondering how we were going to fit our purchases in the Ford Expedition as one of the ladies already had several bags of goods with her.


Once we got to the market it was decided that we would only take one hour before the shuttle returned. I panicked, I have never been able to shop that fast. Two stores and no idea of the lay out made me stress. I was not the only one who felt this way.


With over 160 boats in the area and many with crew, there were lots of people walking around with a glaze over their eyes; It was quite obvious they were cruisers. I ran in to my friend Diane and shared my feelings of being lost and not able to find anything on my list. All the things I could not find were on the top shelves. Gee, I never thought to look up. Diane got a laugh from watching all five feet of me trying to get something off the top shelf.


Once the shuttle arrived everyone started loading up. It was no surprise I was the last one out of the store. I ended up with most of my stuff under my feet and on my lap, the driver was laughing, he could not believe we were able to pack everything in. He said he wished he had a camera.


When I got back
Bill and Sparky had gone to fill all our gas cans for the dinghy so, I took the dinghy and then had a friend help me drop it back off at the dock so it would be there for Bill. The rest of the day was spent putting things away and making sure everything was stowed well enough for a passage.


We had only one day left and the time was taken up by the festivities. Bill updated the web site and watched a little television before bed.
Friday, October 26th. San Diego


Friday was moving day and a very busy one. It started early in order to get everything done. First off Bill installed the water maker that had been delivered on Thursday afternoon. We won't know if it is fixed until we get out in the clean ocean water. They are not made to be used in oily harbor water. Once that was done he took Sparky over to the beach for morning ball chasing.


I stayed behind and started putting things away that would fall while moving. The pillow I made to stuff the television in worked well, oh, I also happen to think it looks pretty too. Once that was done we pulled up the anchor. We have an electric windlass which is a motor that pulls up the anchor. Bill had to hose off the yucky mud while bringing up the anchor. I drove the boat.


The ride over to the new anchorage was over an hour. Part of the reason for this was we decided to tow the dinghy rather than break it down and bring it up on deck just to put it back when we got here. On the way we saw three Canadian ships coming in while it looked like the aircraft carrier Ronald Reagan was preparing to take off.


We decided to fill our fuel and water tanks to beat the rush of 178 boats doing so over the weekend. There was an open space at the fuel dock which had water as well. This took us almost another hour and was quite painful at $4.00 per gallon; our last fill was $2.60 a gallon. Looking at our log book we determined that we are averaging 50 gallons of fuel per month. Our generator uses diesel and while at anchor it gets run one hour twice a day.


With our boat sitting low in the water due to all our tanks being full we headed to anchor just a few minutes away from the fuel dock. The anchorage is just outside to the San Diego Yacht Club docks. Here we are able to get an internet signal. That will make it easier to update the site since we can do it any time from the boat. We checked and replied to emails.


Next on the agenda was to get the West Marine Shuttle to go back to Coronado. I know this sounds silly but we had some trouble getting Sparky's health certificate. We were not told he needed a stool sample and this delayed things. The three of us took the 30 minute ride each way. Bill had the propane tanks to be filled and did that while Sparky and I picked up the certificate across the street. In the mean time the diver picked up some other boaters before coming to get us again, it was a well timed plan. The West Marine shuttle has been wonderful, of course they do allow you plenty of time to make purchases at the store before getting in the shuttle.


Today it was my new wetsuit that had been on order for well over a week. It fits really nice and was very affordable. Back on board I decided to hit the grocery store before the day was over. The only store in walking distance is a Vons which is closing it's doors on Sunday. The walk was a bit far and the store had very low stock, so we tried to get what we could but there were several items that are must haves forcing us to make yet another trip.
On the way back we ran into Marcus who we met at the potluck on Sunday. We invited him to come aboard and have a beer or two. He is a big fan of the Hans Christian boats. I have no doubt one day he will own one. We had a nice visit and look forward to hearing from him in the future.


We cooked up a quick dinner, watched Grey's Anatomy, surfed the net and then hit the sack.


Wednesday October 24th


The morning started by cleaning the ash out of the cockpit. I had stuffed paper towels in all of the dorads (Winters peeps, dorads are the chrome air scoops that keep the inside of the boat ventilated) which I did to keep some of the ash out of the boat. Unfortunately, Bill left the companion hatch open all night so we still had ash in the boat in the morning.


The fires in San Diego have burned thousands of houses and are still burning. The air quality is terrible. It seems that every one has some sinus irritation.


I called for the West Marine shuttle to take me to Costco to stock up for the up coming 11 day trip. When I got to the shuttle our boat neighbors Jake and Sharon were in the shuttle. Jake was on his way to pick up his outboard engine that had been in the shop since they arrived here. We have two outboards and loaned them one so they could get around the last week without having to row the long distance to the dock from the anchorage.
Sharon joined me to do some shopping at Costco. We left at 9:30 and were back at the dock by 11:30. Bill was amazed. He expected me to be gone much longer. Bill had the boat completely torn apart once again. He was changing the oil on the main engine along with fuel filters. This meant once again the doors and cushions have all been removed to allow him to twist himself into a pretzel to get these things done. It was hot and ashy inside the boat. To add to this he started the refrigerator and it shut down by itself. Great, we have a Costco load of meat and the refrigeration is not working.


I suggested he check the Freon level. Bill did not think that could be the problem since we had just paid to have a small leak fixed and the Freon filled. We have all the equipment and Freon needed to do this but have never done this on our own. Bill busted out the books and went to work. So far things are working well once again. The Freon was low.


After waiting patiently for Bill to finish I was able to get into the kitchen and start finding homes for all the stuff I bought. This also meant cutting up the meats and vacuum sealing them into meal size portions. I also prepared some chicken to take to the potluck BBQ at Fiddlers Cove just down the bay.
We decided to take the dinghy to the BBQ instead of taking our friends Misty,baby Tobylee and Jeff's offer to ride in their car. It was a pleasant ride and calm ride. When asked how long it takes to get to Fiddlers Cove I respond with the answer, just one beer away.


Fiddlers Cove is a military marina and RV park. Originally the BBQ was some of the Haha fleet getting together. Later it turned out to be a mix of the marina and RV park which have several people who have been evacuated from their homes due to the fires. It was a great mix of people. To my amazement there was a huge amount of wonderful foods. This was the best potluck I have been to. The there were about 10 very clean round picnic tables that sat 6 and all of them had been filled. At our table we had Susan and Brice who had to leave their home and were staying on their boat. Also we had Josh and Marcus.


All of them are boat owners and seemed to be interested in our up coming journey. We had a great time enjoying good conversation, laughs and excellent food. We look forward to receiving emails from our new friends. With our tummies filled and some good memories we headed home. Sparky slept all the way home.


Tuesday October 23rd


It has been quite a while since I have written. I just have not really been in the right mood for it. I find it difficult to write when I am forced to do it but fortunately today I am in the right mood.


In the last week we have been pretty busy. The weather has been lousy until a couple of days ago. Much of the time it had been rainy which did not make us excited to get in the dinghy and head into town.


One of the days I spent cleaning and once again doing some organizing. That seems like a never ending task. While doing the organizing Bill called the free shuttle service from West Marine to take him on the thirty minute drive into the city which is where all the marine stores are. After he was done he called me to pick him up at the dock in the rain. To my surprise he had not gone to West Marine for parts like he said he was, he went shopping for a new television for me. My little six inch television had died a few weeks before. We are now the proud owners of a 15" HDTV. For some boats that is considered a big screen!
We spent several hours reattaching the antenna wires to the the mizzen mast that had been cut when the masts were repainted. Then we had to run all the wires to the other side of the boat under all the floor boards to get the connection where I wanted to put the television. It was a lot of work but worth the effort.


Once the weather cleared a bit we started heading out to explore the area a bit more. Bill and I negotiated a deal with the owner of the boat rental place who has a nice dock for the dinghy that is secure. They wanted $5 per day to use the dock. We paid for the first day and then told him if he lowered his price we could get him some more business from the rest of the boats in the anchorage. It has worked out great for all of us. We only paid $20 for the rest of the month. They even gave us the code to get in and out of the secured dock after hours. The only other option would have been to use the five feet of public dock with metal plates welded on the cleats so you can not lock your dinghy to the dock.


A few of the things had to get out of the way were to get our Mexican fishing license and visas. This is all done in the downtown area of San Diego. The downtown is huge. We decided one afternoon to take the dinghy over to the other side of the bay to check the area out. We took the first available dock which was a Joe's Crab Shack.
We had a beer and some mussels and then took a walk around town. The consulate was not in the area we walked around in so we had to take the shuttle a couple of days later which allowed us to visit Little Italy and have a wonderful lunch.
We did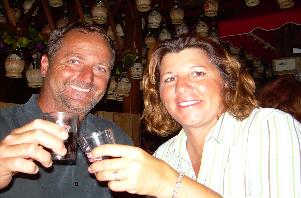 however find a Cost Plus and purchased a wine called Pinot Evil. It had pictures of monkeys on it. To our surprise it was cheap and tasted pretty good, you know, oak undertones, a hint of cherry and a light finish on the pallet.


This trip was taken after much frustration with the water maker and us being in need of a break. Since we have been here we have had three major breakdowns. The first was the refrigerator. It would work fine unless we had been running the engine. After many phone calls and no one willing to look at our problem Bill called the guy who originally installed it. Craig Anderson of Anderson Refrigeration in Alameda, California was kind enough to spend great amount of time helping Bill diagnose the problem. It turned out to be an over heating issue with the compressor.


Some of this may have been caused by us storing paper towels in the same compartment as the compressor and blocking the vents so we moved the paper towels and Bill installed a fan which we had in our spares compartment. That problem is solved.


Next we had the water maker problem which we had worked on for about a week. We started that project while out at Catalina.
Working on the water maker, which is about 8 years old and has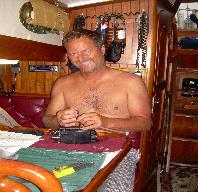 maybe been used a total of 45 days in 8 years, made it impossible to move around inside the boat. To get to the water maker we need to take all the cushions off the dining seats and the floor boards need to come too. But, that's not all folks we also need to remove the doors from the main engine which is under the sink. You basically need to climb like a monkey to get to the bathroom while this work is going on. It went on for a couple of days before we sent the whole unit to the manufacturer (Katadyn).



Yesterday we got the call saying it was done and will cost nearly $500 plus shipping. With expenses like this perhaps you can see how I would get excited about anything free.


It has been said bad things come in threes. Hopefully this is our third. The pump on the generator started making a funny noise. Then it started leaking antifreeze. We had this happen once before but I won't even go into that other than to say Bill has been on hacksaw restriction since then.
Without the generator we are not able to get enough power to keep our batteries charged nor to turn on the water heater. This meant going to the community center and paying to use the showers. It took a couple of days to figure out the diagnosis on the generator. We had a new pump sent overnight from Oregon. Total cost on that was another $400.


Bill had it installed and ready to go in thirty minutes. There was one problem we did not have any antifreeze. This meant getting in the dinghy and going to shore, then a walk to the Albertsons.


We took the dinghy to the beach with the cable to lock up too. The tide had been out and we had to put down our fancy new dinghy wheels and pull the dinghy a very long way up the beach.


Now on to the fun things we have been up to. Saturday our daughter drove nine hours to bring Sparky to us. It was so great to see her. It is also great to have our dog back, we have missed him. Perhaps he will write a bit on his page about life back on the boat.


We took them for an ice cream after we barbecued some fat hamburgers. Hamburgers are Stephanie's favorite food, in fact she likes them so much that in high school she had her prom date take her for a burger.


Last Sunday we attended a party for the Ha Ha fleet at Downwind Marine. That was fun and we met lots of new friends and visited with some old friends. Some of the new friends have invited us to a BBQ potluck on the beach about a 30 minute dinghy ride from here. Well, maybe not quite 30 minutes away. We took a ride down there yesterday and it is one beer away. The BBQ should be fun.


On our way back to the boat we stopped at West Marine to get the shuttle back to our boat. While waiting for the driver Bill spotted an excellent buy on a fishing pole. This is something he has been looking to buy for me. I don't know much about fishing but I am about to learn. Also in our future plans is the water maker which should be here on Thursday. Thursday is also the day for Sparky to see the vet to get his health certificate. On Friday we will move to another anchorage which I am told has internet available. Friday will also be my first day without cell phone service. Sunday is the meeting for the Ha Ha fleet and Halloween Party. Monday we leave for the border.


The agenda for today is to continue to clean the ash off the boat from the fires in San Diego. It has been snowing ash for two days now. There is so much of this "snow" that while writing this my computer is covered in ash. I can't help but think this ash may very well be some ones home or heirloom pictures. The news has reported up 700 homes have been destroyed and more than 250,000 residents in the area have been evacuated. Bill had tried to call the people we bought our solar equipment from to ask a question but they were closed due to evacuation!


The weather is warm and sunny but smoky and ashy. The view of the golf course and beach here are very nice.

Saturday October 13th, San Diego


Bill made French toast for breakfast with the remainder of the bread I had baked the day before. It had rained most of the night and into the middle of the morning. I can't remember the last time I had seen rain. We put my plants out to try to keep them alive. They were quite happy.


Once things started to dry up a bit we took the dinghy into shore. We did not see too many places to dock our dinghy so we went over to a boat rental place and asked if they could direct us. We were told there was nothing but for $5 a day we could leave our dinghy at their dock. Keep in mind we could have gotten a slip for $10 a day back at the customs office. I bit my lip, paid and then we walked around Coronado. We found a hardware store and two grocery stores. One of which was an Albertsons. Bill had a gift card from his work and has been trying to use it before we left the states. We did. Also, we discovered a very tasty ice cream place, Mootime.


MooTime has an ice cream called toasted coconut.
It is coconut ice cream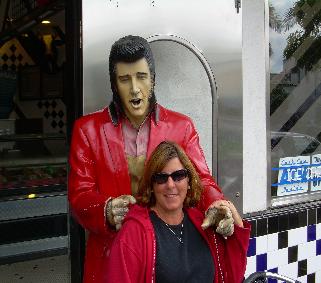 with chunks of dark chocolate. That made for an excellent lunch.


We returned to our boat which is anchored just off the beach from the golf course. It is pretty here but seems very isolated. We tried but can not get an internet connection. This mean we need to pack up the computer and head in to a local Starbucks to get online. I am a bit frustrated by this knowing we will be here for 18 days. Perhaps it is to prepare me for Mexico, no television and no internet.



After putting away the groceries we took the dinghy over to meet the people on two other
boats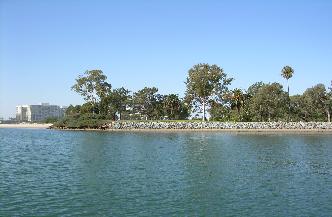 anchored here who are part of the Haha fleet. Then we moved on to see a beach that has a cable to lock dinghy to while you go into town. We also went to a beach in front of a nice restaurant where Bill dropped me off to walk across the street to get some beer. It would have been too heavy to carry earlier since we did not have our cart.


We later sat out in the cockpit and watched all the dinner cruise boats go by while we enjoyed our cocktails. For dinner we had left over chicken and rice along with a nice big salad.



Friday October 12th, Sailing to San Diego.


The sail down was pretty uneventful. The distance is about 60 miles but it went pretty quick. We left the entrance of the marina at 5:00 in the morning, or as I would say o'dark thirty. Along the way we a huge whale that gave me goose bumps. He did not even come all the way out of the water and was bigger than a semi truck. We also saw some dolphins that were jumping completely out of the water.


Most of the way we had all of our sails up and the motor running. The combination had us moving along at close to 7 knots. We tried shutting down the engine but that slowed us to 2.5 knots. Needing to get to San Diego by dark we started the engine back up.
We made the entrance to the bay
around 3:00.

The procedure for checking in included a stop at the customs office. Bill had misunderstood the direction from the office when he called them so we had to do some back tracking. By the time we made it to the anchorage it was 7:00 and getting dark. I was tired hungry and grumpy by now. We ate and went to sleep.
Wednesday October 10th and 11th, Dana Point


We were up and on our way before 8:00 to be sure to arrive before dark. Originally we were going to go straight to San Diego but changed our minds and decide to break it up. After all we don't really need to be there so soon.


Once we were underway we pulled out a chart and saw Dana Point was somewhat in the middle. The winds were light but consistent for a change, this allowed us to put up or spinnaker (for Winters peeps that is the pretty colorful sail we attach to the front).
We sailed the entire 40 plus miles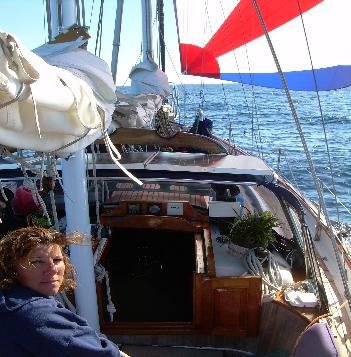 and were able to move along as fast as our engine would have taken us. It was nice to not have to listen to the engine and know we were moving along at a cost of zero.


It is surprising how much I have learned to appreciate things that are of no cost now that I don't have a paycheck. I do however think I am getting a little extreme about not spending any money. We certainly have enough to live comfortable. I think if we sat down and actually looked at our expenses we would be under half of what we have allowed ourselves.


When we were a couple of hours out from Dana Point we called the marina to see if they had anything for us. They did but it was $65 for the night. That was the highest price we had ever seen. We then called the harbor patrol who directed us to an anchorage near their tall ships. The rules were strict but the price was right. Free! You were not allowed to leave your boat unattended. After talking to the sergeant there he agreed to allow us to leave the boat for a couple of hours providing we left a note with our destination, the time and our cell number.

Tuesday October 9th, Emerald cove


This anchorage is less protected than most, but had more morning sun than Catalina Harbor. I love the morning sun.


After coffee and some breakfast I put on Bill's wet suit since my was not comfortable on my still tender stomach. Bill took me out in the dinghy and dropped me off near a large
rock in the middle of the cove. I did some snorkeling and am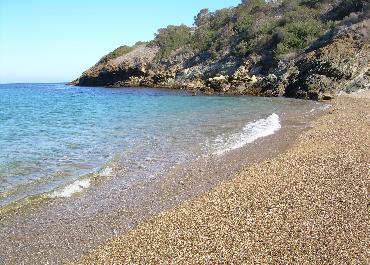 very sorry I did not have my camera with me. I saw so many beautiful colorful fish.


At one point there was a school of well over a hundred fish that came from behind me and swam right past me. I don't know what they were. The best I can describe them is that they looked like Neon Tetras on steroids. I must get myself a book to learn what all the names are of the fish I seen. Another shy fish I saw was orange with a purple tail. It was super pretty but it quickly hid in some rocks.


The area had a tall kelp forests with one area that opened up. I truly wish I had a picture to share. The sun came through this open area and was shining on the school of fish that had past me earlier. Then on the rock around the sides to this area were Orange fish called a Garibaldi which is the state fish.


Monday October 8th, Emerald Cove


The morning was sunny and winds were light. We were not in a big rush like many other departures. It was only about 12 miles to Emerald Cove and when we arrived another boat from the HaHa fleet had came in right behind us.


We both dropped our hooks in the small anchoring area. Since the area is so small, it required us to drop our stern anchor as well. (for the Winters peeps that means back anchor). The water was the clearest I had ever seen. We were able to see the bottom which was 40 feet deep. Not only could we see it but you could see the individual links on the chain lying on the bottom! The water was a beautiful blue green color. It looked very much like the water in the glossy brochures for the Bahamas. I could not believe we could see that in California. Obviously this place was a well kept secret.


Later in the afternoon I decide to blow up my inflatable kayak and take it for a spin. I was a bit unsure if my lower stomach muscles that had been cut during my surgery could handle the paddling. I hopped in and away I went. Fortunately, there was not much of a current as I did not last long. There are some stitches inside my stomach and I could feel them being pulled. I thought it would be wise to head back and try again another day. It was fun for a short bit.


Bill fired up the BBQ and we had a nice dinner then watched one our movies for our 50 pack of classic Hollywood movies. They are not the best but it is something to watch. I have always thought I watched less television than any of my friends and now that I don't have it I feel I must have spent a lot of time watching because I do miss it. Oh, I should mention most of the time I fall asleep within ten minutes of the movie starting. In 20 minutes I am drooling.


Sunday October 7th, Catalina Harbor


Originally we had planned to leave for Emerald Cove today but we heard that the Santa Anna winds were blowing. We have had several people tell us the only safe place in the Channel Islands during the Santa Anna winds is Catalina Harbor so we stayed put to see what the big deal was.


Being in a very well protected area we took the dinghy to shore so we could see what the other harbor looked like. It was sunny and very calm. There was a very peaceful feeling in the air. Perhaps it was because so many people were recovering from the night before and moving quite slow. I found it amazing at how clean the entire place looked. It was as if nothing went on the night before. As we remember, there were mountains of empty beverage containers last night, many of them empty pints of beer and rum bottles. Two Harbors must have an excellent cleaning crew that worked through the night. Perhaps some teenagers who have parties when their parents are gone should take lessons from the crew.


With the morning being so nice we decided to do the breakfast buffet and eat outside in the calm sunny air with the palm trees surrounding us. After we filled our tummies and enjoyed the time to sit and chat about the night before we went back to the boat to listen to the weather. It did not sound good for anchoring in Emerald Cove so we decide to just hang out on the mooring ball for one more night. Once again we took the dinghy to shore to pay for another night. Just our luck, as soon as we paid, the harbor office posted a new weather report in the window. The update said the Santa Anna wind warning has been cancelled. Perhaps it is best to be on the safe side.
We heard that Santa Cruz Island, where we had been a week or so before was hit pretty hard and two boats were lost. The rest of the late afternoon and evening we spent just chilling out on the boat after picking things up for a morning departure.


Saturday October 6th, Catalina Pirate Day


At last it is Pirate Day or officially Buccaneer Day. We were pleasantly surprised at the beautiful weather in the morning. The night had been pretty windy which is why we were on a mooring ball. Bill made some very tasty banana pancakes for me for breakfast.


We headed to the festivities in our best pirate attire. There were lots of kids and adults dressed up. I had some pirate coins to hand out to the kids. The smiles on their faces were awesome. In fact there was little boy whom I gave a coin to that still had it in his hand six hours later. I had to give him another to put in his other hand because he was too cute.


We saw a couple with two dogs which made me really miss Sparky. I had to play with the dogs to get my doggy fix. It turns out the couple happened to run the festivities. He asked where we were from and told us about the days events. Then he asked us what size shirts we wore and gave us each an official Buccaneer Day T-shirt.


Soon after that we headed over to participate in the treasure hunt. The treasure hunt started with a crossword puzzle which held the answer to our first place to go to get a clue. It was fun watching everyone running in all different directions. There was one family who were communicating by cell phone the get each family member lined up to the next clue. While on the hunt we had to climb a steep dirt road which allowed us to see some buffalo.
Unfortunately I fell on the way down my pirate flip flops slid on some rocks. The result was a very bloody knee.


We soon after ran into some trouble finding the last clue. Since our pitcher of margaritas was empty we decided to give up and head back to the boat for some dinner. Later we found out that someone had removed the last clue. So, we did actually finish.


After dinner we went back to the adult costume contest and to watch all the wild folks come out at night. The costumes had changed quite a bit. There was certainly lots of eye candy for the guys. In fact Bill took a picture of one girl who looked at him, pointed her finger at him and then showed him her young perky boobs. It was funny to watch him fumble to try to get that picture. It did not happen.


Earlier we had talked to Stephanie and tried to convince her to bring her gal pal down and take the ferry over to check out all the young pirate men. I found a group them all sporting really nice pirate attire. I went over to ask them if I could snap a picture to send to my 21 year old smokin' hot daughter who looks nothing like me.
They were a fun bunch of guys and were excited to help me out.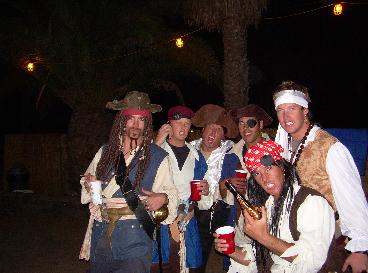 These pirates were very interested to hear more about Stephanie. One handed me his cell phone and said let's call her. These are my kind of guys.
She did not answer and her voicemail is in German. This made these pirate more interested. One even started speaking German. They took turns leaving pirate sounding messages on her phone. It was really funny. I was bit nervous as to how Stephanie would take all this but she took it well and sent me a text that said "ha ha ha". When she sees the picture she may be sorry she did not pick up the call. Later we went to the bar and tried their famous Buffalo Milk. I liked it but Bill just thought it was okay. If I remember right it had milk banana liquor, Kaluha, vodka and I think coconut liquor.


We danced for a while and then head to the beach to watch a girl do her fire dance. We had met them earlier and filled their drinks with ice from our ice chest. This concluded our wild night out. We started the walk back to the dirt road and then the dinghy ride out to the boat. It was a fun day full of smiles.




Thursday October 4th & 5th, Catalina Harbor


The harbor master was up and at our door early to collect our mooring fee. We let him know we were planning to anchor for the next night. He updated us on some weather changes which would allow us to anchor one night if we squeezed in with all the others in a very small space.


Many of the boats were sporting the Haha flag. After making sure the anchor was set well we took the dinghy to the shore to scope out the island. There was a flat red dirt road about a half a mile long that took you to the other side of the island.


At the harbor on the other side we went into the little general store and purchased a pirate type hat for me and a pirate bandana for Bill. If you were not aware, Buccaneer Days just happen to coincide with our arrival this weekend, imagine that! When we completed our purchase and started for home we realized we need to go back to buy some cat food because we had heard that is what is used to catch lobsters in traps.


Back at the boat we gathered what we could to try to make up pirate costumes. Considering we were working with what we had we did okay. With that task aside we went for a ride in the dinghy to go meet some of the others going along on the Haha.


The night went well without too much movement. The next morning the winds started to pick up causing us to stretch out some of the millions of feet of chain we had out. We were anchored in 75 feet of water and Bill had let out a little over 300' which he said was a little short!


As the day went on the wind stated blowing from different directions, putting us closer than we prefer to another boat. Our anchor was well set but there just was just not enough room for us to swing so we decided it would be best to pick up a mooring ball again. This gave us a chance to relax in the extremely high winds.


With the boat completely out of danger of bumping into another boat we headed inshore again this time to pay for the mooring. Once we got there and checked the weather we decided to pay for two nights and hope we could move onto Emerald cove after that.


We did not do much on Friday other that clean things up a bit and chill waiting for Buccaneer Day. We have been having a problem with getting on a good sleep routine. For some reason as soon as it gets dark we want to go to sleep and then wake up at three in the morning. We need to find a way to change this.

Wednesday October 3rd, Sailing to Catalina


Our morning started a little early. We were up and on our way just after six to get to the fuel pump right when they opened. The fuel dock was conveniently located next to the harbor masters office which was another stop we needed to make to check out.


The fuel was super cheap so we fill all our tanks. The total bill was $279. With our boat sitting low in the water from our fuel and water tanks at capacity we left for Catalina. The plan was to arrive there just before dark at Catalina Harbor which is on the back side of Two Harbors.


We sailed most of the way and it was wonderful. In fact it was so smooth I went down below and baked some giant ginger cookies
. Baking is something I have always enjoyed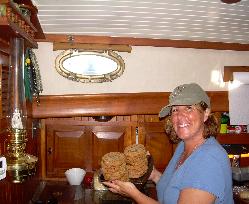 but never made time to do.

Our timing was just a bit off. When we found the well hidden entrance the sun was setting and there were many boats already in the anchorage. We did not feel comfortable dropping the hook in the dark so we picked up a mooring ball. This is something we were trying to avoid to save money. We have all the gear to anchor why not use it.


We were pretty tired and slept really well.

Tuesday October 2nd, Oxnard, CA


The morning was cold and very damp. It was really nice to start the heater/fireplace. In almost no time we had our cozy little home up to 80 plus degrees. It was really nice. Have I ever told you I hate to be cold? Everything was dry in a very short time and we started opening windows.


As the morning moved on the sun came out and it was another fantastic day. After some emailing and a hot shower, we went for a dinghy ride to see a little more of the marina
and see if we could find our friends (Ron and Ardis) boat; it did not take us long. Ron happened to be outside when we cruised by. We stopped and had a chat and invited him and his wife to dinner on our boat.
After we finished chatting we gathered our homeless get up (cart and bags) and headed to the local grocery store to get some food for our week in Catalina plus the addition of a new large gas can. I was amazed at how cheap lettuce cost in southern California. I got a strange look from a lady in the store when I called Bill over to look at the half price lettuce.


With our homeless cart and bags with I am sure we were quite a sight walking back to the boat with five 12 packs of beer, two canvas shopping bags, and a cold bag, along with the 6 gallon gas can. Oh, we were also trying to eat our Snickers bars while doing this.


Back at the boat we put all our goods away and did a little clean up before our guests came to dinner. We did this quickly to allow time for another dinghy ride. I found the cutest thing while we were out. It is a little electric boat called a Duffy 21.
There are tons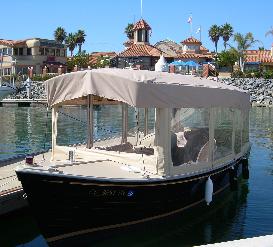 of these cute little boats every where. One in particular caught my eye. She was named Pricilla and she was a very clean boat. I told Bill that one day, all my crazy old lady friends and I are going to ride our motor scooters down to the lake and take Pricilla out for a ride on the lake near our house. Pricilla will have an awesome sound system cranking out the tunes of Led Zeppelin and Flogging Molly. Of course this is all in my fantasy world. These beauties have a bar in them and I was told that under every seat is an ice chest.



Dinner was very nice and we had some wonderful wine and spent much of our time visiting outside in the cockpit listening to sailing stories. We headed off to bed around midnight.
Monday October 1st, Sailing to Oxnard

Some people wake up to go to work on Monday after a fun filled weekend. Today we woke up to spend our day traveling. We were thinking about going to Anacapa Island to see the arched rock. Later we decided we were able to see it from a long distance and still be satisfied. We were towing the dinghy just in case we wanted to stop there and take a look around.

We arrived in Oxnard at Channel Island Harbor just before sunset. The trip was uneventful which, was a good thing. Most of the day was spent enjoying a perfect sail. I caught up on some writing and did some knitting on the blanket for Shane who will be born sometime around Christmas.

After checking in with the harbor master we washed all the salt off the boat with fresh water. Before we had dinner we went for a dinghy ride in the marina. The Marina is like a little city with water ways for streets which all have huge houses and a dock with some sort of yacht. It was very cool but all the houses are way too big for my liking.

Dinner was steak cooked on the BBQ with some rice and fresh carrots. Once our tummies were full we fired up the computer and found and open internet signal allowing us to check our emails and do some updates. We had another boat pull in next to us who was from the same marina we came from in Alameda. We did not know these people. They were not from our dock.

As the night rolled on, everything outside start to get really wet. The inside of the boat felt damp too. Cold and damp is not something of my liking but it did not keep me from falling asleep.


Sunday September 30th, Pelican Cove


This morning we woke up to some mirror like waters. The plan for the day was to be sure to get into the dinghy and check out some of the beaches in the area. All the beaches were small rocks and zero sand and had very quick drop offs into the water.
We hiked up a rock hillside and over to the next cove. The view was awesome.



I was surprised to see what looked like volcanic rock, perhaps I should do a little homework and get some more history on Santa Cruz Island. I do know that in the 30's or so there were lots of films made in Pelican Cove and there were some Indians called the Chumash or something like that who lived on the island.
After our hike we took the dinghy to the cove we had hiked to. Bill once again donned his skin diving get up and went down to provide us with another fish.
I sat in the dinghy floating around the kelp waiting for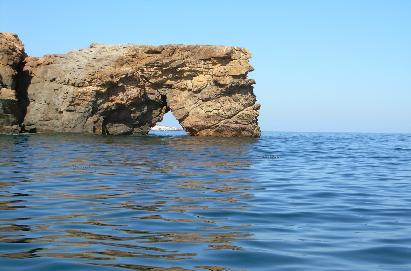 the great hunter to ask me to come pick up him and his catch.


I had just started to straighten up some stuff in the boat when he popped up and yelled for me.
I don't think it had been even two minutes from the time he rolled out of the boat. He had a huge Sheep Head fish with big teeth. It could have set the standard for white teeth.


We headed back to the mother ship for some fish cleaning before heading out on yet another ride. It was warm with flat seas. This was the vacation I had signed up for.


Bill wanted to go to Prisoners Cove to say hello to some people we had met while in the harbor in Santa Cruz. As we pulled into the cove we noticed a boat that looked like our friends from the Alameda. Sure enough it was Ray and Diane on Emerald Star. They invited us aboard for a couple of beers and a chance to catch up on things. We were surprised and pleased to run into them.


The next stop was the folks from Santa Cruz Harbor on Tribute. They were just about to leave but we were able to chat with them for a few minutes. They are also part of the group going to Cabo. This group of nearly 200 boats all fly flags that say Ba ha ha. That is the name of this rally. Most people just call it the Ha Ha.


After we left Tribute we noticed another boat sporting this purple flag. We went over and met Dave on a boat named Jammin'. After a nice conversation with him we went back to the boat for some tasty fish dinner.



We took the dinghy out again after dinner to look at the phosphorescence in the water. We talked with a couple on a sailboat in our cove who were heading south but not on the Ha Ha. After our visit it was really dark and you could see lots of phosphorescence. It is like some magic potion someone poured in the water to amuse me. Any movement in the water gives of a sparkly glow. Imagine filling your hand with water and letting it drip out of your hand. This gives the illusion of diamonds pouring out. This was a great way to end a fantastic day.

Saturday, September 29th


Hooray, warm sunshine! I can't remember the last time I woke up, put a pair of shorts on and went outside to enjoy my breakfast.
The decks were dry and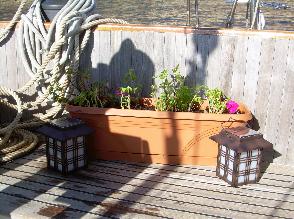 the wind and waters were super calm.

It was a beautiful morning. I fussed with my herb garden which has been taken over by these little beastly spiders. They are killing my plants faster than I can. I took advantage of this weather by doing a little work on the cockpit table which was in need of a few coats of tung oil. It was easy work and made a huge difference in the feel of the cockpit. This prompted me to get on a cleaning binge.


My mission today was to clean all the "stuff" that had accumulated under the dodger.

(for Winters peeps that is the canvas over the entry way). I don't think it had been cleaned since we left Alameda.


Bill took advantage of this nice weather and donned his wetsuit and dove for some lunch. He had lunch within 15 minutes. Using his spear gun he was able to provide us with an Opal Eye fish.
After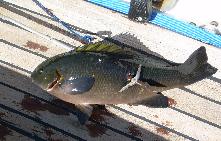 he was back on board with his catch a guy from a neighboring boat came over and asked Bill how the diving was. He also asked Bill if he would like to go scuba diving with him and his brother. Bill told him we did not have much air so he could not do it.

I still am unable to dive because I am not totally healed up from the surgery. It is starting to frustrate me. I real would love to have dove in the area. This is why we did not have all the tanks filled.


Our new friend went back to his boat and returned with a full tank for Bill so the game was on. We ate fish tacos before Bill headed out for his adventure. That was some very fresh and tasty fish. They were gone for several hours which gave me time to do some major cleaning. I used bleach and oil soap to scrub the cockpit which contained much more dirt than I could imagine. It was not a really fun day for me but I did feel good about having our home clean. It was also nice to see Bill get a chance to enjoy some prime diving. He was very smiley.


Dinner was eaten outside with wine in our crystal glasses. That is one of the luxuries in our life. I buy cheap crystal as to not cry when a glass breaks. I think everyone should use their crystal and enjoy it. Perhaps it is imagination but I think it can make a cheap bottle of wine taste better.
Friday September 28th


We are still sailing and trying to decide where we would like to end up. I got about three hours of uninterrupted sleep during the night, which was really nice. There is some wind finally so we are moving along quite comfortably. Bill turned on the generator to charge the batteries. The alternator started having problems again. It was not putting out a charge and Bill was afraid to look to see what was going on for fear it would be something major he did not want to deal with. After he did check, it turns out that one of the bolts holding it on had worked it self out. It was fixed in less than five minutes.


Since it was so cold I did all I could to stay inside yet not let Bill think I was abandoning him. I decided to cook up a breakfast of bacon and eggs. After breakfast we saw huge pod of dolphins. Without exaggeration there were well over fifty.
The creatures never stop amazing me.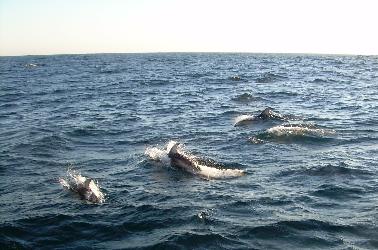 The conversation about our destination continued. Originally we were planning to go to San Miguel Island. Then Bill kept bringing up Santa Barbara. My thought on the was although it is really nice in Santa Barbara it is another marina which means more dollars and I am a bit burnt out on the coast tourist shops. I am not really sure why we decided to skip San Miguel but we did. We both agreed to go to Santa Cruz Island.


We had been there before and really enjoyed it. This time we planned to anchor in Fry's Cove. We plotted our course set the auto pilot and we were on our way. This just added several more hours to our trip. Bill went below to get some much needed sleep while I was on watch. Once we arrived we saw about five boats in this tiny anchorage so we made the decision to head down to the spot we stayed last time we were here. Both of us were tired at this point. We dropped a bow and stern anchor.


The stern anchor required Bill to blow up the dinghy and make three attempts at getting the anchor placed just right. With both of us so tired we had popcorn for dinner and went to bed. Well, I did anyway. Bill woke up often to make sure the anchors were behaving. Late in the night he reset the stern anchor and pulled some of the 200 plus feet of chain up on the bow anchor.



The anchorage was quite calm with a constant gentle roll and the sound of the water lapping on the haul. This was soothing and made for a great night of sleep.

Thursday September 27th
I woke up early to get myself caught up on writing. I had not written for several days. This caused me to forget some things, one of them must be shared.


While, we were putting around in the dinghy enjoying our cold beer I had quite an experience. Bill and I were sitting on the floor of the dinghy on the same side. We had our feet up on the pontoon on the opposite side. The sun was going but it was not yet cold. We were very relaxed, looking at the boats along the dock and waving to all the friendly boaters.


We passed a place that rents kayaks, and takes people out on whale watching trips. Bill waved to the guy on the dock and asked if I waved. Just then as we were passing the whale watching boat a guy in his wetsuit popped out of the water right in front of me and made a very loud roar. I was so scared I almost jumped out of the boat and spilled my beer. To top it off he looked like the red headed punk kid with the yellow eye's in the movie A Christmas Story. After I realized I was okay I could not stop laughing. Perhaps the scary guy was laughing just as hard.


After spending most of the morning writing, checking email and chatting with my daughter-in-law on MySpace, Bill and I headed in to shore. First on the list was to see if we could use the clothes washer at the yacht club and find out where to get propane. We have two small propane tanks and it seems that we get one month per tank. We have been on the boat and out of Grand Marina for about a month now.


When we arrived at the club we talked with the lady we shared our beverage with the night before. She said we would need a car to get to the propane place and she offered us a ride. We declined knowing she was getting ready to leave for the Channel Islands within a few hours. The club had its tent removed (Termite fumigation) and we were looking to pay for our stay when Lola from the club showed up.


Lola only charged us for a half of one day since the club was not available and the clothes dryer did not work due to the gas not being turned back on yet. We did not realize this until we had already put our clothes in the washer. Bill asked Lola if she knew of a place to get propane, thinking she might know of another place. She said she was going up by the place to run a quick errand and took Bill with her. The cost of a tank of propane was $4.10. When Bill returned we recovered our clothes from the washer and headed to the not so near by Laundromat.


We dropped the clothes in the dryer and were shocked that you only get five minutes drying time for a quarter. After filling the dryer with quarters we went to the post office to see if the overnight package containing the extra alternator brackets arrived. They had not. The clerk there needed a course in customer service. Fortunately, there was a young girl there that remembered Bill from the day before and was more than willing to give good service. She actually offered to called our cell phone to let us know when the package arrived.


We left the post office and headed up the street to Albertsons to get some fresh vegetables and eggs. Bill asked me if I have been good all day as he

l
ooked over at Mc Donald's. I certainly had!


While walking through the parking lot to get to McD's I saw a beautiful red motor scooter. I could not help myself from thinking about how fun it would be to have one just like that. I begged Bill to let me put one on the boat but he said no. We ate outside where I stared at this scooter until some old hag parked her minivan in line of my vision.


"One day I will have a scooter just like that and all the kids in my town will talk about the crazy old lady that rides the red scooter".


Up until this point all of our walking had been up hill. Now it was time to head back to the boat and plan our departure for late night or early morning. Once again we recovered our clothes and made another unsuccessful stop at the post office so we continued to head back to the boat with our cart of groceries and laundry. Walking back I made comment to Bill that perhaps this time people won't think we are homeless because I was sporting a new pair of sneakers.


When we got back to the boat we put our stuff away and tossed our fresh whole chicken on the BBQ. Then we let loose of the mooring and tied up on the yacht club dock. Bill made a mad dash to the post office after the nice girl called while I filled the water tanks. We had a key to the club and took advantage of their showers. They felt great but the water could have been a little warmer. The gas had not been turned on long enough to have really hot water.


We listened to the weather report again and realized we needed to leave now or wait until Monday. We both did the chart plotting and were on our way. The seas were mostly calm but the wind was not strong enough to keep us from bouncing around. We were able to sail for only a few hours. There were many visits from the dolphins. I went below to sleep but woke up each hour to write down our position and see if I could do anything for Bill.


At 2:15 am I took my watch. It was really cold outside. I hate being cold. To keep myself from being totally bored looking at the dark ocean and radar, I brought up my little portable DVD player. For the twentieth time I watched Talladega Nights while sitting on my seat that Bill made to fit in the door way.
We put up some sails in the morning and changed our destination. Now we are heading for Santa Cruz Island.



Wednesday September 26th
Today the top priority is to get the parts to fix the engine. Bill had made several phone calls to get this process started yesterday. He ordered some to be sent overnight mail to the post office and has a machine shop lined up to make the part just in case the ordered ones don't fit.


He left early to walk the couple of miles up hill to the shop. While out and about he picked up a package we had had delivered to the post office and got a hair cut. I stayed behind and took a nice hot shower and tidied up things a bit. He dropped off the part and within a few hours we had a call saying it was ready. At this point Bill needed to get the alternator off with the broken bolt and try to get the bolt out. This prompted another series of cuss words. He was determined to get the bolt out but was defeated.


We headed into town with our own missions. Bill was off to pick up his part and see if the machine shop could get the bolt out. I am sure the alternator weighed 25 pounds in Bill's backpack. I was off to get a small crochet hook to allow me to fix the mistakes I made while trying to knit. I remembered where there was a yarn store near the post office which I needed to go to. The lady at the yarn store was not very nice. Not only was she not nice, can you believe a yarn store would not sell any needles? She advised me to check the local thrift store. I did and was told there was another yarn store that sold needles. The not so nice lady told me there was no other store. Hmmm.


The other store was a long walk toward where Bill was at the machine shop. On my way there I stop at another of my favorite shops here called Old Paris. They carry lots old world European home décor items. It is just a fun place to look around. I picked up a small gift for Stephanie, and need to figure out how to mail it. While on my long walk to the real yarn store I ran into Bill. We went together and purchased the hook that only cost $2.10 but took five miles of walking to get. We picked up some wine and ice on our way back to the boat, along with a few post cards.


Walking back we decided we were going to have margaritas when we got back. We whipped up a pitcher of margaritas and tossed a few extra cups in our bag and went for a dinghy ride. We came across another boat with the Baha HA Ha flag and went over to introduce ourselves and share our beverage. The Baha Ha Ha is the rally we will be joining in San Diego to Cabo. After that we putted around the anchorage and then had an excellent candle light dinner in the cockpit. After doing the dishes we were off to bed.


Monday September 24th & 25th


After rocking and rolling most of the night we woke up to another sunny day. We had breakfast in the cockpit as we talked about our departure to Morro Bay. It is a hundred miles and some change and with our average speed being around 4 knots per hour we were looking at 24 plus hours of sailing or motor sailing.


Originally we were planning to depart on Tuesday but after listening to the weather and realizing we have to pull up the anchor and reset it with a stern anchor as well, we decided to leave. Bill had me plot our course. Navigation is something I can do but have zero confidence in my ability to do it. Practice is what I need.


We were on our way around 11:00 am. We were motor sailing most of the way but did get about four hours of straight sailing. The boat was certainly doing some rocking and my stomach muscles have not healed enough to handle it. Sitting and trying to keep my balance was starting to bring some pain and then some more pain. Finally I went down below to lie on my bed. I felt terribly guilty for leaving Bill out there by himself. He did set the auto pilot to allow him to adjust the sails and come below to see how I was doing. I got up a few times to be outside with him. We saw a whale some dolphins and jellyfish. One thing I never tire from is watching dolphins.


Bill made Ramen noodles for dinner which we ate outside. Then again I was back in the bed. As the sun went down the seas seemed come at us from every direction. Now my stomach is really not happy. I decided it was time for a Vicodon. I was wishing I had one those Velcro body suits to stick me in one place. I braced myself with my hands and feet on the side walls and tried to sleep. I never really did get much sleep. I Worried about Bill getting tired and I came up top about every hour to see if he was okay. I swear one time I did this I woke him up. He was behind the wheel sitting up sleeping. Thank goodness we keep ourselves strapped into the boat.


I asked if he wanted to come below and sleep but he did not want me up there while on drugs and was concerned about my internal stitches. Finally at 5:00 AM I came up and just took over. He happily went below and slept for an hour. I cooked up some breakfast burritos and joined Bill up top to greet the morning.


The seas had calmed and our moods were good. I was still getting sharp pains when I moved so Bill said I should get back in bed. Not long after that I notice the engine was making a different sound, I am always tuned into that. I flew out of bed ran up top and had Bill come down to have a listen for himself. He opened the engine compartment and saw the problem was with the alternator.


He shut down the engine and had me sail out to sea. Sail ha ha. We only had 4 knots of wind. That is not even enough to mess up my hair. So we did more drifting than anything else. The problem was a broke alternator bracket. Bill went into his McGiver mode. I swear this guy can fix anything with duct tape and a rubber band. Okay well, not this time but close. He found a scrap of brass left over from making the cockpit table and cut it and drilled it to make a bracket. He thought "great, just bolt this baby on and we will make it the 9 miles into Morro Bay". Not this time….


The Novak luck had kicked in and a bolt broke off. Mind you all this is happening while we are bobbing around and tools are falling. I tried not to listen to Bill talk to himself. Yes, I did hear some cuss words and bad ones too. He could not fix the broken bolt and was left with only one option. The vice grips. Fortunately we had not left them in Bills car to roll down the window. He clamped his fancy brass bracket in place and we very slowly motored toward the big rock of Morro Bay. We were afraid to go any faster than a slow crawl for fear of the vice grips popping off.


Bill had me go below to check them every few minutes. Being fearful of the entrance into the harbor Bill called the Coast Guard to see what the conditions were at the entrance. There have been a lot of boats lost there and it can be a rough bar to cross. Bill told them we needed to know because we were coming in on limited power and sometimes you need a lot of power to not end up on the rocks. The Coast Guard of course had to go through their routine and ask million questions before they would tell us the condition at the entrance.


It turns out the tide was coming out at a pace faster than we were going. We had to radio in our position with the Coasties every half hour. It took us four hours to go nine miles. At that point the Coasties sent out a boat with about twenty hot young men to follow us in and help if we should need it. Where was my daughter now??? The boat was not moving due to the current so Bill put on the coal while I watched to see if our trusty vice grips were moving at all. We kept our fingers crossed and all went well. We both took a deep breath and looked forward to tying up at the yacht club and maybe getting a nice hot shower there as the anchorage was too small to accommodate us.


To our surprise the club was not only closed but had been tented for fumigation and the docks were full. We called on the radio and the harbor master who has nothing to do with the club told us to pick up a mooring ball from the club so we did. By now we were exhausted and were ready for a nice cold beer. Bill blew up the dinghy and dropped the little 3.5 hp engine on and we were off to putter around and enjoy another beer.



The weather was awesome. We came back had dinner and slept really well.
Sunday, September 23rd


Bill and I woke up and went straight into cleaning mode. We were so determined in fact that I don't think there was much coffee drank that morning. When we were done both the inside and outside looked great.
We were taking some friends out sailing and the weather was perfect for that. Our friends arrived with their three children who were excited to go. Well, all but the oldest Colleen who is in the 6th grade, she was a bit nervous. I gathered the kids in the kitchen after showing them around, where I keep a large bag of hard candies to suck on and had them each pick five pieces of candy for their pockets to eat when they wanted.
We made it out of the slip with no trouble. I am always worried something will go wrong when we have new boaters onboard and I really wanted them to have a great experience. I believe they did. The weather was just perfect, nice winds and flat seas. We did not get to see too much wild life but there were a few seals and some jellyfish just no dolphins or whales.
Bill had a special treat for us all after the great lunch our guests had brought, banana splits. As we finished with lunch it was time to start heading back. Each of the kids had a turn at the wheel by now and even Colleen was enjoying it. The other two kids, Christopher and Jessica, were little dare devils they were up front on the bowsprit a lot of the time.
The sail went very well. After we returned our friends Debbie and Chris treated us to a fantastic meal on the wharf. It was a great day. I am sure the kids were asleep before they left the parking lot.
At this time Bill and I still needed to move out of the marina and out to the anchorage. This was to avoid dropping another $40. It was pretty rocky there and we should have taken our friend Dino's advice and dropped a stern anchor. That would have kept us pointed into the waves and made the night much more pleasant. It doesn't pay to be lazy.
After midnight things calmed and we got some sleep.
Saturday, September 22nd, continued
I have decided to do my best to make things easier for you to read. I know my writing format is not ideal. I am going try making some changes. Hopefully one day I will have this writing stuff figured out.
To continue with the events of Saturday. It was raining lightly but not really cold. We were grateful for the two umbrellas we had onboard which kept us dry while walking the four or so blocks to the bus stop.


On the ride to Salinas from Monterey we did not get to see much. The bus had no heat and all the windows were fogged up. We did get the pleasure of a listening to a young man sitting behind me talk with his buddy. He gave me some insight on how others think, others being those who have vodka on their Coco Puffs for breakfast. Actually, I could not tell if it was vodka or a cheap gin I smelled.


We arrived at the Salinas bus terminal after about an hour ride. The museum was about a two minute walk in the rain. We enjoyed our visit there and learned quite a few things. One of them being, the number of times John Steinbeck had married, perhaps he was a trend setter for today's standards.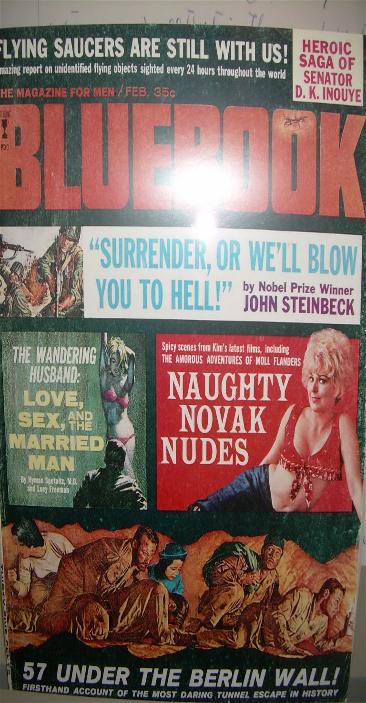 Another thing we learned was that he had written a book about his travel on a boat to the Sea of Cortez, this is where we are headed. Bill and I are both interested in reading The Log of the Sea of Cortez which Steinbeck wrote.
After the museum we stopped at a little hole in the wall Mexican place for lunch. We enjoyed our food as we talked about all the books we want to add to our library. The rain had stopped while we headed to the bus for the hour ride back. This time we were able to see out the windows.
When we returned we checked with the harbor master to allow us to stay in the marina one more night. We put up the internet panel and found an open signal from a near by pub. By now the alarm on my cell phone was going off. It is set for 5:00 every day.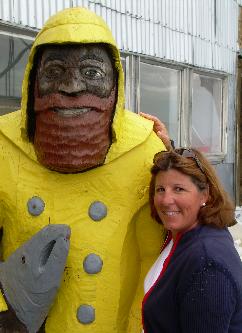 This is to remind us that it is cocktail hour and we need to stop what we are doing and chill a minute or 30. We started this because so often we get working on a boat project and keep going until late at night. Perhaps it's just a reminder to enjoy life.
I imagine some of you think our new life is nothing more than sailing and cocktails. Well, let me give you a little insight on an average day. On second thought I will make that a separate entry to follow this one.
For our cocktail hour we grabbed a glass of wine and walked the docks looking at all the boat and seals. We also were able to watch and otter eat his dinner. They are cute but the noise they make while biting into the mussel shells gives me goose bumps. After we had dinner we did a little cleaning to prepare for some friends we were taking out sailing on Sunday.


Saturday, September 22nd
Sparky and I arrive at Stephanie's house around one in the afternoon. I did the laundry and took a long hot shower. On the boat we don't leave the water running while we shower. We get wet soap up and rinse off. It felt soooo good to let the water run until there was no hot water left. Ahhh, the small pleasures in life. After that it was back to my list of a million things to do in 24 hours.
I sorted through a few weeks of mail. Out of the large stack I only found three pieces that were of interest (hint, if you pay off all your credit cards the number of credit card offers will increase tremendously). I Also went around the house picking up a few things we wished we had brought. After that I realized I needed to get moving to make my doctor appointment, after all that was the main purpose of the trip.



I hopped in the car, made a quick stop at Mariani's to say hello to everyone and then a quick stop at my friend Ann's house. I made it to my appointment with five minutes to spare. So, drum roll please, the doctor was a bit hesitant but did give me the go ahead to start moving down the coast.
The reason for the hesitation is that I still have an open hole in my belly which puts me at a high risk for getting another infection. She says I still have about two weeks of healing to go. It will be sooo nice when that happens. I think my doctor has done a great job and hate to think about what my life would be like if I had not seen her for a second opinion. Her office staff has been wonderful as well. I will miss their smiles.
After my appointment it was run to the hardware store and then dinner out with Stephanie. We had a great dinner followed by several hours of shopping. We got home at 9:00pm and watched a movie then went to bed. I had to get up at 4:00 to be on the road before 5:00 to miss all the traffic. It was tough to leave Sparky at home but our government will not let him go to the Channel Islands which is on our list of planned stops. Stephanie will drive to San Diego and we will pick him up there.
I got back to the boat just after 8:00 and hauled all the "stuff" I bought down to the fuel dock where Bill met me. We loaded the boat and then I returned the car and he came back to the fuel dock so I could jump on as he drove by. It is official we are on our way. We put up some sails and headed for Monterey.
Bill made some bread dough in the morning so we baked that and had it with salad for lunch.



We picked up a slip in Monterey because we will be gone for several hours today and did not want to be worried about the anchor dragging. Today we are going to the Steinbeck Center in Salinas. Tomorrow we are going to take a friend and his family out sailing. Monday night we will leave for Morro Bay. I will be doing my first long night watch on that trip.
Things are going well.
Thursday September 20th
Wow, it's been nearly a week since I wrote. I think I have a little catching up to do. Perhaps I should start with last Friday. That day we got up and moving at o'dark thirty. This was a big day for Bill. He was about to become a "surfer". His lessons were scheduled for 7:00 am. Obviously he did not consult with me first. I would certainly have chosen a later time. We left the boat around 5:45 in the dark. The dinghy ride was not wet but cold. Then we walked to Pleasure Point.
We allowed an hour and made it there much quicker. We now know that surfers have a different time zone from everyone else. Bill's instructor showed up just after 7:30. The lessons went well. The smile on Bill's face was priceless. He said that was best birthday gift ever. The rest of the day was filled with comments such as "I am a surfer. I am not sure if I can help with the dishes".

Within a few hours of returning he was sleeping in the cockpit with a cocktail in his hand.
Saturday was another perfect weather day. I took a stroll down to the mall to pick up a better birthday card for a friend and get my hair trimmed. Bill stayed at the boat and did some reading. When I returned we did a little cleaning for our guests the day.
Sunday was quite busy for us. Bill's mother and brother came for breakfast. His brother John cooked us some special Mexican breakfast. It was very tasty. It was about an hour drive for them to get here from John's house. We had a nice visit and then went to Costco.
Bill stayed at the boat and it was a good thing. When we returned I was dropped off at the wharf and said goodbye to my mother-in-law and brother-in-law. Walking down the wharf I was trying to call Bill with my cell phone to the Skype phone. He did not answer. We had been getting pretty good internet coverage so I was a little surprised he didn't pick up the phone, then I noticed the boat looked like it was not in the right position. At that point I realized there was trouble.
When Bill suddenly appeared behind the wheel I knew he needed help and there must be a serious problem with the anchor. I tried to get the water taxi but he had just left to see if he could help with a guy who had just had a heart attack on a charter boat that often comes through the anchorage. By now I am surrounded by medics in gloves and police who arrived by boat. I just wanted to get a ride out to the boat to help Bill.
The taxi driver Ed was coming back and I yelled to him that I needed a ride because our anchor was dragging. He pulled up the dinghy to the dock just like Captain Ron and said jump in. I was on the boat and behind the wheel within two minutes.
Prior to my arriving Bill had dropped the anchor line after tying a buoy to it as a marker because it had started dragging. He was currently trying to pick up a mooring ball. The wind was blowing pretty hard which made things a bit challenging. After that was done we still needed to get our anchor.
We put on our wet weather clothes and jumped in the dinghy and had a successful recovery mission. By this time our friends Dino and Cathy called to let us know they were here for a visit. We cleaned up and went into shore. Luckily, the wind had stopped just after we finished cleaning up so we sat in the sun and had a couple of drinks before we went to dinner to celebrate Dino's birthday.
Monday we anchored out again and life seemed to be pretty good. I love Capitola but feel I am ready to move on. We are waiting in this area until my last doctor appointment. I was in a bit of a funky mood and missing my friends. Perhaps I need find something to tickle my mind. I recalled seeing a yarn store on our way to do laundry so I headed out thinking I would pick up some yarn and crochet a blanket for my grandson. After all he won't be here until late December. I should be able to finish it.

The store is called The Yarn Shop. I walked in and told the girl what I wanted to do and had no idea how much yarn I needed and I was on a tight budget. She made a comment that knitting takes a third less yarn.
Jokingly I said I should learn to knit. She asked if I wanted to. I said sure.
She sat me down and taught me right there. This was wonderful because since I had learned to crochet first I hold my yarn in the left hand and had to be taught to knit left handed. If you ever need yarn and are in Capitola go to The Yarn Shop on
Capitola Avenue, . They have great books on knitting.



My blanket is coming along great. I had gone back to the store the next day and learned to fix the mistakes I made during cocktail hour knitting. After learning to fix my mistakes Bill, Sparky and I took the dinghy for a long ride out to the cement boat at New Brighton which was a beer away. The weather was really nice.

Wednesday brought us a change in weather. It was getting pretty rough cold and windy. Listening to the weather report is sounded like we were in for a rough day and night. This prompted us to take our friend Dino's advice and head for Santa Cruz which is more protected from the weather.
The ride over generally takes about an hour and it was so rough it took over two hours. I felt like one of those little Downy fabric softener balls you toss in the wash machine.
We decided to get a slip( for Winters peeps that means dock) for the night. Here we were able to wash the boat down with fresh water and charge our batteries. We also will fill our water tanks before we leave.
That brings us to today. The day we have been waiting for. I am renting a car and driving to Vacaville for my doctors' appointment. I will also do some shopping for food and such. Our daughter Stephanie has plans for us to go out to dinner tonight too.
Actually I have a ton of things to do today. Laundry, see my Winters friends, and shopping, not to mention it is a minimum three hour drive each way. If I am feeling too tired I may drive back really early in the morning. Early meaning 4:30 so I beat the traffic. I still need to run that by Stephanie.
I am a little nervous about the doctors' appointment. I still have one hole in my belly that has not completely closed. This has me worried that the doctor will not release me to move further south. I have no doubt it will be closed some time in the next few days. I can't wait to be fully recovered.
Oh, I forgot to mention we have zero internet coverage here. Bill is going to head up to the coffee shop after I leave to update this to the site. I hope to share some good news with you tomorrow.
Thursday morning I picked up a rental car for my three hour drive back to my former home and to see my wonderful doctor. I truly do think she is wonderful. Bill helped me load up all of our laundry and the dog. It was sort of a sentimental journey leaving Santa Cruz. There is a huge hill with a very windy highway to go over to get to the bay area. This was the very hill I drove over when I was in high school to get to the beach. Well, some of the time I should have been in school but my desire to get a tan and be near the ocean was much stronger than my desire to sit in a classroom. I have not driven this road for at least fifteen years. That part of the drive was much shorter than I remembered.
Thursday September 13th
I am still loving it here. The anchor is holding great so we are sleeping well at night. Yesterday was pretty overcast so we decided to make it a work day. I spent the entire day cleaning. You may be thinking there is no way it could take and entire day to clean a boat but I can. I even lifted up the floor boards and cleaned under them. I also washed all the wood down with Murphy's oil soap.
I am still moving things around to find just the right place. I am starting to understand the whole less is more concept. Bill was busy working on sewing a shade cover for the butterfly hatch. For those is Winters, that means the sky light. It came out great. He did all his work outside on the deck. After all that work we were rewarded with a very beautiful sunset.

After dinner Bill took the dog for a walk on shore then we sat outside and had some hot chocolate while looking at the stars.
Today we spent a bit more time on shore. Come to think of it yesterday I did not even leave the boat, I am okay with that. Early this morning we headed out to get some laundry done and pick up some groceries.
My friend Sandra grew up here so she called me to let me know how to get to the right stores. We dropped the clothes in the washer across the street from the grocery store and then did the shopping. After that we put the clothes in the dryer and headed into the Dairy Queen to enjoy some ice cream while waiting for the clothes to dry. Sparky even got a big portion of Bill's ice cream.
It turns out that we can walk less than a mile and find everything. On the way to the grocery store we found a produce market. They had some of the best looking produce I have ever seen and excellent prices too. We stopped there on our way back and I went a little wild. Bill stayed outside with the dog and our homeless cart. When I came out he shook his head and asked when we will have enough time to eat all I had bought. I just smiled and asked if I could add it to the cart.
Our cart is an extremely beefy luggage cart. It folds up flat for storage. Today we had a large bag filled with bags of groceries including wine and our bag with laundry bungee strapped on it. Bill made it a point to shave today to make sure were not mistaken for the homeless.
The walk was wonderful. The weather was once again perfect. When we returned to the boat we saw about ten dolphins swimming around our boat. They hung out for and a half an hour. I had a cold beer and watched them.
In the afternoon the wind kicked up but started to die down around 6:30. That brings me to now. I have artichokes on the stove and Bill is cooking chicken on the que. I am sitting in my favorite spot on the couch next to the bar with my feet up on the seat across from me. Oh, I also have a glass of wine and we are listening to a great radio station called KPIG.
It is amazing what they can get away with playing on the radio. I love it.
We did decide to leave Sausalito on Sunday. We headed out the gate and down to Half Moon Bay. On the way we saw lots of dolphins and seals along with about eight whales. It was a nice sail. We arrived just as the fuel dock had closed but the young kids running the place were kind enough to allow us to fill up. We then anchored just out from the yacht club. There was quite a party going on there. After making a run out of the harbor to drop our crab trap we went over to the club and bought a beer. We were also able to score the internet code. The signal was weak but we were able to send a few emails out and check the weather. Since the weather was so good we decided to head down to Santa Cruz.
We left for Santa Cruz at four the next morning. Well, okay we left a bit after that. 4 AM was the time the alarm went off and I still needed another 15 minutes to get up. It was really dark. After a couple of hours I went back into my bed for a few more hours of sleep. There was no wind so we motored for about half the day. The seas were flat. In the afternoon we put the sails up.
There was not much in the way of wild life. We saw some dolphins and jellyfish which were a golden brown. There was one whale which was not very far from us. We actually heard him blow before we saw him. He was really pretty with no barnacles on him. Hmmm could it have been a girl?
We arrived in Santa Cruz around 4:30pm. Once we got there we realized there was a boat there from Half Moon Bay. Bill had talked to them the day before. The anchor did not seem to be holding well so we decided to pick up and move on to Capitola.
As we were entering the anchorage in Capitola we heard a call on the radio. It turns out our friends Dale and Ken were here watching us come in. They live on A dock where we had our boat for three or so years in Alameda. This was great because we never got to say good bye to them because they were traveling.
We had a nice visit and they moved on today. It is sooo nice here. We stayed on a mooring
ball for the first night but at $25 a night we unhooked and dropped our fancy new anchor just out from the anchorage.
The people here are really nice. The sign says no dogs on the wharf but they have no problem with Sparky. The beaches also say no dogs so we just dinghy over to a beach that can only be reached by boat or surfboard. I could not ask for better weather. It is clean and relaxing.
We were here back in June for our friend Nina's graduation dinner. I loved it then and I am happy to see it from the ocean. I think we will stay here for a few days.
We took the dog for a walk and ended up at the 41st Street mall. We found a Longs drug store where I purchased a calendar because I keep forgetting the date. The wharf has a dock for the dinghy and the locals are friendly. I think I am will enjoy another beverage and kick here in the sun. I am one happy girl!

Saturday September 8th
So, by now you may be wondering why we are still hanging out in San Francisco Bay. I sometimes wonder this too. Well, it turns out that after my surgery I ended up with an ecoli infection. Most likely having to have my bowels removed from my uterus due to endometriosis had something to do with that.
The treatment required the doctor to open my incision in three places to get the infection out. She also prescribed some very expensive pills which my insurance did not completely cover. These holes, which were not really small, required lots of attention. For the first week we had to drive to see the doctor every single day to have them cleaned and packed with gauze, thank goodness for Vicodin! The packing was not a pleasant thing. We became very tired of this lifestyle quickly after making the more than one hour drive each way for the first week. We consulted with the doctor and she understood immediately and taught Bill how to "torture me", er clean and pack me, which he picked up on really fast.
Last week, after yet one more appointment the doctor let us leave the marina. She was quite impressed with Bill's work as he was packing me twice a day. Somehow I believe he actually enjoyed the "torture".
We left the marina and headed over to Sausalito which is where we are now and have been here for almost a week. Our friend Mike helped up get our car here so we could get to my doctors appointments without too much fuss. Dr. Zubair only required a visit once a week. During my last appointment on Friday, she said that things were looking GREAT! and it is time to let the holes close up. No more packing and no appointments for two weeks. Hoooray! This means we are leaving the bay either today or tomorrow. Once we head out the gate we will truly feel like we are on our way.
Last night our daughter came and picked up our car. Well, now it is her car, her house….Trust me she is certainly earning everything. She does an awful lot for us and it is very much appreciated.
So, enough of all the garbage! Let's get onto the happy side of life. We still have Sparky with us. The plan was originally to leave him until we hit San Diego. The reason for that is we were going to scuba dive in the Channel Islands and dogs are not allowed. It has been great to have him. He loves being on the boat and better yet going for rides in the dinghy.
We explored the entire Richardson Bay by dinghy the other day. There are lots of huge fancy houses on the waters edge. I prefer much smaller houses myself. The town here is cute with lots of over priced little shops and snobby people. Walking through down town here I feel like we fit in more with the homeless people than the common folks as we were often treated like we were street people here vs "High end Cruisers on a budget". Can't they see our dog is a pure breed with papers from a line of champion show dogs???
There is an exception to this treatment. Yesterday we went into the yacht club (Sausalito Yacht Club) here and asked if we could fill our tanks with water. Not only did they allow us to do that, they bought us drinks, gave us a mooring ball to hook onto and the password to their internet. This has allowed me to log onto my "myspace" and see the 3D ultrasound pictures of my grandson who will arrive around Christmas. At the moment his name will be Shane Alexander Novak.
Well, I better get off the computer and start putting things away in the event we decide to take off out the gate in the next few hours. While we were back home visiting the doctor we were able to shop for lots of food at my favorite store, Winco. We bought tons of food for only $53. Now I need to put it all inits little places.
Feeling good and readyto go!!!